Callie's Gluten Free Buttermilk Biscuit Recipe
From Carrie Morey's Hot Little Suppers cookbook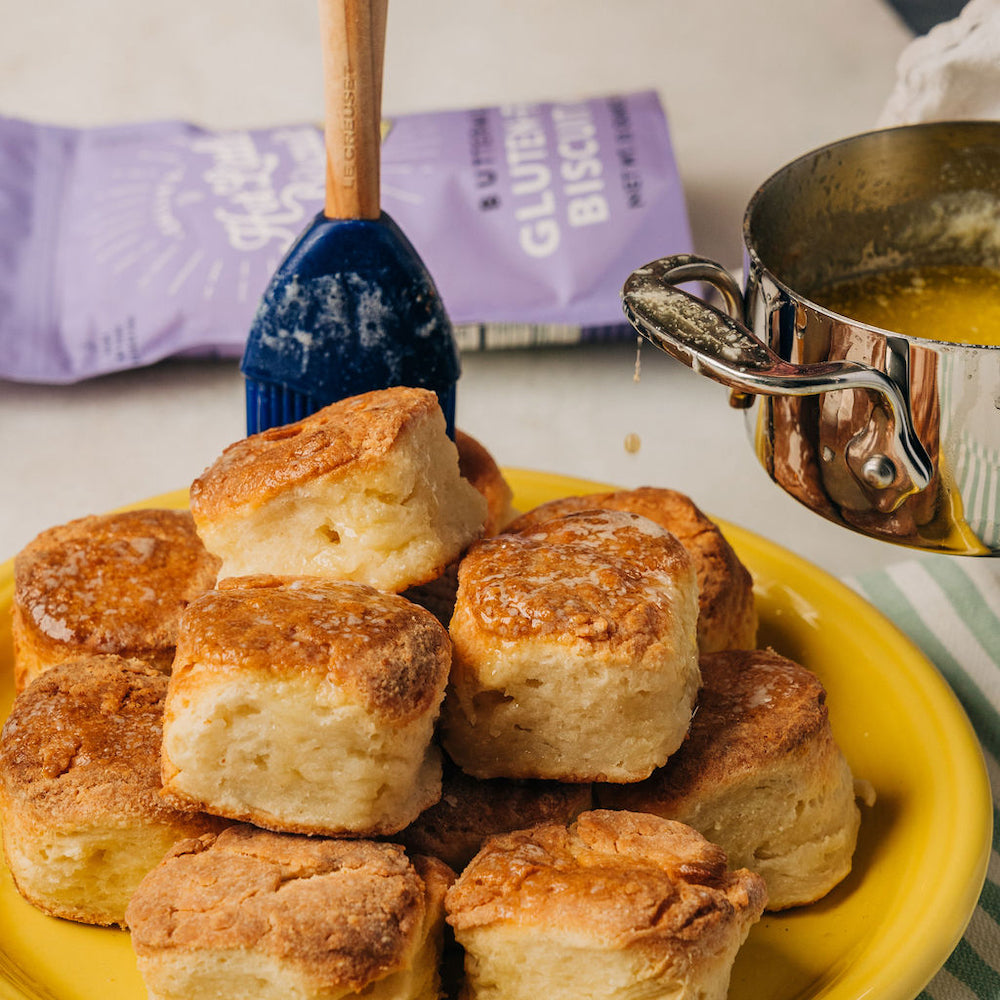 Ingredients
• 2 cups Gluten-free flour, or you can use our mix
• 1 teaspoon of salt (do not include if using our mix)
• 2 1/2 teaspoon baking powder (do not include if using our mix)
• 6 tablespoons salted butter, divided
• 2 Ounces cream cheese
• 3/4 to 1 cup buttermilk
• 1/4 cup heavy cream
"I have missed BISCUITS so much. I took a chance and ordered these. Oh. My. Word!! I am in heaven."- MB, Callie's Hot Little Biscuit customer
For years Callie's Hot Little Biscuit friends have been asking us to create a tender, buttery biscuit without the gluten! When we released our
Gluten Free Buttermilk Biscuits
and
Gluten Free Buttermilk Biscuit Mix
, we were overwhelmed by the positive feedback that our biscuit community gave us! Everyone deserves the joy of Callie's Hot Little Biscuit. Gluten-free biscuits make that possible.
Browse our entire
selection of gluten-free goodies
to share the love with everyone in your crew.
Create your own gluten-free gift baskets for holidays and special occasions by combining items from this collection. Send a thoughtful gift of Southern staples that's perfect for first-time homeowners, graduations, and more. These gifts make it easier to pamper the people you love.
In addition to our gluten-free biscuits, gluten-free shoppers can also choose from Carolina Grits, Edwards Sliced Bacon, and Edwards Sliced Country Ham.
Don't overlook adding honey, jam, and preserves to make your gift extra sweet and delightful!
Now you can make your own easy gluten-free buttermilk biscuits at home with our handmade recipe. 
Gather Your Tools
2-inch biscuit
cutter
(or your preferred size!)
Parchment paper
Rimmed backing sheet
Rolling pin
Gather Your Ingredients
2 cups Gluten-free flour, or you can use our
mix
1 teaspoon of salt (do not include if using our mix)
2 2/1 teaspoon of baking powder (do not include if using our mix)
6 tablespoons salted butter, divided
2 ounces cream cheese
3/4 to 1 cup buttermilk
1/4 cup heavy cream
Instructions
Preheat oven to 400 degrees F
Place 2 cups of biscuit mix into a large bowl. Along with the salt and baking powder if not using our mix.
Add 4 tablespoons of salted butter and work it into the. Mix in a snapping motion with your fingers. Once your mix is the consistency of grated Parmesan cheese, add cream cheese in the same snapping manner. The cream cheese portions should be about the size of a dime.
Mix the heavy cream and 3/4 cup buttermilk together in a bowl. Make a well in the center of the dough. Add mixture and combine until the dough is wet and sticky. Be careful not to overwork the dough. If more liquid is needed to absorb the flour, add the remaining buttermilk. 
Liberally dust the dough, rolling surface, rolling pin, and cutter with the remaining biscuit mix. Flip the dough onto a dusted surface. Roll the dough using a rolling pin until it is 2 inches thick.
As you cut the biscuits, place on a parchment lined, rimmed baking sheet. The biscuits should touch. Bring remaining dough back together into a mound. Roll, cut, and place the biscuits in the same manner.
Melt remaining butter and brush onto biscuits.
Bake for 16-18 minutes, rotating the pan halfway through.
Hot Little Tip
Even though these are gluten-free, that doesn't mean you can't dress them up. Try a gluten free BLT or grilled chicken biscuit sandwich!