Caviar & Pimento Cheese Fritters
From Carrie Morey's Hot Little Suppers cookbook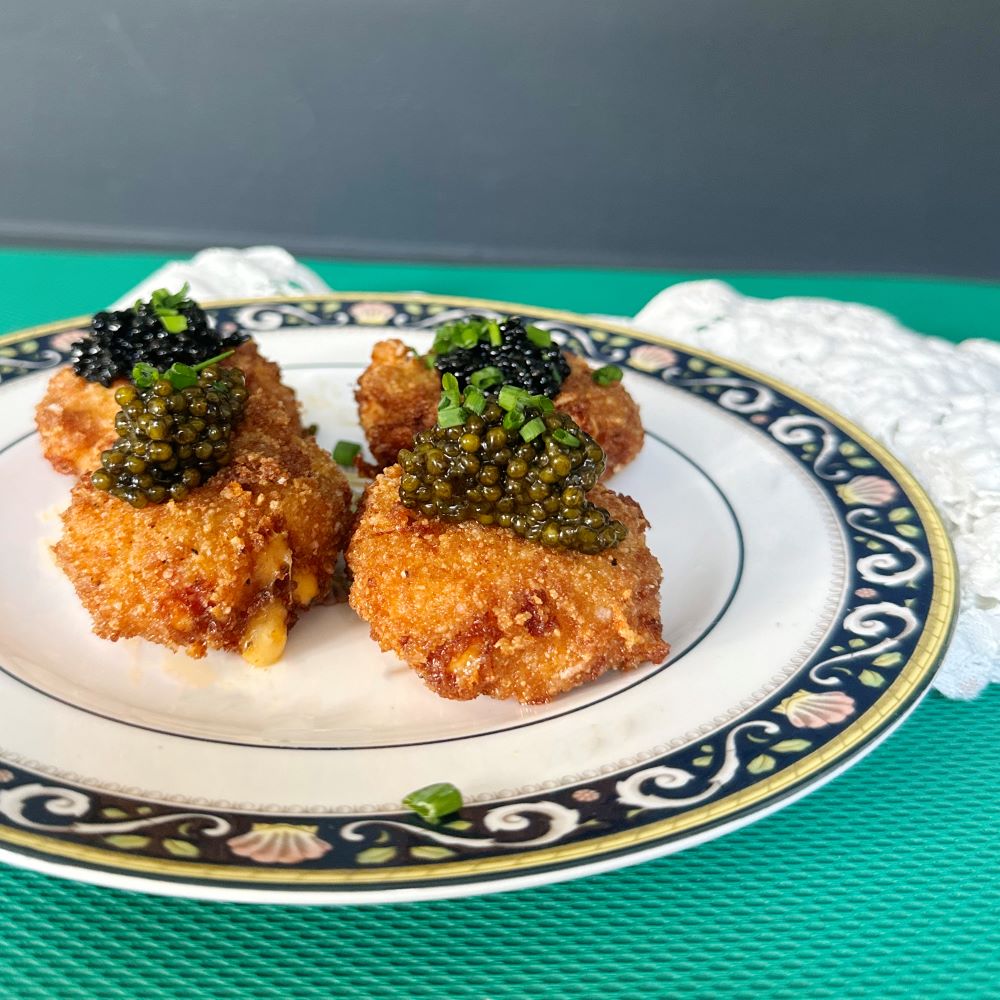 Ingredients
• Callie's Hot Little Biscuit 12 oz Pimento Cheese
• Cup of flour
• Tablespoon of corn starch
• Salt and pepper
• 2 Eggs
• Cup of fine breadcrumbs
• 2 cups of oil (I like canola)
• The Caviar Co. Kaluga Hybrid
• The Caviar Co. Classic White Sturgeon
• Chives
National Caviar Day is July 18th. What better way to celebrate than to partner with a women-owned, San Francisco company, The Caviar Co.. Together, we've brought you two new caviar recipes that use our handmade Southern staples! 
The Caviar Co. is not only committed to sourcing sustainable caviar to protect the Sturgeon but they also give you the highest quality and consistency of delicious caviar.
When creating a new recipe with this artisan company, I wanted to pair their caviar with a fresh, high-quality Southern staple to bring you a true coast-to-coast collaboration. I don't know why I have never fried up Callie's Hot Little Biscuit pimento cheese before (genius!), so I thought – why not test out this food lover's secret weapon as a fritter? Frying up the pimento cheese creates a delicious melty, yet crunchy vessel to carry the saltiness of the caviar and herby taste from the fresh chives.
This dish is a delicious appetizer or snack to pamper your guests at a dinner party or keep it all for yourself! Grab your ingredients from calliesbiscuits.com and thecaviarco.com using code CALLIESNCD for 15% off your shipment (offer valid through Labor Day 2023) to follow along to celebrate National Caviar Day every day!!
If you're looking for more Caviar recipes, you can find my Caviar Biscuit Sandwiches here!
Instructions:
Use your hands to ball and separate 12oz of pimento cheese into 8-10 discs.

Place discs in freezer for 30 minutes.

While freezing the discs, heat oil in a pan to 340-350 degrees. I prefer Canola oil. 

While you pan is heating, create your dipping station. In one bowl, mix flour and corn starch with salt and pepper. In the second bowl, whisk 2 eggs. In the third bowl mix together fine breadcrumbs and salt and pepper.
Remove the pimento cheese discs from freezer and carefully dip each disc into the flour mixture, then dip into the egg mixture, and then into the breadcrumb mixture. 
Gently place the coated pimento cheese discs into the oil. Note: only place 3 or 4 discs at a time in order to not overcrowd the pot.
Cook until golden brown. Remove from pan and place on a wire rack or paper towels to let oil drain. 
Top with caviar and fresh chives. 
Shop this post:
Hot Little Tip
When frying, only do 3 or 4 pimento cheese discs at a time - you don't want to overcrowd the pot.