Perfect Cookout Recipes for July 4th
From Carrie Morey's Hot Little Suppers cookbook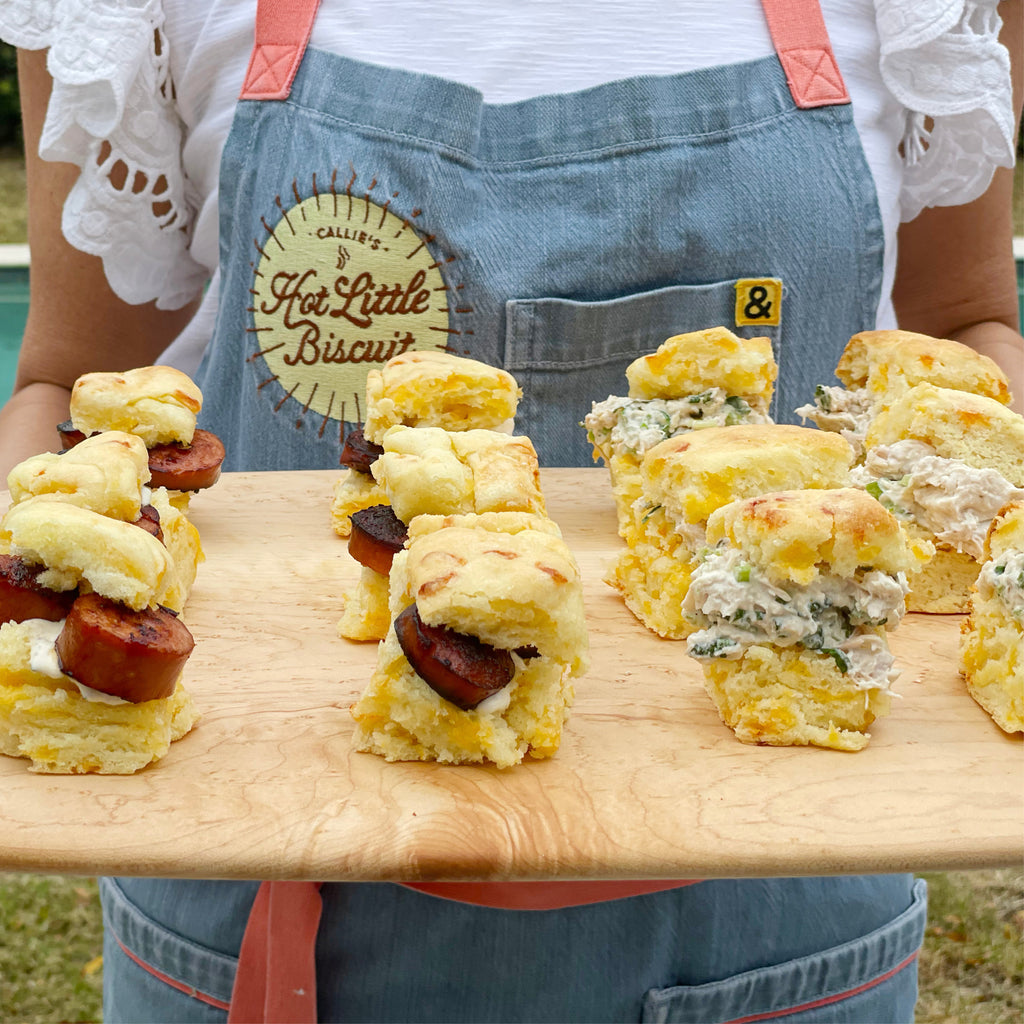 Easy Recipes to Serve up This Summer
Read on for the best and easiest summer recipes to make for the whole season.
July 4th means firing up the grill, having friends over, and enjoying the warm weather. The centerpiece of the season will be the cookouts! Put a spin on your usual plates with these fresh and delicious recipes. Try adding some flavorful shrimp to the menu, or get out the food processor to make a creamy dip everyone will love. It's never a bad idea to have a bright, flavorful cucumber sandwich for vegetarian guests (although omnivores will also appreciate it, we're sure). And of course, you can't forget dessert! 
On The Go Appetizers
Are you going on a family outing like the beach or lake? Take these Callie's Hot Little Biscuit travel well treats - sea salt biscuit crackers, cheese crisps, pimento cheese, cocoa & cream cookies.
The perfect companion to the sea salt biscuit crackers is my Smoked Fish Dip. This proves to be a great snack to take on the go for your weekend adventures.
Sausage & Peppers Cocktail Biscuits is a quick favorite that ignites my urge to entertain, especially when I smell the grill. These are a perfect twist on Callie's Hot Little Biscuit buttermilk biscuits for a delicious travel sandwich.
Pimento Cheese Pigs in a Biscuit Blanket is one of my favorite finger foods and this handmade pigs in a blanket is elevated in the most delicious way!
The Pimento Cheese Pinwheel appetizer is nice because it can be modified based on what you have on hand or the flavor preferences of your guests. 
Main
The Sheet Pan Shrimp & Sausage is here to help if you need something super quick and easy! I love serving it on its own or atop a salad for a quick and healthy meal that is delightful.
This BBQ Chicken Salad Biscuit is the perfect use of your leftover July Fourth weekend barbequing!
Perfect for the warm Fourth of July weekend or for an afternoon Southern soiree - the cucumber dill-icious sandwich is versatile and easy to make.
The summer favorite of Cheddar Jalapeño Corn Dog is a great way to get children used to a little spice with this fried dough but you can skip the cheese and jalapeño if you like.
The Fried Fish Sandwich combines the perfectly fried fish with a buttery toasted brioche bun, my Slaw for Everything, and Sriracha mayo. Not a fish family? Try the Fried Chicken Sammies!
Dessert
Baking Nutter Butters as a family is only half the fun of these tasty treats! They are so easy to pack for your July 4th activities.
Rosé-Spiked Berry Crostata - This recipe combines a crispy, buttery crust with rosé wine and fresh summer fruits.
Peach Upside Down Cake is a dish that is so versatile! It can be served in the morning at breakfast or brunch, as a dessert, or at room temperature to travel for your picnics.
Another mouth-watering recipe that can be changed for whatever time of day you need, the 3 crowd-pleasing shortcake biscuit recipes give you a breakfast, snack, and dessert option!
GoGo's killer cookies are not only a no-bake treat to keep in your freezer to whip out on any occasion but they travel well for your weekend activities.
Cocktails
Briny Hounds is a refreshing drink perfect for a day of hanging out with your friends and family. Enjoy!
Coined the Morey Margarita for my love of margaritas and my twist of the jalapeño kick. 
SHOP THE POST
Hot Little Tip
The best appetizers, dinners and desserts to serve (and grill) up for summer.