Customer Recipes: Kenton's Holiday "Cheese & Crackers" Biscuit Appetizer
From Carrie Morey's Hot Little Suppers cookbook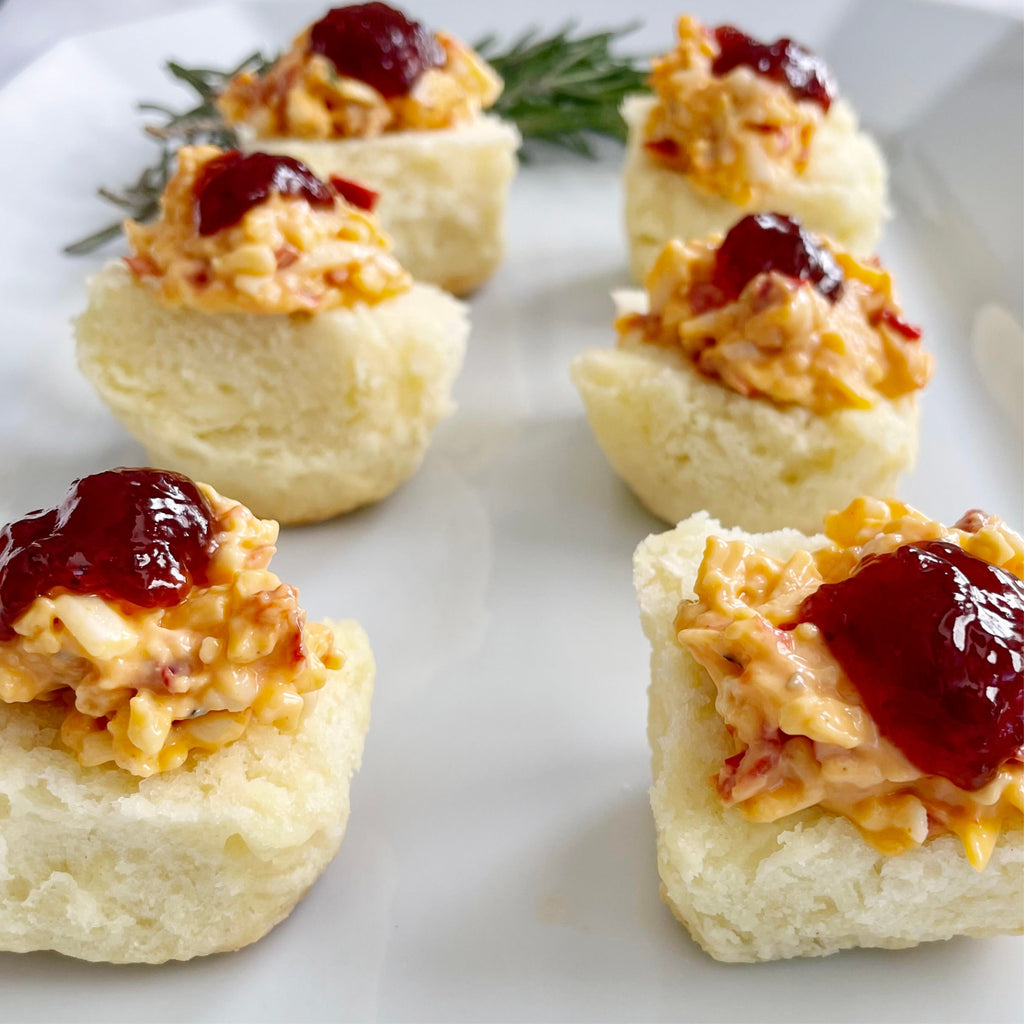 Ingredients
• Buttermilk Biscuits
• Fiery Pimento Cheese
• Raspberry Pepper Preserves
• Optional: Sprig of rosemary
For National Biscuit Month in September, we asked our social media followers and email subscribers the question "Are You a Hot Little Biscuit"? After receiving dozens of entries and stories from you all, we are so excited to announce the winner of the Are You a Hot Little Biscuit challenge! 

Congrats, Kenton Youngblood! 
Kenton is a home cook from Charleston, South Carolina who enjoys experimenting with recipes from other cooks that inspire her. When she is not working her day job or riffing in the kitchen, she loves to be on the water hanging out with her dogs and family.
Her winning submission was a riff on a recipe her mom used to make, an open faced buttermilk biscuit with pimento cheese, strawberry preserves, and a sprig of rosemary! 
Her parents had a Christmas party every year, filled with hors d'oeuvres and her favorite was a cheddar pecan cheese ring with strawberry preserves in the middle. Kenton wanted to recreate this "retro" appetizer as a way to remember and honor her mom as a talented old-school southern cook and to feel connected to the past.
Kenton loves to make this easy and elegant dish (with such fun pops of color!) that can be made in advance and place on a platter so that guests can grab a bite-sized canape to enjoy with cocktails. It's cheese and crackers, but elevated.
"I make it in a bite-sized form with Callie's Hot Little Biscuit's frozen buttermilk biscuits, Fiery Pimento Cheese and a wee dollop of strawberry preserves. It takes no effort at all and will impress your guests!"
Instructions
Preheat oven to 400 degrees
Remove biscuits from plastic, wrap in foil, and bake for 20-25 minutes
Open the foil to bake for 5 more minutes until golden brown
Add a dollop of Pimento Cheese and strawberry preserves
Optional, top with a sprig of rosemary
Shop the Post
Hot Little Tip
It takes no effort at all and will impress your guests!