The Secrets to a Great Party - a Biscuit Bar
From Carrie Morey's Hot Little Suppers cookbook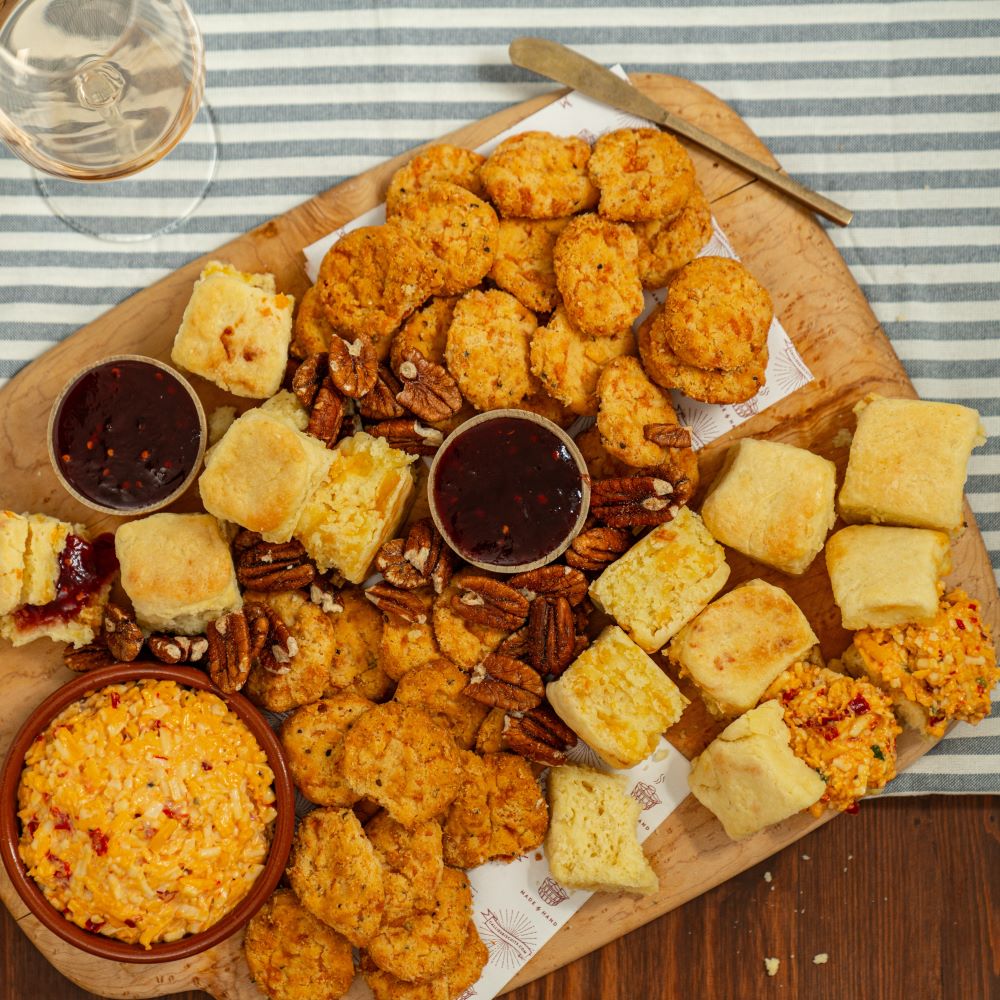 Ingredients
Basket of warm hot little biscuits and toppings like:
• Pimentoo Cheese
• Thinly sliced country ham
• Fried chicken
• Pork loin
• Beef tenderloin
• Honey
• High-quality jams and preserves
• Ham Salad
• BBQ Chicken Salad
• Savory Whipped Butter
• Cinnamon Butter
• Smoked Sausage with Spicy Mustard Mayo
When Garden & Gun Magazine hosted a party for its exclusive Secret Society club to celebrate the opening of the prestigious Keeneland Horse Races in Lexington, Kentucky, they selected Callie's Hot Little Biscuit (or Callie's Charleston Biscuits as it was called back then!) as a headline feature of the menu, chosen for its status as a "Southern icon." Being deemed an icon by the arbiter of good taste in the South is hardly an everyday occurrence, so I was extremely proud and appreciative. I was also inspired by the way they served my little icons: as part of a biscuit bar with all sorts of scrumptious toppings.
Since the Secret Society Club, we have built a catering business around these hot little biscuit bars, where we serve a selection of biscuit sandwiches or "hot littles" that guests can make their own with accouterments. 
One reason that I think Biscuit Bars are great for parties is that guests love to pick and choose their own toppings. I use this same guest participation tactic for soup parties and Bloody Mary bars as well:
Set up a biscuit bar for brunch or any daytime get-together. Or think of the topping ideas as even more ways to enjoy your biscuits any day (I love raspberry pepper jam, pimento cheese, shrimp, basil mayo, dill dip – the possibilities are endless!). 
If you are looking for more inspiration or biscuit bar ideas: Jamie Tarence, from Family Savvy, also made a delicious biscuit board! Take a look at our How to Build a Fabulous Biscuit Board • A Family Savvy Guest Feature for all her tips and tricks on the way to assemble a biscuit bar and ideas of what to include!
If you're looking to take the work out of party planning, let our Callie's Hot Little Biscuit team handle the baking and setup. Email catering@calliesbiscuits.com or fill out an inquiry form to get started! If you are a DIYer, simply reheat our packaged frozen biscuits and stock up on accouterments from our Pantry. 
Shop this post
Find these tips and more in my cookbook, Callie's Biscuits and Southern Traditions.
Shop Callie's Hot Little Biscuit
Hot Little Tip
Crostata Crust Options You can use any piecrust recipe for this crostata. Or save some time and use a store-baught piecrust. Roll it out the same way and reserve a pinch of dough to make the ribbons for the stripes on the flag. It's summertime and this recipe is adaptable, so do whatever is most fun and most convenient for you!