Grapefruit and Avocado Salad
From Carrie Morey's Hot Little Suppers cookbook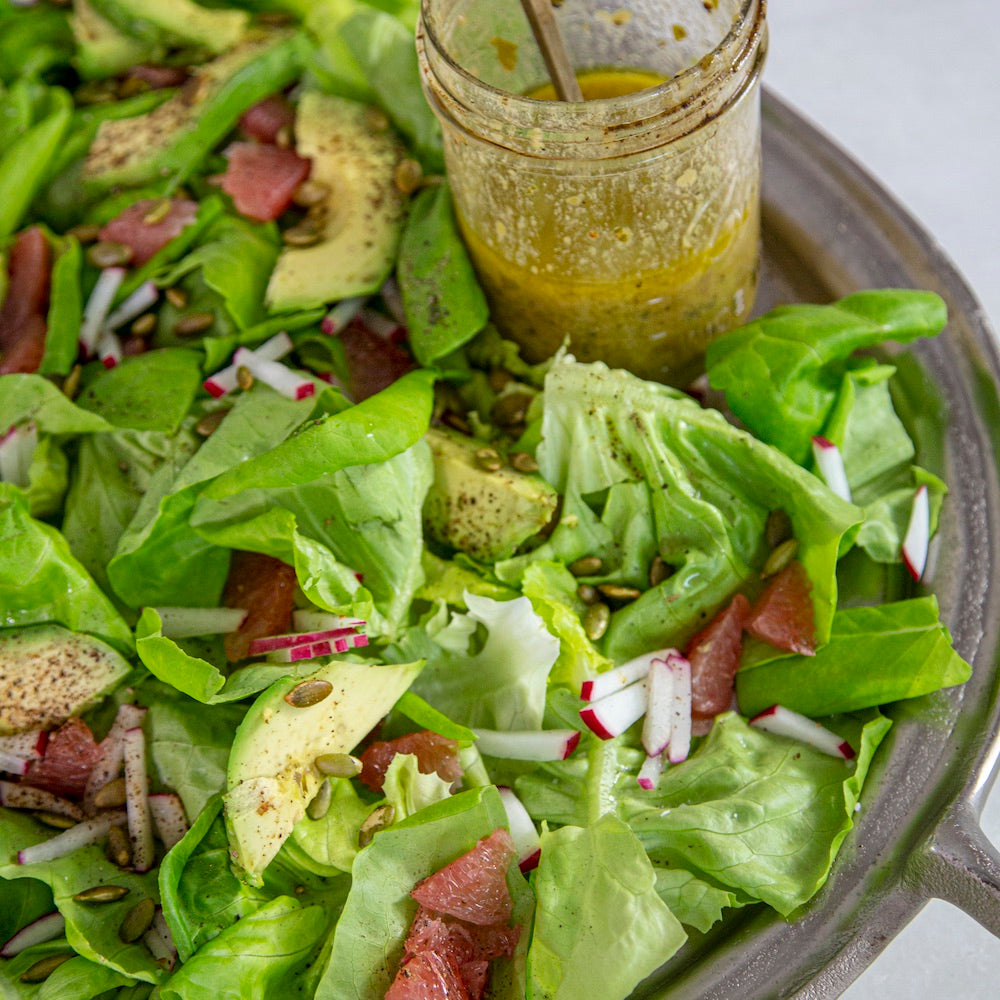 Ingredients
• 1 Head butter lettuce, torn into bite-size pieces (can substitute romaine or Bibb)
• 1 grapefruit, segmented
• 2 radishes, very thinly sliced into matchsticks
• Lime Vinaigrette (below)
• 1 avocado, sliced
• 1/4 cup Pepitas (pumpkin seeds), roasted and salted
• Tortilla strips, optional
• Cotija cheese, optional


Lime Vinaigrette
• 1 tablespoon Dijon mustard
• 1 clove garlic, minced (about 1 teaspoon)
• 1 teaspoon minced shallot (about 1 small clove)
• Zest and juice of 1/2 lime (about 1/2 teaspoon zest)
• 1/2 teaspoon chili powder
• 1/2 teaspoon cumin
• 1/4 cup olive oil
• 2 tablespoons white wine vinegar
• Salt and freshly ground coarse black pepper to taste
I eat this salad year-round.
It's inspired by my mom's recipe, and my girls beg for it at my house and her house. If you don't have the time or ingredients for the vinaigrette, you can instead whisk together 1/4 cup of olive oil, the zest of 1/2 lime and salt and pepper.
Instructions:
To make the lime vinaigrette: in a mason jar or other container, combine the Dijon mustard, garlic, shallot, lime zest, lime juice, chili powder, cumin, olive oil, white wine vinegar, and salt and pepper. Top with a lid and shake until everything is mixed together. Keep refrigerated until ready to use.
In a large bow, combine the lettuce, grapefruit, and radishes. Add the lime vinaigrette (you may not need to use all of the dressing). Toss to coat.
To serve, transfer the tossed salad to a serving platter. Top with the avocado slices, roasted pepitas, and, if desired, tortilla strips and Cotija cheese.
Hot Little Tip
For the pepitas, you can substitute sunflower seeds, peanuts, r any seeds or nuts that are salty and crunchy.