Kentucky Derby Party Recipes
From Carrie Morey's Hot Little Suppers cookbook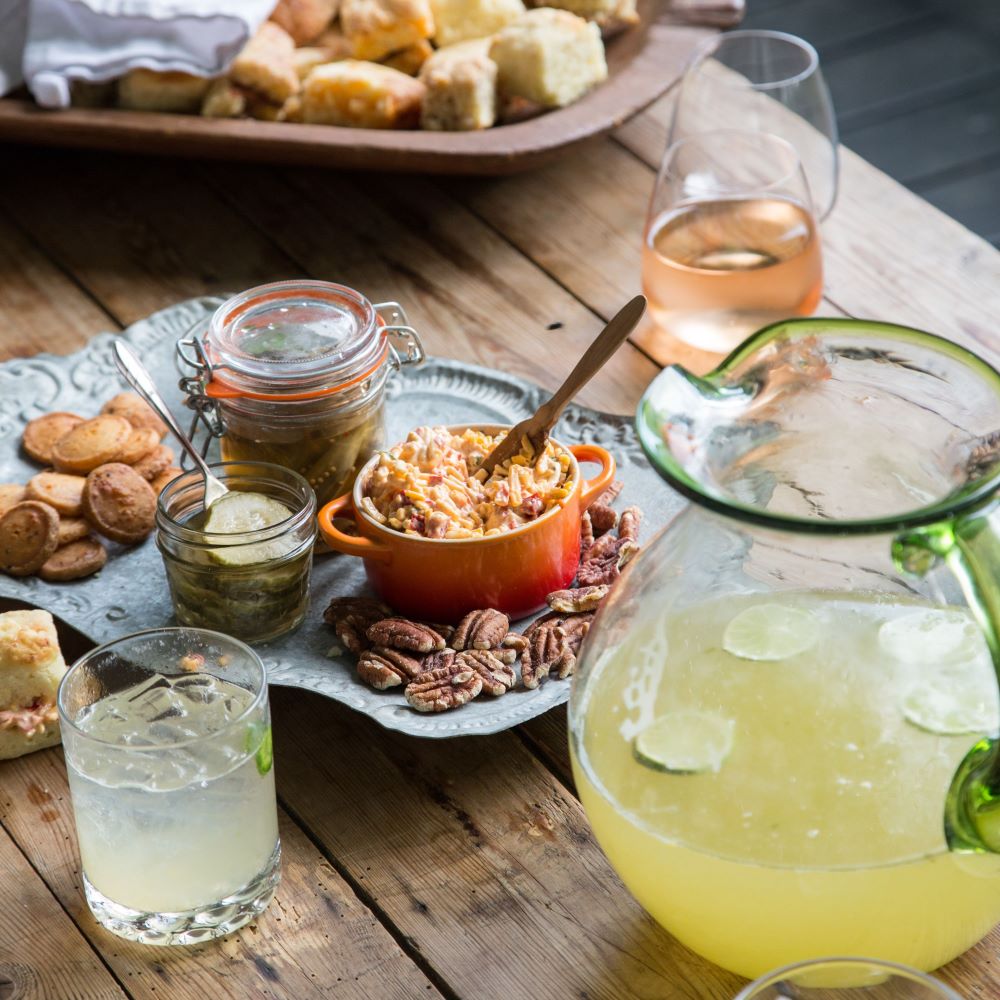 Kentucky Derby Menu Ideas:
We love Derby Days! Curate the a winning menu for your Kentucky Derby party!
Churchill Downs, the world's most legendary racetrack, has conducted thoroughbred racing and presented the Kentucky Derby continuously since 1875. Whether you are a big fan who knows the leaders, Forte and Angel of Empire, or this is the most information about the Kentucky Derby you have ever learned - it is still a great excuse to host a Kentucky Derby party!
Here's a list of the best Kentucky Derby party foods to create your Kentucky Derby Menu: 
This Coffee Rubbed Beef Tenderloin is one of my go-to biscuit cocktail hour snacks. Grab some frozen Callie's Hot Little Biscuits to easily fill with this delicious tenderloin.
Fiery Cheese Wafers: My grandmother used to make them in the form of a straw since have been updated and known as our Cheese Crisps. But just like a good buttermilk biscuit, they are extremely versatile and can really work for any occasion.
Pimento Cheese Sandwiches: If you attend any southern soirée, you're likely to find a tea sandwich on the menu, especially at a Kentucky Derby watch party. Use Callie's Hot Little Biscuit pimento cheese for fresh, quality ingredients!
Naughty Pimento Cheese Deviled Eggs - They have become part of our regular spring and summertime repertoire - perfect for the Kentucky Derby.

Vegetable Beef Soup (also known as a Kentucky Slow-cooker Burgoo) - Kentuckians have counted on this dish showing up at family reunions and church socials ever since chef Gustave Jaubert, employed by Frankfort's Buffalo Trace Distillery, made it popular in the late 1800s. No two recipes are alike, but one thing remains the same—it feeds a crowd. 
Ham Pleasures Biscuit Sandwich appeared on the Love, Reese Draper James blog for Southern tailgating tips. We like to think of the Kentucky Derby as a southern-party tailgate! 
The Cast Iron Party Shrimp dish is served right out of the skillet with warm bread, and it blends Southern and French flavors: the skillet and shrimp on one hand and the French bread and stock on the other. It's so easy, yet somehow it feels sophisticated.
I'm calling this my Grown Up Goat Cheese Dip & Biscuit Crostini because it feels a bit more elevated from your typical homemade cheese dip but with less work than what you are used to doing by hand!
Drunk and Toasty Myers Pecan Pie - Whether pecan pie was created in New Orleans or Texas - there is one thing for sure, it's definitely a Southern creation and enjoyed at Southern events like the Kentucky Derby.
Briny Hounds - What better way to kick off the races than with a tasty cocktail? This refreshing drink is perfect for a day watching horse racing!
SHOP THE POST:
Hot Little Tip
Check out the Hot Little Suppers blog for even more great recipes!