How to Clean & Shell a South Carolina Blue Crab • Join Crab Expert Tia Clark and Carrie Morey
From Carrie Morey's Hot Little Suppers cookbook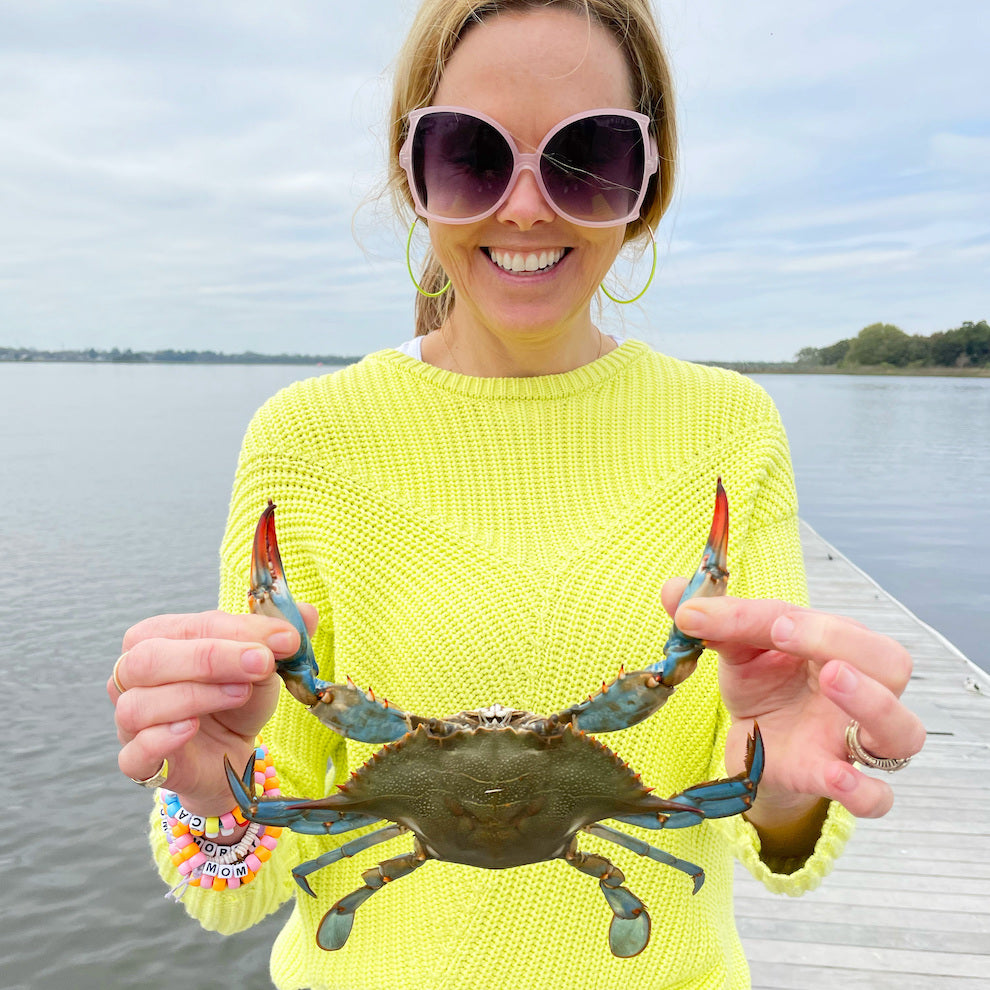 How to Clean a South Carolina Blue Crab
Crabbing expert, Tia Clark, shows founder Carrie Morey how to clean a crab for the perfect Crab Hushpuppies!
I am a firm believer that every meal is better with a little bit of lowcountry in it. When my friend Krysten and I hosted our Persian-ish Porch Supper celebrating female founders in Charleston, I knew I wanted to include South Carolina blue crab in the menu.   
I grew up crabbing with both my parents. We'd throw crab traps off the dock in the morning and go back late afternoon to grab our catch of the day. I loved crabbing and have since taught my girls the tricks of the trade. 
Now, I have a lot of experience crabbing, but if you are looking for the expert in lowcountry crabbing, look no further than my friend Tia Clark of Casual Crabbing with Tia. Tia joined us for the Porch Supper and shared her secret for how to clean a fresh-caught, South Carolina blue crab for an easy way to get all the meat! 
We used the crab meat for Crab Hushpuppies – a super simple fried hushpuppy recipe using Sweet Betsy hushpuppy mix with green onions, bell or red pepper, lemon juice and zest, and buttermilk... along with crab, of course!
How to Clean & Cook a Fresh South Carolina Blue Crab:
When cleaning a live blue crab before cooking you will need to first
Euthanize the crab. You can do this with an ice pick or a knife. I use a knife and stab below the mouth parallel with the apron.

Remove the carapace by pulling off.

Hose out the guts and gills. A high pressure hose works best. If doing this in your kitchen, you can also use running water from your sink. 

Remove the mouth, gills and the apron.

Cut in half and then you have cleaned blue crab clusters.
Hot Little Tip
I always source my seafood locally – whether it's from Tarvin's Seafood on Shem Creek, from a class with Casual Crabbing with Tia, or straight from the docks by my house. You can always taste the difference when it's fresh from the local waters! - Carrie