Mouthwatering Recipes Using Callie's Hot Little Biscuit Pimento Cheese
From Carrie Morey's Hot Little Suppers cookbook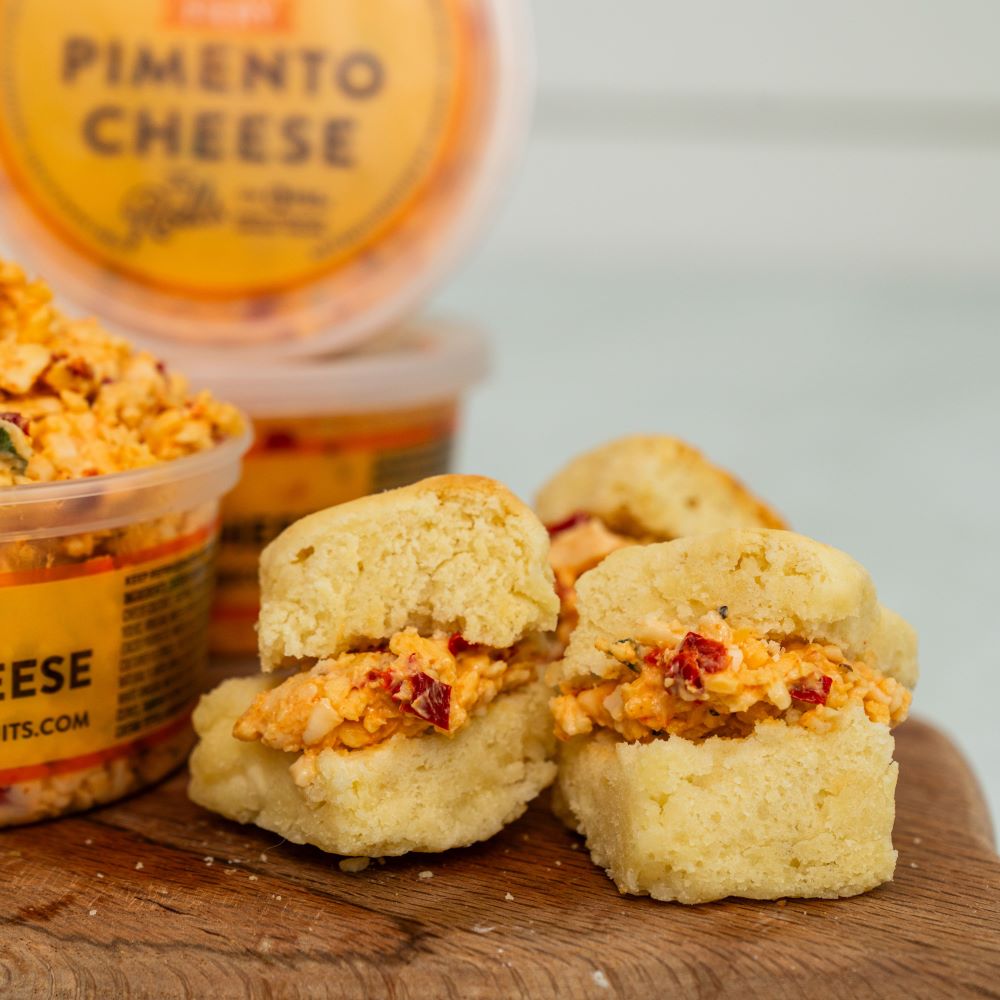 Now at Costco!
Our favorite ways to eat up authentically Southern pimento cheese:
• Biscuit Boards
• Pimento Cheese and Grits
• Naughty Eggs
• Pimento Cheese Biscuit
• Biscuit Sandwich Casserole
• Hors d'oeuvres
• Jalapeño Poppers
• Southern Fried Green Tomatoes
• Pimento Cheese Queso Olé
• Pimento Cheese Pinwheel
• Pigs in a Biscuit Blanket
• Southern Rotel Dip
• Pimento Cheese Sausage Balls
• Pimento Cheese Tea Sandwich
• Twice Baked Potatoes
• Soft-Shell Crab Grilled Cheese
• Mac & Cheese
Callie's Hot Little Biscuit Traditional Pimento Cheese is now available in Costco in the Northeast and Southeast region, in select cities in North Carolina, South Carolina, Tennessee, Georgia, Alabama, Mississippi, Virginia, Maryland, Washington DC, Pennsylvania, and Delaware. In honor of our new Costco pimento cheese offering, we have compiled a few of our favorite ways that you can enjoy 24 oz of our pimento cheese! 
One thing that sets us apart from the other pimento cheese on the shelf? Ingredients found in your kitchen! This pimento cheese is a great addition to your breakfast, supper, or snack! Of course, Carrie Morey's favorite way to enjoy pimento cheese is on our biscuits or our new sea salt biscuit crackers.
Breakfast
Jamie from Family Savvy teaches us how to build a fabulous biscuit board for family gatherings, brunch with friends or whatever the occasion. Grab a few tasty accoutrements while at Costco but you can't forget the pimento cheese.
Start the morning on the right foot with a hearty bowl of pimento cheese grits! Enjoy breakfast by topping off this recipe just how you like it with everything you can find at Costco.
Naughty Eggs, a twist on the classic deviled eggs, with pimento cheese is the only way that Carrie will enjoy them.
Pimento Cheese Biscuits is a simple twist on the classic Callie's Hot Little Biscuit buttermilk biscuit recipe that we just had to do!
Biscuit Sandwich Casserole: This Southern Living-inspired dish is a great single dish that could feed a crowd!
Snack
Kenton took the classic cheese and crackers and elevated them with pimento cheese and biscuits for a delicious snack or appetizer.
Spice up your snacks (literally) with the Pimento Cheese Jalapeño Poppers with this very easy, 3 ingredient recipe to have the perfect summer appetizer!
Can't go wrong a Southern Fried Green Tomato but top it with pimento cheese to make it all better.
While you are at Costco, grab some tortilla chips and our pimento cheese to make Carrie's signature Pimento Cheese Queso Olé.
The Pimento Cheese Pinwheel appetizer is "so good yet so simple to make"!!
Pigs in a blanket is a staple snack in the Morey household but let's add a twist! These are Pimento Cheese Pigs in a Biscuit Blanket!
This Southern Rotel Dip is a staple for any good tailgate party but not your typical college game day Rotel dip.
If you have 20 minutes, you can make this appetizer or breakfast snack - the 3-Ingredient Pimento Cheese Sausage Balls.
Pimento Cheese Tea Sandwiches are technically a snack but honestly, they could be the whole meal too.
Carrie's daughter Cate LOVES these Pimento Cheese Twice Baked Potatoes, even if Carrie doesn't love them that much. 
What's better than a grilled cheese sandwich? Maybe this Soft-Shell Crab Grilled Pimento Cheese Sandwich.
Pimento Cheese Mac & Cheese - Traditional mac and cheese may be a universal comfort food, but here in the South, baked macaroni and cheese is a quintessential Southern side dish that is made for every meal!
Shop This Blog:
If our pimento cheese isn't in a Costco near you, have it shipped to your door! 
Find us in a Costco near you: Click here for addresses
Mouthwatering Recipes Using Callie's Hot Little Biscuit Pimento Cheese • Now in Costco!
Hot Little Tip
You can dip it, bake it, top it, stuff it and so much more!