Lowcountry Tomato Pie
From Carrie Morey's Hot Little Suppers cookbook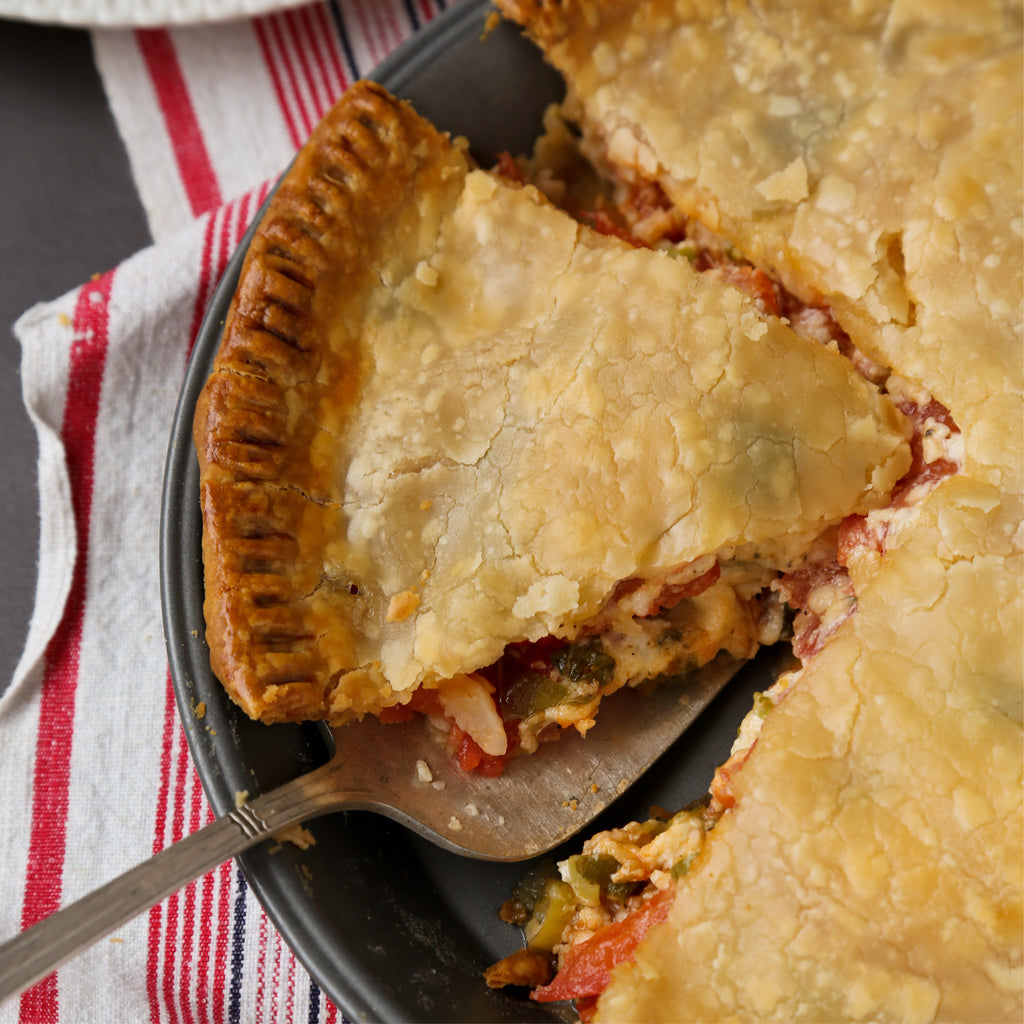 Ingredients
• 2 recipes Mama's Butter Piecrust (find recipe on page 147 of my cookbook)
• 6 large tomatoes (2 pounds)
• 1/4 teaspoon kosher salt
• 1/2 cup mayonnaise
• 6 tablespoons olive oil
• 1 cup grated Parmesan cheese
• 1/2 cup grated Pecorino Romano cheese
• Freshly ground black pepper
• 4 green onions, minced (white and green parts)
• 15 fresh basil leaves, torn into small pieces
My California in-laws don't often indulge in Southern food. They say that it's too heavy, and I can understand that (to some degree!). In fact, trying to lighten up some of my Southern favorites has led to some of my best recipes. Little by little, with slight modifications to the traditional ingredients and methods, I am winning them over.
This recipe is a great example of everything in moderation. It uses lighter Italian cheeses, olive oil, and half the mayonnaise of the typical recipe. Do be sure to drain the tomatoes with a sprinkling of salt for at least 30 minutes so the pie is firm rather than liquidy.
Instructions
Roll out and fit half the dough into a 9-inch pie dish. Trim the edges. Pre-bake at 400°F according to the instructions. Remove to a cooling rack and reduce the oven temperature to 350°F.
While the crust bakes, peel and core the tomatoes. Slice or chop the tomatoes and sprinkle with the salt. Drain in a colander for at least 30 minutes.
Combine the mayonnaise, olive oil, Parmesan, and Romano.
When the bottom piecrust has cooled, spread one-third of the mayonnaise mixture evenly in the bottom of the crust. Scatter one-third of the tomatoes in a layer and sprinkle with pepper, one-third of the green onions, and then one-third of the basil.
Repeat the layers 2 more times, starting with the mayonnaise mixture and finishing with the basil, or until all the ingredients are used.
Roll out the other crust and place on top. Crimp the bottom and top crusts together. Use the tip of the knife to make a few slits for steam to escape.
Bake 35 to 45 minutes, until the top is golden. Let cool slightly before cutting.
Hot Little Tip
Don't forget to peel your tomatoes! I use a serrated peeler, like the Messermeister Peeler. It so easy to use and you'll never need another peeler again.