Mrs. Burns and Amy's Country Fried Steak
From Carrie Morey's Hot Little Suppers cookbook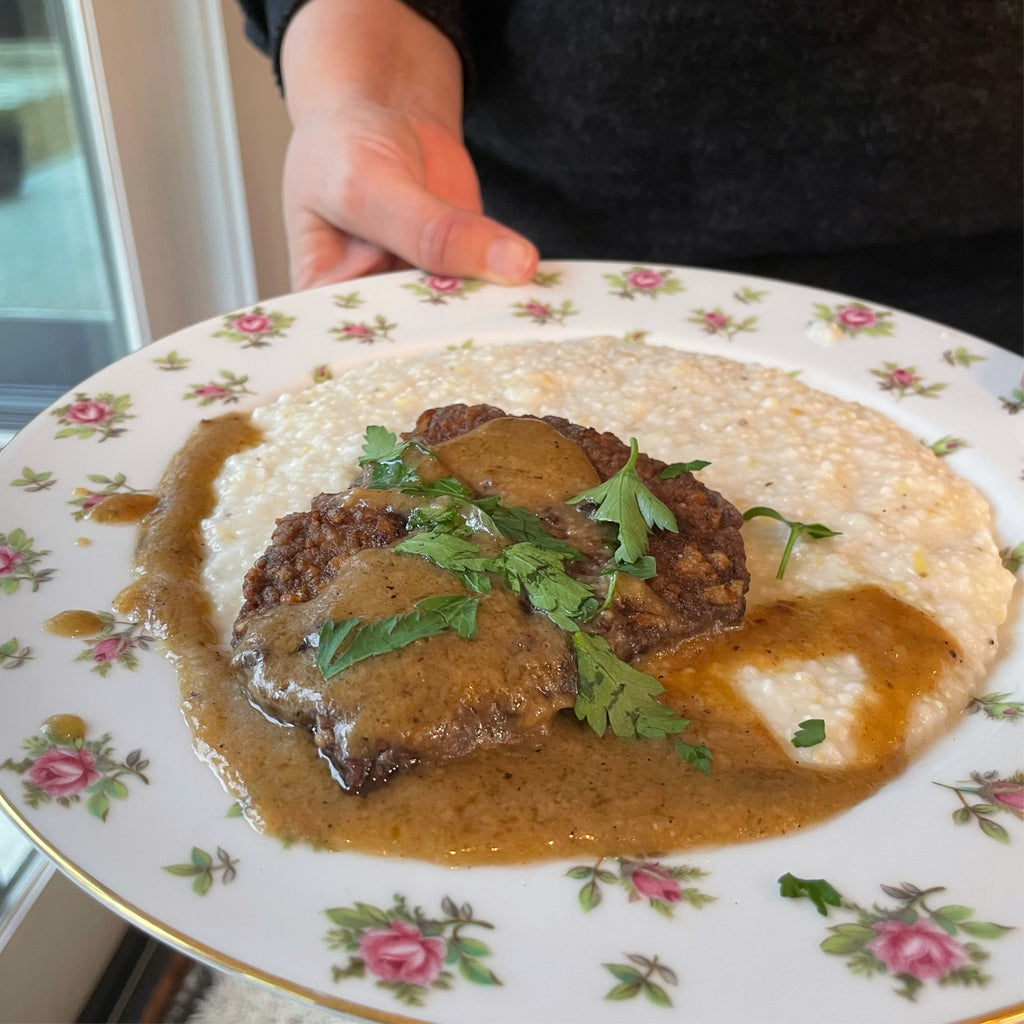 Ingredients
• 1 cup all purpose flour
• Kosher salt and freshly ground black pepper
• 1/2 teaspoon cayenne pepper
• 1/2 teaspoon dry mustard
• 1/2 teaspoon minced fresh thyme
• 6 thin cube steaks
• 1 cup vegetable oil
• 1 cup beef stock
• 1 tablespoon butter
Amy Burns is one of my best friends. We became instant friends when we met playing basketball against each other in high school. She was like a sister to me right from the start. We lived across town from each other—"across the bridge"—which in those days felt like a great distance. I'd often spend the night at her house, even on weeknights. Amy's mother, Madeline, is an incredible cook, and their family has always been so close. Every night the whole family sat down to eat supper together. Living with my father and stepmother who both worked, I was accustomed to sitting down to a family meal on Sundays only. So the whole concept of a nightly sit-down meal with the family was foreign to me.
Not only that, but Mrs. Burns had a calendar with every meal planned for every night of the whole month. Our friend Krysten and I thought this calendar was the craziest thing we'd ever seen, and we loved to laugh about it. And yet . . . Krysten and I would regularly check the calendar on the Burns' refrigerator for our favorite meals so we would know which days we wanted to ask if we could come over. The meal I always searched for was Mrs. Burns's country fried steak. I will never forget the way the Burnses welcomed me to their family table. And I will never forget how out-of-this-world good Mrs. Burns's country fried steak was. Now Amy makes it for her young family. She even has her own monthly food calendar. Her children's friends will love her for it!
Mrs. Burns and Amy serve this with mashed potatoes or rice, but that might just put me over the edge of indulgence! I usually serve it sprinkled with chopped green onions and with an arugula salad on the side.
Instructions
Combine the flour with 1 1/2 teaspoons salt, 1 1/2 teaspoons pep- per, the cayenne, mustard, and thyme. Dredge the steaks in the seasoned flour. Place the steaks on a cooling rack and allow to set about 30 minutes. Save 1/4 cup of the seasoned flour for the gravy.

In a cast iron skillet, heat the oil to 350°F. Cook the steaks for 2 minutes per side. Remove the steaks to a paper bag to drain. Keep warm while you make the gravy.

Spoon out all but 1/4 cup of the dripping from the pan. (Be sure to leave the good browned bits.) Whisk in the reserved flour and cook on medium/high heat for about 5 minutes, until crispy.

Whisk in the beef stock and cook until bubbling and thickened. Melt in the butter. Taste and adjust the salt and pepper.

Serve the steaks with the gravy.
Hot Little Tip
I will never forget how out-of-this-world good Mrs. Burns's country fried steak was! It still brings me back to my childhood.