Oatmeal Cream Pies
From Carrie Morey's Hot Little Suppers cookbook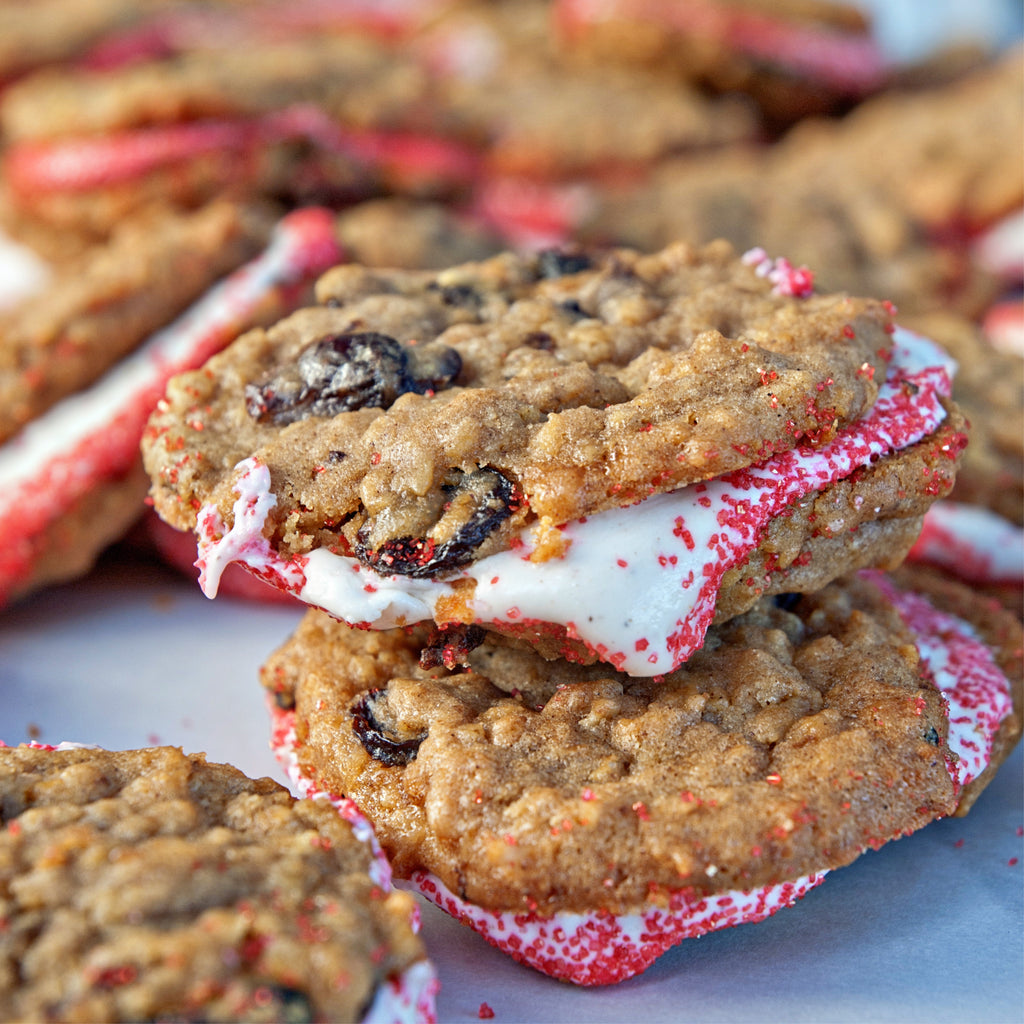 Ingredients
• 10 tablespoons (1 1/4 sticks) butter
• 3/4 cup firmly packed light brown sugar
• 1/2 cup white sugar
• 2 large eggs, at room temperature
• 1 teaspoon pure vanilla extract
• 1 1/2 cups all-purpose flour
• 1 teaspoon baking soda
• 1 teaspoon ground cinnamon
• 1/2 teaspoon kosher salt
• 3 cups uncooked rolled oats (quick or old fashioned)
• 1 cup raisins
• 1 cup chocolate chips

Then make the filling:
• 2 cups powdered sugar, sifted
• 1/2 pound (2 sticks) butter, at room temperature
• 1 (16-ounce) container marshmallow creme
• 1 teaspoon pure vanilla extract
• 1/2 teaspoon ground cinnamon
• Pinch of Kosher salt
• Garnish (optional): sprinkles or mini chocolate chips
When Sean Brock opened up his now famous restaurant, Husk, in Charleston, one of the first desserts on his menu was an oatmeal cream pie. His opening happened to be close to my daughter, Cate's, birthday. Inspired, I decided to make and send oatmeal cream pies to her class for her birthday instead of cupcakes.
Just the idea of "cream filling" is thrilling for children -- and for anyone who ever was a child. The oatmeal raisin cookies were as soft as Levain Cookies and the cream pie filling was finger-licking delicious. The pies were a huge, yummy, gooey, hit in Cate's classroom! 
You can roll the cream sides in sprinkles or chocolate chips. This is another recipe that's fun to experiment with and create variations using different kinds of cookies and garnished for the cream filling. You can also use store-bought cookies or refrigerated-dough cookies. A stand mixer is good for this recipe.
*Makes 4 dozen cookies and 3 cups filling.
Cookie Instructions
Preheat the oven to 350°F.
Beat the butter, brown sugar, and white sugar together with an electric mixer until creamy, 6 to 8 minutes. Mix in the eggs and vanilla.
Whisk the flour, baking soda, cinnamon, and salt together in a separate bowl. Add to the butter mixture and mix well. Add the oats. Mix well. (If your mixer is not very powerful, you may have to do this mixing by hand.) Fold in the raisins and chocolate chips.
Drop by the tablespoon on ungreased baking sheets, 1/2 inch apart. Bake 8 to 10 minutes, until the cookies are light golden brown.
Let cool briefly on the pans, then remove to racks to cool completely. If baking multiple batches on the same baking sheet, make sure the baking sheet cools before you put the dough on it. 
Filling Instructions
While the cookies are cooling, make the filling.
Beat the sugar, butter, and marshmallow creme with an electric mixer until well blended. Mix in the vanilla, cinnamon, and salt.
Spoon the filling onto the flat side of half the cookies. Top each with another cookie and squeeze gently.
Roll the edges in sprinkles or chocolate chips, if you'd like. Store in an airtight container.
Hot Little Tip
For the birthday pies, I wrapped each one in parchment paper, then gathered the paper on top and tied it with a pretty ribbon. Fast-forward to 2020 and Cate is taking these cookies and more and created a little business! I am so proud of Cate's Cookies!