Pork Ragu with Pappardelle
From Carrie Morey's Hot Little Suppers cookbook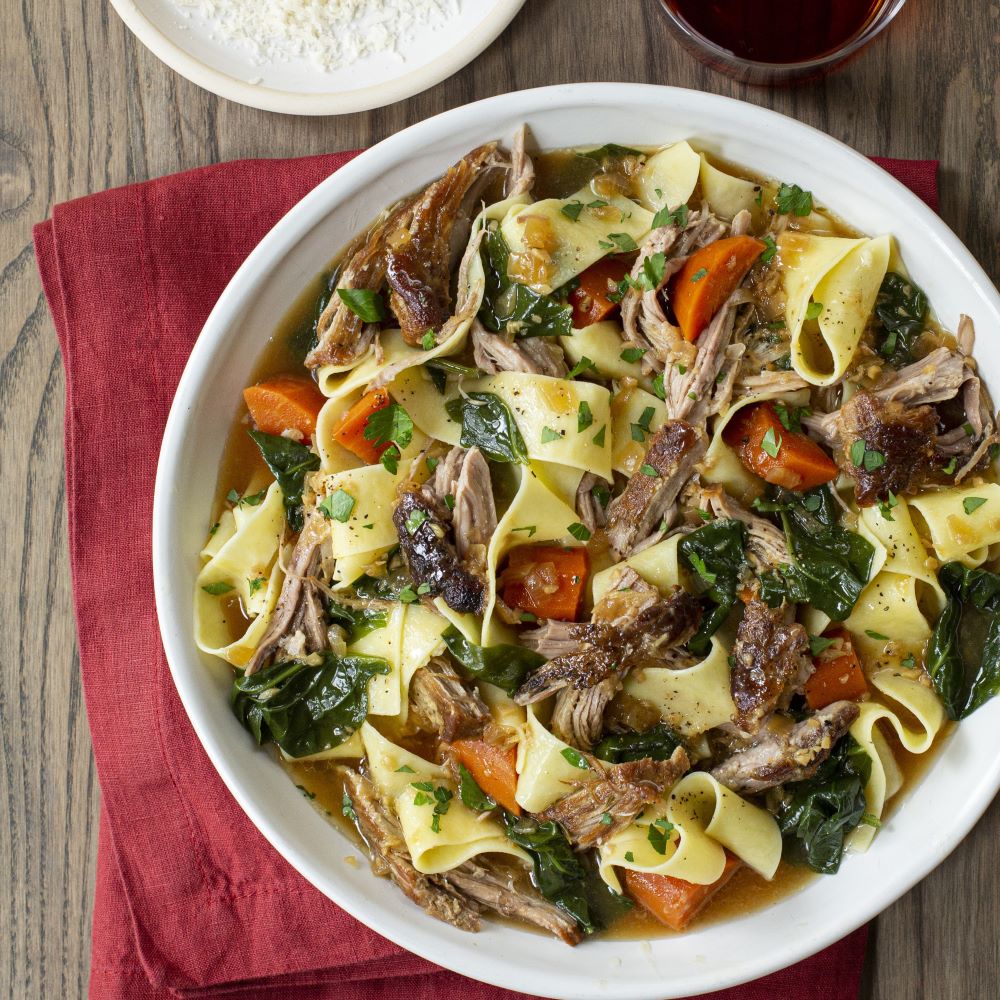 Ingredients
• 1 (3-pound) pork shoulder
• Salt and freshly ground coarse black pepper
• 2 tbsp canola oil
• 1 white onion, chopped (about 1 cup)
• 1 clove garlic, minced (about 1 tsp)
• Zest and juice of 2 lemons (about 4 tsp zest and 6 tbsp juice)
• 1 cup dry white wine
• 1 cup chicken stock
• 6 sprigs fresh thyme, tied in a bundle with kitchen twine
• Parmesan cheese rind
• 3 large carrots, peeled and chopped into quarters
• 1 pound pappardelle pasta
• 1 cup reserved pasta water
• 1 (10-ounce) bag fresh spinach
• 3 tbsp butter
• 1/4 cup chopped fresh flat-leaf Italian parsley
• 1/4 cup fresh grated Parmesan cheese
When you serve this pasta to guests, they'll think you've been toiling away at it all day long! They don't need to know how easy it really is. It does take a few hours, but that's cooking time in the oven, not heavy lifting for the cook.
This is my daughter Sarah's birthday supper request – the ultimate stamp of approval in our house! Noodles lacquered in slow-roasted pork fat and au jus....need I say more?
Instructions:
Preheat the oven to 325 degrees.
Season both sides of the pork with salt and pepper. Heat a large Dutch oven over medium-high heat and add the canola oil.
Sear the pork on all sides, about 3 to 4 minutes per side. Remove the pork from the pot and set it aside on a plate. Reduce the heat to medium-low. Add the onions and garlic and saute for 2 to 3 minutes, scraping up all the brown bits stuck to the bottom.
Add the pork back to the pot with the onions and garlic. Add the lemon zest and juice, wine, stock, thyme bundles, and Parmesan ring. Put the lid on the pot and cook in the oven for 1 hour, then turn the pork and cook for another hour.
After the additional hour, add the carrots and stir them in. Cook in the oven for 20 to 30 minutes.
Remove the thyme bundle and Parmesan ring. With two forks, pull off the fatty parts of the pork while separating the meat into shreds. Discard the fatty pieces.
Boil the pasta in salted water and cook according to the directions on the box for al dente. Before you drain the pasta, reserve one cup of the pasta water and set aside.
Add the pasta, spinach, and butter to the shredded pork in the Dutch oven. Stir to combine. Turn the stove to low heat to incorporate the ingredients. Add a little of the pasta water to thicken the mixture.
Remove from the heat and top with the parsley and grated Parmesan to serve.
Hot Little Tip
Want to take this ragu over the top? Add some morel mushrooms. Sauté fresh morels in butter, then add them to the Dutch oven with the pork at the same time as the lemon zest and juice, wine, stock, thyme, and Parmesan rind.