Pull-Apart Cast Iron Black Pepper Bacon Biscuit
From Carrie Morey's Hot Little Suppers cookbook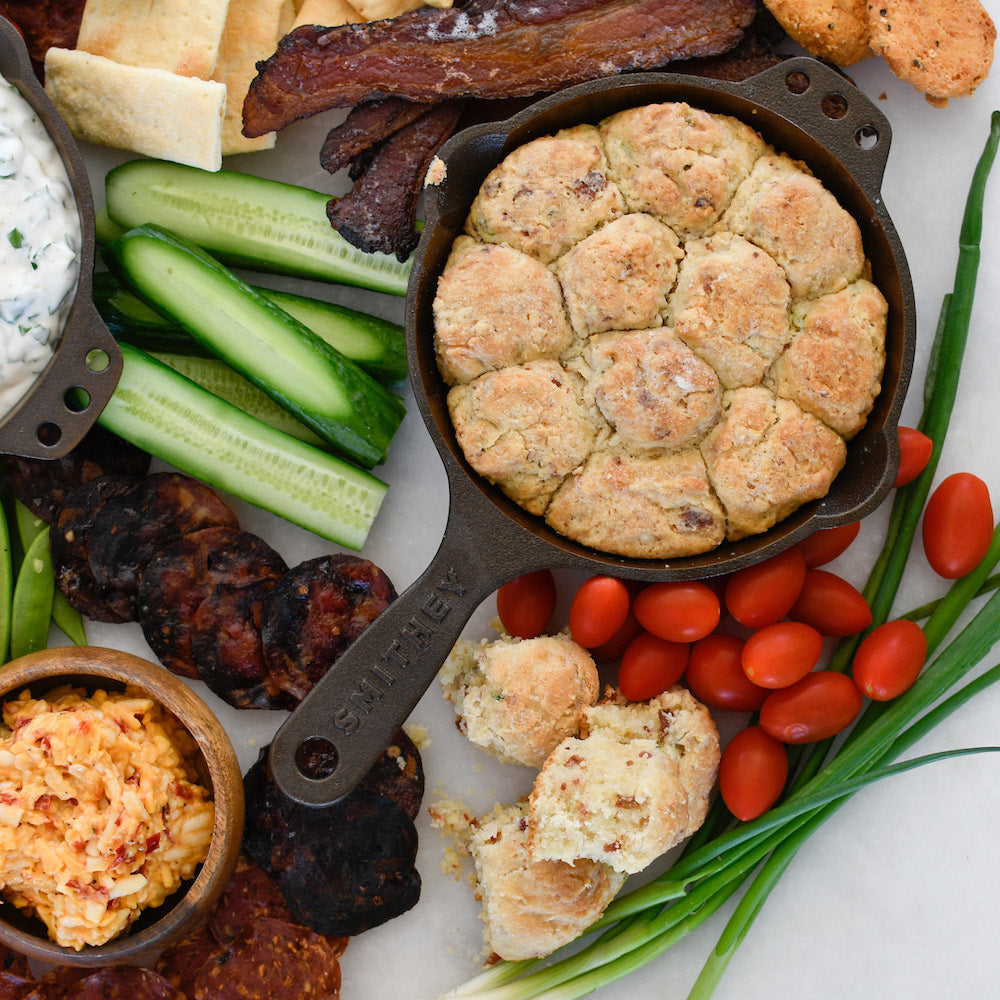 Ingredients
• Buttermilk Biscuit Mix
• 1 1/2 to 2 tablespoons ground black pepper
• 5 tablespoons butter, 4 cut into small cubes at room temperature, 1 tablespoon melted
• 1/4 cup cream cheese, at room temperature
• 3/4 cup whole buttermilk
• Porter Road's Pork Bacon, chopped
Once I mastered my mom's buttermilk biscuit recipe, I was ready to experiment with my own savory ideas! This is one of my first and favorite recipes. I've added
Porter Road Pork Bacon for an extra indulgence. This bacon is super thick cut and is perfect for bringing a lot of flavor into small bites! 
While I'd traditionally bake biscuits on a parchment-lined baking sheet, I thought the presentation of the biscuits in a 
 

Smithey's No. 6 Skillet would be so fun for a Super Bowl party or festive brunch. The skillet is
 six inches in diameter and perfect for dips. I have their set of four in this size so I can pair the pull-apart biscuits with an entire grazing board of my favorite dips and small dishes, like
Charcuterie Dip & Chips
, 
Elevated Southern Rotel Dip
, and 3-ingredient
Pimento Cheese Sausage balls
. 
Instructions
Preheat your oven to 500 degrees. Make sure the oven rack is in the middle position. 
Measure 2 cups of biscuit mix into a large bowl. Mix the pepper to distribute evenly. Incorporate the butter and then the cream cheese into the flour using your fingers to "snap" in the butter and cream cheese until the mixture resembles finely grated Parmesan cheese. It will be chunky with some loose flour. 
Incorporate your chopped bacon into the dough until evenly distributed.
Make a well in the center. Pour in the buttermilk and use your hands to mix the flour into the buttermilk. The dough will be wet and messy. 
Sprinkle some of your remaining biscuit mix on top of the dough and between the dough and bowl so the dough can easily maneuver out of the bowl. 
Use your remaining biscuit mix to flour your work surface and cast iron. With force, dump the dough from the bowl onto the surface. Flour the top and the rolling pin. Roll the dough to 1/2 inch thickness. 
Flour a cocktail size biscuit cutter and stamp your biscuits. Go straight up and down – do not twist! Place the biscuits into a buttered cast iron so they touch. Brush with melted butter. 
Place in oven and immediately reduce temperature to 450 degrees. Bake 16-18 minutes, until light brown on top, rotating the cast iron one while baking. 
Shop the Post
Buttermilk Biscuit Mix or Gluten Free Biscuit Mix
Smithey Ironware No. 6 Skillet
Hot Little Tip
You can make these biscuits meat-free by skipping the bacon or you can slice the biscuits in half and add the bacon sandwich style like at our Callie's Hot Little Biscuit eateries.