Roasted Tomato and Zucchini Tart
From Carrie Morey's Hot Little Suppers cookbook
P.S. When my girls asked me what the green round things were, I told them cucumbers. The things we do to nourish our children! — Carrie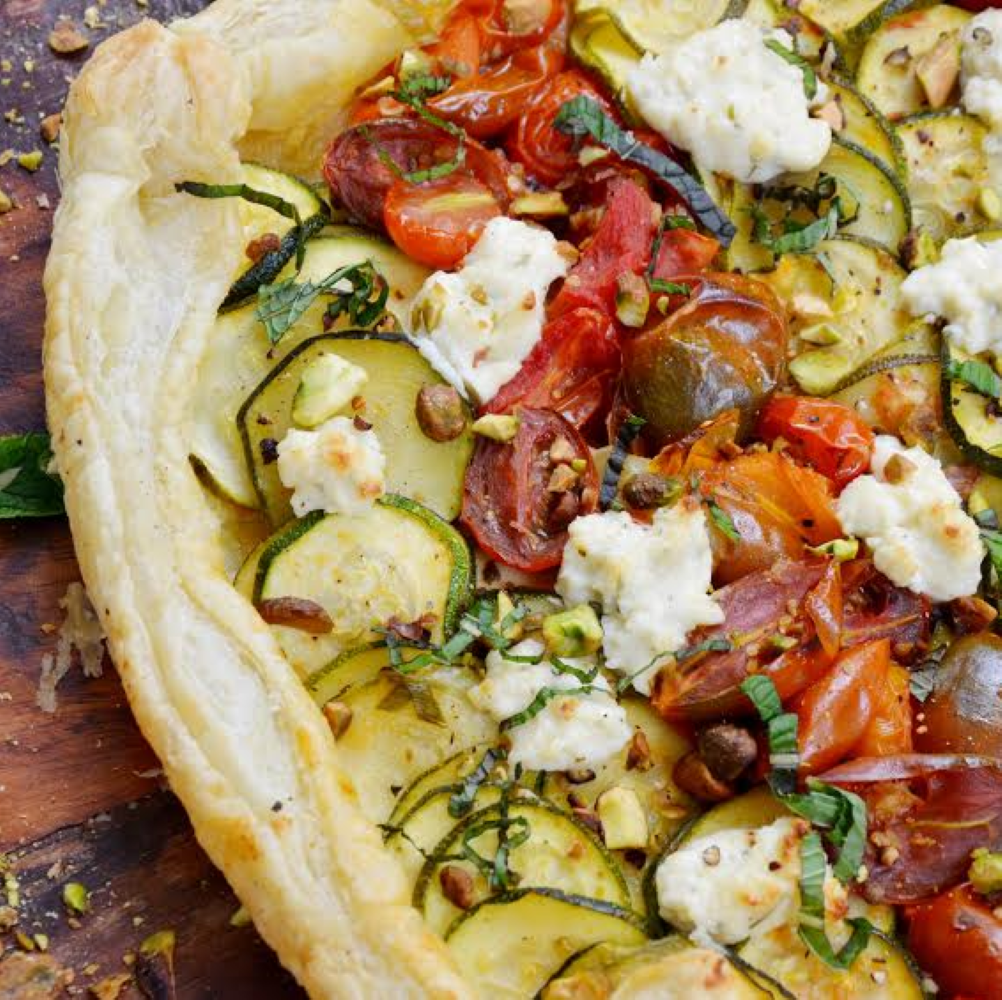 Ingredients
• 3 cups zucchini, rinsed and sliced thin (about 3 zucchini)
• 3 cups mixed medley cherry tomatoes, rinsed and cut in half
• 2 garlic cloves, minced
• 2 green onions, diced
• 2 tablespoons olive oil
• Salt and Pepper to taste
• 3 ounces Boursin cheese
• 1 tablespoon butter, melted
• 1 tablespoon flour, divided
• 2 tablespoons shelled pistachios, chopped
• 1 tablespoon fresh mint, chopped
• 1 sheet puff pastry, thawed
If you are anything like me, I'm always trying to figure out sneaky ways to get my girls and husband to eat more veggies. I've realized that if I nestle vegetables amongst their favorite things, it becomes less of a struggle. This simple, colorful, and flavor-packed savory zucchini tomato tart has done the trick! The next time my girls tell me they don't like zucchini, I'll remind them of that time when they licked this plate clean!
The smell of these vegetables roasting in the oven will make you a fan of this tart before you even taste it! I discovered my love of roasted tomatoes when we were trying to come up with some vegetarian options for biscuit toppings at Callie's Hot Little Biscuit. The roasted tomatoes were a surprise favorite and have become a super-popular item. You can make a meal of this tart or slice it and serve it as a colorful, savory hors d'oeuvre.
Don't have a puff pastry? Sub biscuit mix rolled thin! Make biscuits like normal but roll the dough out super thin, place it on the baking sheet, and start at step 6.
Instructions:
Preheat oven to 400. Line a baking sheet with parchment paper and set aside.
In a large bowl, mix the zucchini, tomatoes, garlic, green onions, olive oil, salt, and pepper. Pour onto the parchment-lined baking sheet.
Roast vegetables in the oven for 10-15 minutes.
Remove vegetables from the oven and place them into a colander to drain off the excess water. Let drain for 10 minutes, shaking off excess water.
Sprinkle half of the flour onto a sheet of parchment paper. Lay puff pastry onto the parchment paper. Sprinkle the other half of the flour on top of the pastry; so your rolling pin won't stick. Roll out the puff pastry into a 10 x 12 rectangle. Carefully transfer the parchment paper and puff pastry onto a baking sheet.
Layer the zucchini and tomatoes onto the puff pastry, leaving a 1 to 2-inch border of pastry all the way around.
Pinch off pieces of Boursin cheese and scatter them around the zucchini and tomatoes.
Gently fold up the edges of the pastry all the way around. Brush the edges of the pastry with melted butter and cracked fresh pepper all over the edges.
Bake for 30-35 minutes until the tart is golden brown and crisp.
Remove from oven and garnish with chopped pistachios and mint.
Serve immediately and enjoy.
Hot Little Tip
Drizzle some honey for some extra sweetness or hot honey for a sweet kick!!