How Well Do You Know Pimento Cheese?
From Carrie Morey's Hot Little Suppers cookbook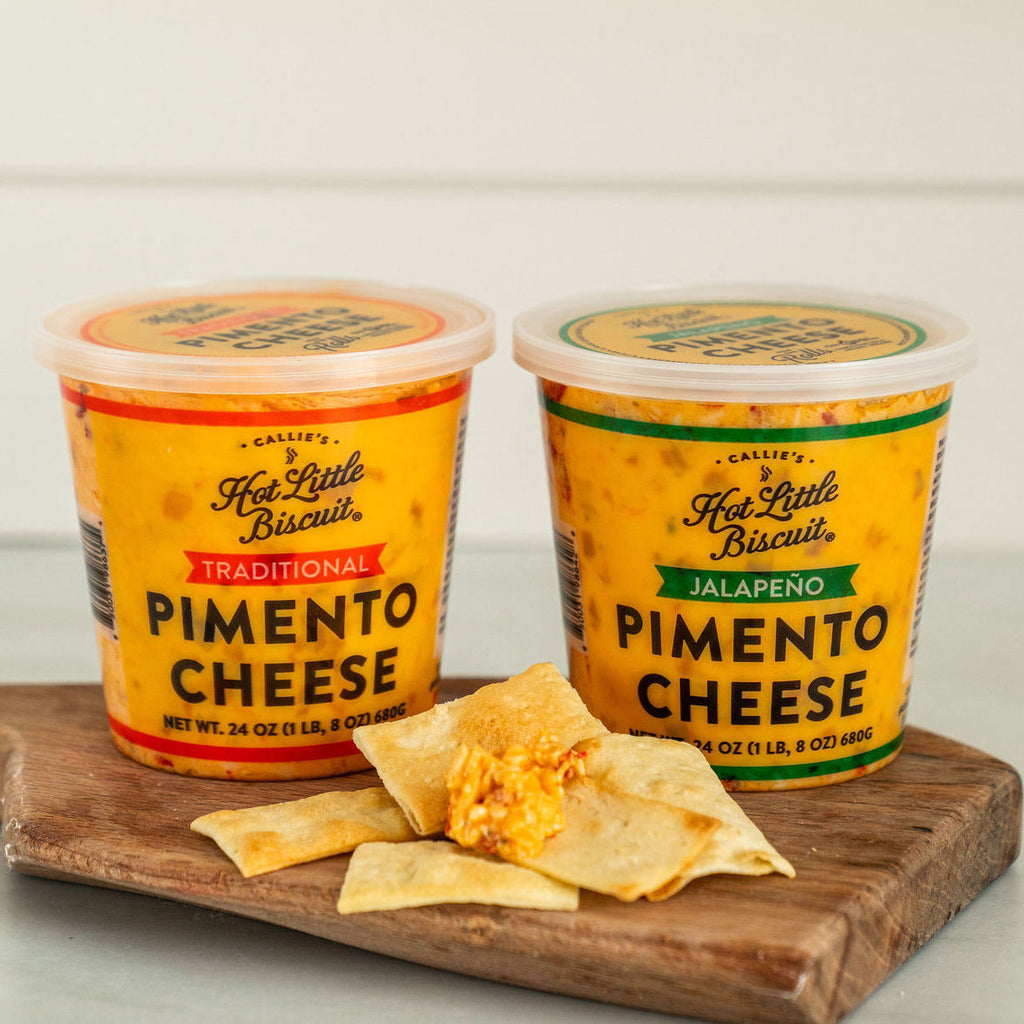 Pimento Cheese
Whether between slices of fresh bread with a ripe tomato and crisp bacon or atop your most humble cracker, our pimento cheese makes the ordinary extraordinary. We like it best on hot little biscuits!
Callie's Hot Little Biscuit Pimento Cheese spreads Southern joy around. This Southern staple (even though it was invented in New York) was made popular in the South by The Masters Tournament, held annually in Augusta, Georgia. The golf tournament coined the classic pimento cheese sandwich - a simple recipe using traditional pimento cheese spread between two slices of white bread.
What is pimento cheese, really?
We craft our award-winning pimento cheese with a simple blend of freshly shredded cheese, hand-mixed with pimentos, mayonnaise, and Callie's signature spices. This refrigerated cheese spread should be enjoyed within 4 weeks after opening. 
You can freeze pimento cheese for up to 3 months. We do suggest putting it to good use in a recipe like our Mac & Cheese or Pinwheel appetizers after freezing - see below for more delicious recipes including our pimento cheese.
You can also melt our pimento cheese to use as a hot dip by placing in a cast iron skillet and warming it up on the grill for a deliciously simple queso!
What goes with pimento cheese?
This gluten-free pimento cheese works perfectly as a dip or spread. Use it atop a hearty burger, on a crudité platter, or with a simple Sea Salt Biscuit Cracker.
Elevate any gathering with delicious pimento cheese recipes from the Callie's Hot Little Biscuit kitchen.
Here are a few perfect pairings as well as easy recipes to top with pimento cheese:
Delicious recipes to cook with pimento cheese:
Shop this post:
Callie's Biscuits & Southern Traditions Cookbook
Hot Little Tip
It's perfect for entertaining or when you need a savory snack.