Salmon Salad Inspired by the Nuns
From Carrie Morey's Hot Little Suppers cookbook
"I think it's best to soak your ramps in a sink of water for at least 20 minutes. They are dirty!" ~Carrie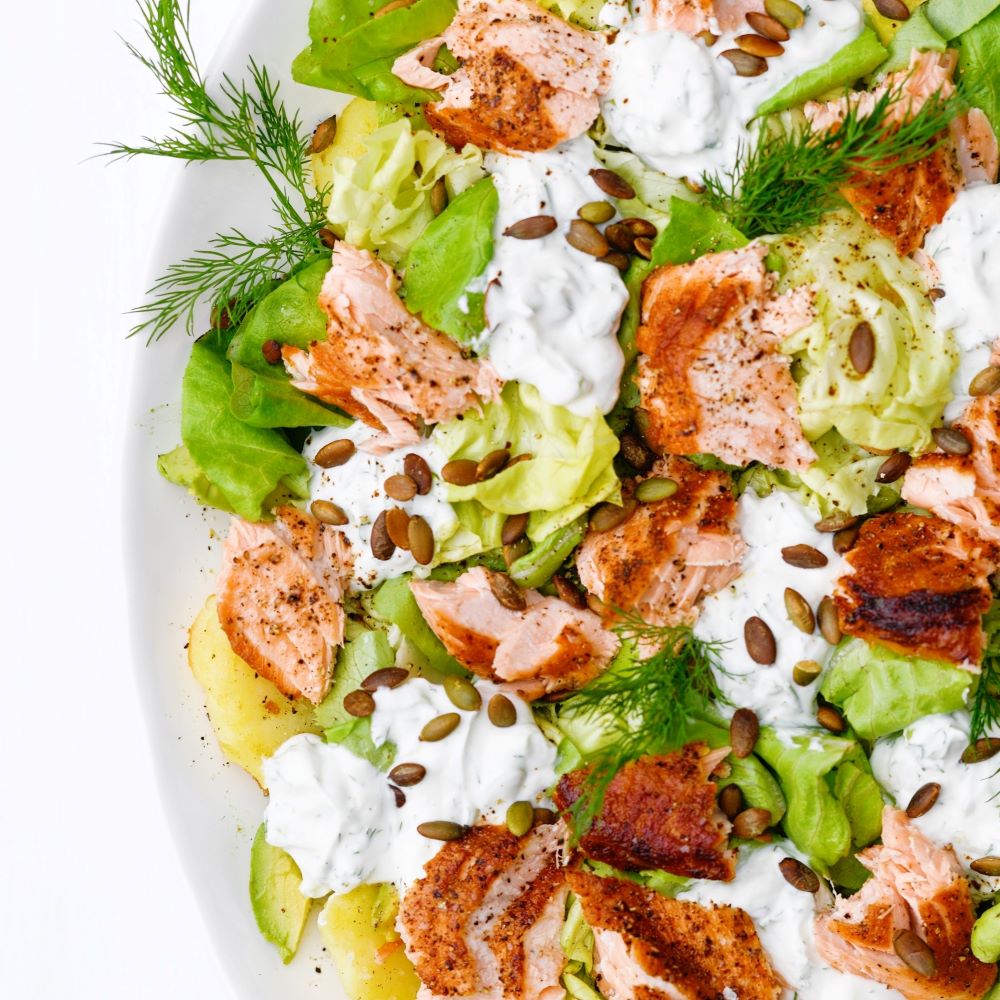 Ingredients
• 2 pounds salmon, patted dry
• 4 medium potatoes, peeled and sliced 1/2 inch thick
• 2 avocados, sliced and juice of 1/2 a lime squeezed over the top
• 1 head butter lettuce, chopped
• 1/3 cup pepitas (pumpkin seeds) roasted and salted
• Olive oil
• Salt and pepper to taste (for the salmon and as you layer the salad)
• 1/2 cup plus 2 tablespoons olive oil, divided
Yogurt Dill Sauce
• 2 cups Greek yogurt
• 4 ramps, washed and soaked, trimmed and finely diced (you can use green onions if ramps aren't in season)
• 1/3 cup fresh dill, washed and chopped
• Juice of 1 lime
Instructions:
In a bowl mix together the yogurt, diced ramps (or green onions), dill, and lime juice. Set aside until ready to use.
Boil the potatoes over high heat in a pot with just enough water to cover them. Boil until fork-tender. Do not overcook them. Strain from water and set aside.
Heat 1/2 cup olive oil in a cast-iron skillet over medium-high heat. Add the potatoes and cook 3-4 minutes on both sides until golden brown and crisp. Remove from pan and place on a paper towel lined plate. Wipe out the skillet.
Heat 2 tablespoons olive oil in the same skillet over medium-high heat. Liberally salt and pepper the salmon. Place salmon skin side up and sear for 2-3 minutes on each side or until the desired temperature is reached. Remove from skillet. Let rest for 5 minutes and then cut into one- inch pieces.
To assemble the salad, drizzle olive oil and salt and pepper on the bottom of a serving platter. Layer the potatoes first, then the avocado, bibb lettuce, yogurt sauce, salmon, and roasted pepitas on top. Sprinkle salt, pepper, and a drizzle of olive oil in between each layer.
Serve immediately and Enjoy!
Hot Little Tip
This salad is so easy to make it your own! So play with it