What is a Shortcake Biscuit? Recipes You Didn't Know That You Already Love
From Carrie Morey's Hot Little Suppers cookbook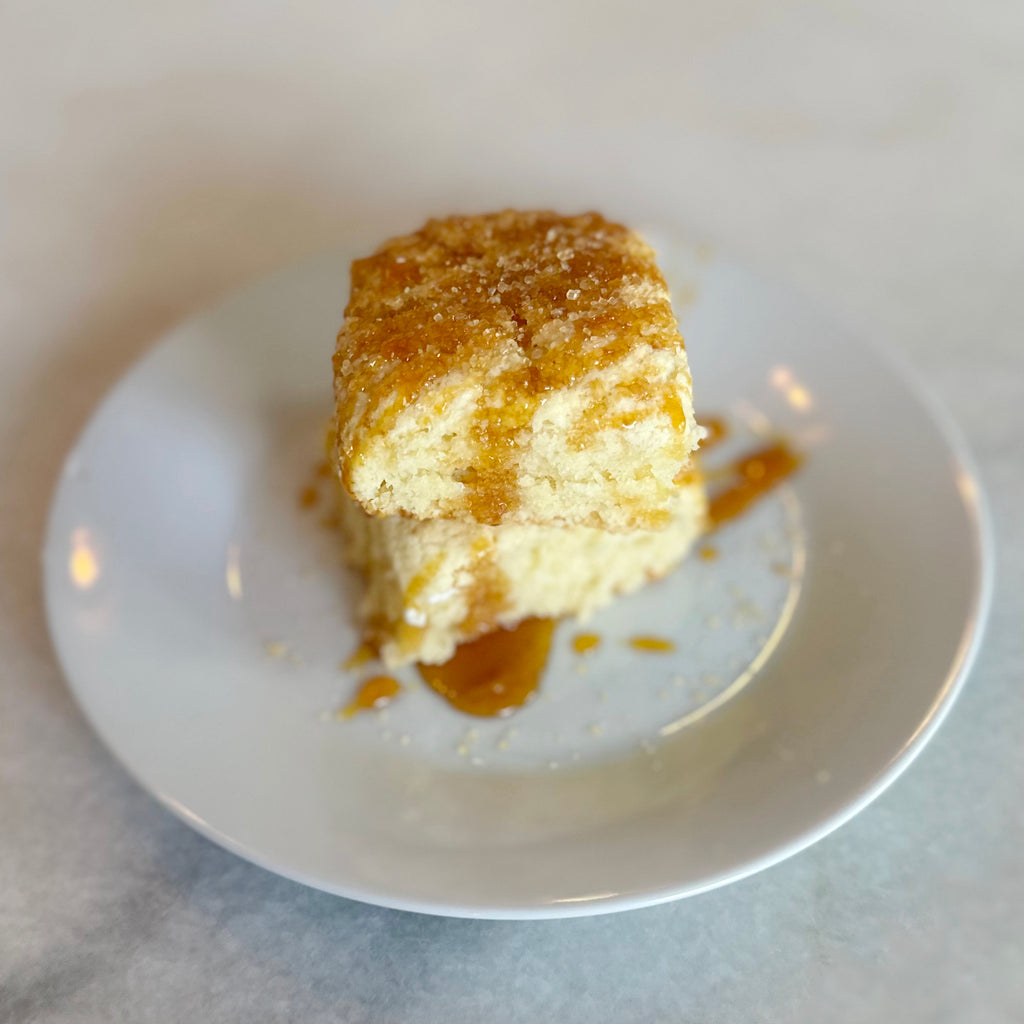 Shortcake Biscuits
It's a tender biscuit with a hint of sweet and the South's take on a scone that is delightfully sweet for breakfast or dessert.
A delightfully sweet biscuit for breakfast or dessert.
Our shortcake biscuits are tender like a biscuit, with a hint of sweet. It's truly the South's take on a scone. You may be familiar with the famous, strawberry shortcake recipe, but what you may not know is that this sweet, quick bread is the base of some of your favorite recipes. Our Shortcake Biscuit Mix is used to create easy recipes like: 
Iced Blueberry Biscuits - Once sold packaged, this beloved seasonal favorite is now exclusive to our eateries. 
Strawberry Shortcakes - Of course! 
Southern Fried Chicken Biscuits – Yup, would you believe that even our friends at Chick-fil-A add sweetness to their biscuit recipe? 
Lemon Poppy Seed Biscuits - This winter special at Callie's Hot Little Biscuit eateries is our founder, Carrie's, all-time-favorite seasonal biscuit served. This lemon shortcake biscuit is easy to make! 
Savory Patty Cake Breakfast Sandwiches – this is not your typical shortcake drop biscuit! It is a savory-sweet symphony of flavor! 
Pair with ice cream, chocolate syrup, or a medley of berries for an easy dessert that is light and airy! 
So, what exactly is a shortcake?
Shortcake is a crumbly and crisp cake that uses butter to give it a crispy texture when you bite into it. The distribution of the butter amongst the flour is what gives shortcake its unique taste and name. Some prefer to call them "sweet cream" biscuits. While our shortcake biscuit recipe doesn't use cream, it does call for whole milk! 
Often confused – shortbread is similar to shortcake but doesn't include baking powder (which is perfectly included in our Shortcake Biscuit Mix so you get none of that metallic taste!). Shortbread also has more butter included, which gives it a higher fat content that results in a crumbly texture.
What is the difference between a shortcake and a buttermilk biscuit?
A Callie's Hot Little Biscuit buttermilk biscuit is a tender, down-pillow-like savory biscuit with a hint of tang due to our signature ingredient: cream cheese. While buttermilk biscuits can be used for any occasion, they lend themselves to savory recipes. 
A Callie's Hot Little Biscuit shortcake biscuit is light and sweet. It is delightfully crumbly in texture (making it perfect to pair with a rich strawberry sauce, syrup, or icing) and has a crispy top due to our signature sprinkle of Turbinado sugar.

The Callie's Rolodex of Recipes: Shortcake Edition
You may discover that some of your favorite Callie's Hot Little Biscuit recipes start with our best Shortcake Biscuit Mix as the base. Next time you are craving a little hint of sweetness, skip the Bisquick or Girl Scout shortcake cookies and go for these easy recipes. 
Patty Cake Breakfast Sandwiches
Shortcake Sheet Cake with Macerated Berries
Mocha Shortbread Biscuit with Macerated Raspberries and Chocolate Syrup
Chocolate Cherry Shortcake Cobbler
Our Shortcake Recipe
As Carrie Morey herself points out in this demonstration, you'll probably want to double your recipe to make the whole process worthwhile. In order to do that, you'll need to start with two bags of Callie's Hot Little Shortcake Biscuit Mix and double the recipe:

Recipe Yields 12 Biscuits
1 bag shortcake biscuit mix
10 tbsp salted butter (divided)
1⁄2 to 3⁄4 to cup whole milk
1 teaspoon pure vanilla extract
1 tablespoon turbinado sugar
2-inch Biscuit Cutter
Parchment Paper
Rolling Pin
Rimmed Baking Sheet
The amount of "wet" ingredients will depend on a lot of factors like temperature and humidity, so adjust as needed.

Begin by placing some of your mix into a small bowl. This will be the mix you will use to dip your biscuit cutter in to stop it from sticking. Then, empty the remaining mix into a large mixing bowl. Whisk to fluff up the mix. In another bowl, mix and whisk your vanilla and milk.

Take the room-temperature butter and begin cutting it into the mix. Use small pieces and work the mix with your hands until it is the same consistency as grated parmesan cheese.

Once the mix is combined with the butter, make a little pocket in the middle and slowly add your wet ingredients. Add just enough for it to absorb. You want it to join without having to knead or work it too much. Sprinkle some mix onto your counter and then place the dough down. Roll it out a bit to even out the top, but make sure the dough is still about two fingers high.

Now you can begin stamping your biscuits, making sure to coat your tools with the extra mix to prevent sticking. Place your biscuits on a parchment-covered sheet and make sure they are touching. You can even use the extra pieces to make yourself some tasty, sweet treats!

Brush the tops of the biscuits (and your extra pieces) with melted butter before placing them in a 350-degree oven. You can sprinkle them with some of the turbinado sugar if you want to have a little extra crunch on top.

Total bake time will be about 16-18 minutes. At around 10 minutes, turn them to make sure they bake evenly.
Putting it All Together
Serve your homemade shortcake biscuits with fresh fruit, whipped cream, or savory selections like fried chicken or sausage and maple syrup. We certainly love this take on a biscuit - delightfully sweet for breakfast or dessert!  
Shop the Post
What is a Shortcake Biscuit? Recipes You Didn't Know That You Already Love
Hot Little Tip
These versatile biscuits may be delightfully sweet, but when paired with savory accoutrements, they really shine!