Shrimp Bruschetta
From Carrie Morey's Hot Little Suppers cookbook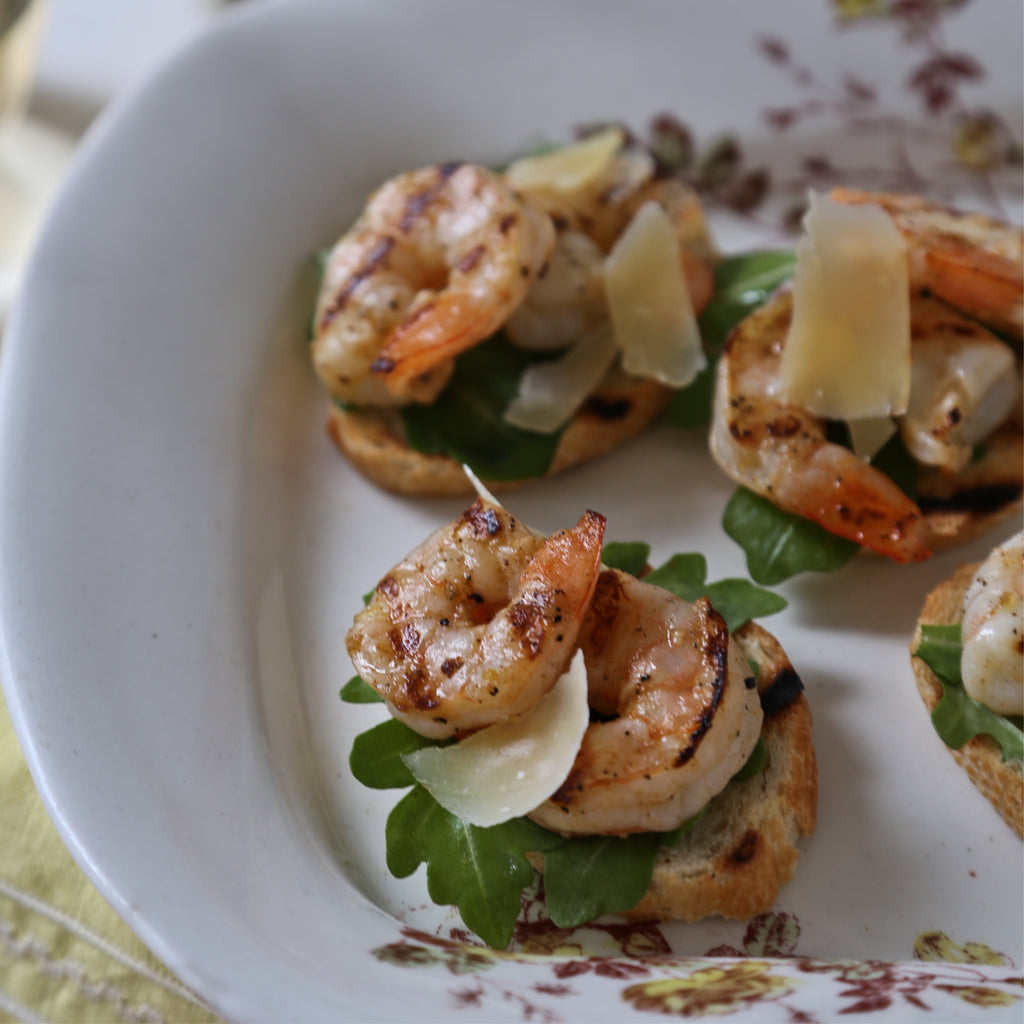 Ingredients
• 1 tablespoon olive oil
• Grated zest of 1 lemon
• Juice of 1/2 lemon
• 1/2 teaspoon kosher salt
• 1/4 teaspoon freshly ground black pepper
• 1/8 teaspoon cayenne pepper
• 1 pound large shrimp (26 to 30 count), peeled and deveined
• 5 or 6 skewers, soaked in water if wood or bamboo
• 1 French baguette or biscuits
• Olive oil
• 2 cups arugula leaves, washed and dried
• Kosher salt and freshly ground black pepper
• Parmesan cheese wedge

Dressing Ingredients
• 6 tablespoons olive oil
• 3 tablespoons rice vinegar
• 1 tablespoon lemon juice, or more to taste
• Grated zest of 1 lemon
• 3 green onions, minced (white and green parts)
• 1 clove garlic, minced
• 1/2 teaspoon dry mustard
• Kosher salt
Bruschetta is my favorite thing to make with leftover biscuits. Simply cook the shrimp on the grill, stovetop grill pan, or roast them in the oven. Then broil the leftover biscuits, and throw some of my trusty, never fail dressing over it all. Then you have the perfect biscui-etta to share with your family and friends!
Instructions 
Combine the olive oil, lemon zest and juice, salt, pepper, and cayenne in a resealable plastic bag. Add the shrimp and marinate 20 minutes.
Drain the shrimp and put 5 or 6 shrimp on each skewer. Refrigerate until you're ready to cook them.
Heat a grill or grill pan. Cut the baguette into 13 to 15 (1/2-inch) slices and brush olive oil on both sides. Grill the bread until toasted. Arrange on a platter.
Toss the arugula in a bowl with 2 to 3 tablespoons of the dressing (see below for instructions); do not soak the greens. Taste and season with salt and pepper.
Grill the shrimp skewers 1 minute or less per side, just until pink and opaque. Remove the shrimp from the skewers.
Place a few arugula leaves on each bread slice and top with 2 shrimp. Use a vegetable peeler to shave a few thin strips of Parmesan on top.
Dressing Instructions 
Combine all the ingredients in a jar. Cap tightly and shake to blend. Adjust to your taste for tartness with lemon juice and salt. Shake again well before using. 
Hot Little Tip
We call this quick and easy appetizer a biscui-etta!