Smoked Fish Dip
From Carrie Morey's Hot Little Suppers cookbook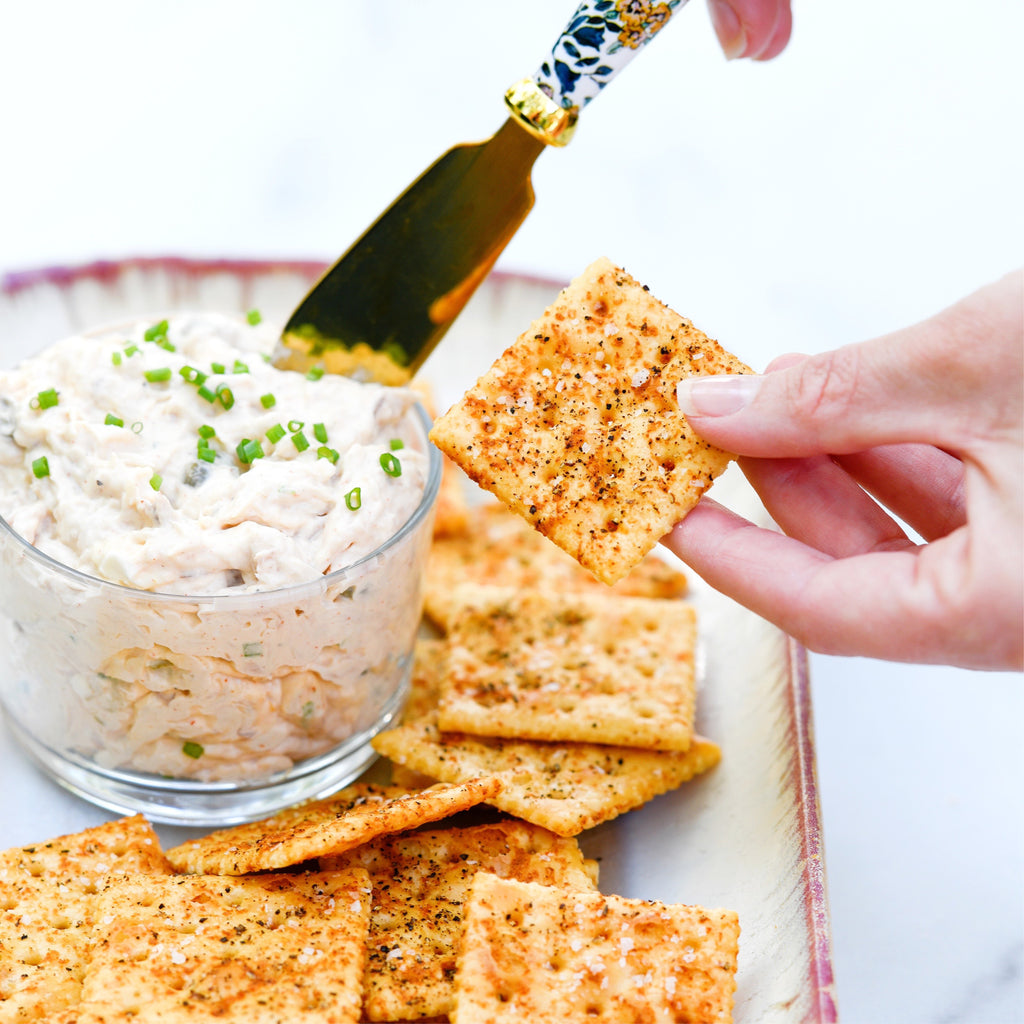 Ingredients
For the Fish Dip:
• 1 pound Amberjack or Mahi-Mahi filet
• ¼ cup mayonnaise
• 4 ounces softened cream cheese
• 1 teaspoon hot sauce
• 1 tablespoon Dijon mustard
• 1 teaspoon lemon juice
• 1 teaspoon smoked paprika
• 2 teaspoons capers
• 1 tablespoon chives, minced
• 2 tablespoons flat parsley, chopped
• Salt and Pepper to taste

For the Saltine's:
• 2 sleeves Saltine Crackers
• 2 sticks salted butter, melted
• 1 teaspoon garlic powder
• 1 teaspoon onion powder
• 1 teaspoon smoked paprika
• ½ teaspoon cayenne pepper
• 1 ½ tablespoons Worcestershire
• Salt and fresh cracked pepper to taste
Spring is upon us! We are cooking more than ever and I am craving my favorite restaurant splurges! Thanks to the bounty of Abundant Seafood, I don't have to go offshore to get my favorite things like a smoked fish dip. As it turns out, it's a cinch to make! This smoked fish dip recipe is so perfect for an appetizer for a party or gathering of just for an elevated snack for yourself!
We used our Big Green Egg to slowly smoke a beautiful piece of amberjack. You can really use anything as your smoker. I then pulsed the fish in the Cuisinart with a few other ingredients and voilà we've transported ourselves to our favorite dining rooms!
How To: French Dip
Heat your smoker to 200 degrees. Line a baking sheet with foil and place fish skin side down on the foil.
Smoke the fish for 3 hours or until internal temperature is 140 degrees.
Remove fish from smoker. Pull off all of the fish meat and place in a bowl.
Add the mayonnaise and cream cheese. Stir until everything is well combined.
Add the hot sauce, Dijon mustard, lemon juice, smoked paprika, capers, chives, parsley, salt, and pepper. Stir until everything is combined.
Serve with Savory Baked Saltines and Enjoy!
How To: Saltine's 
Preheat oven to 300 degrees. Line a baking sheet with parchment paper and place a wire baking rack on top.
Whisk together the melted butter, garlic powder, onion powder, smoked paprika, cayenne pepper and Worcestershire.
Using a pastry brush, butter both sides of each saltine generously. Place on baking rack. Sprinkle salt and fresh cracked pepper on top.
Bake for 15 minutes. Remove from oven and let cool for 5 minutes before removing from baking sheet.
Serve immediately or store in a Ziploc bag until ready to serve. Enjoy!
Hot Little Tip
I love classic Saltines - always have, always will. They are a devilish guilty pleasure that are addictive and good with just about anything, but these savory baked saltines are this smoked fish dip's best friend!