Spring Pork Roast
From Carrie Morey's Hot Little Suppers cookbook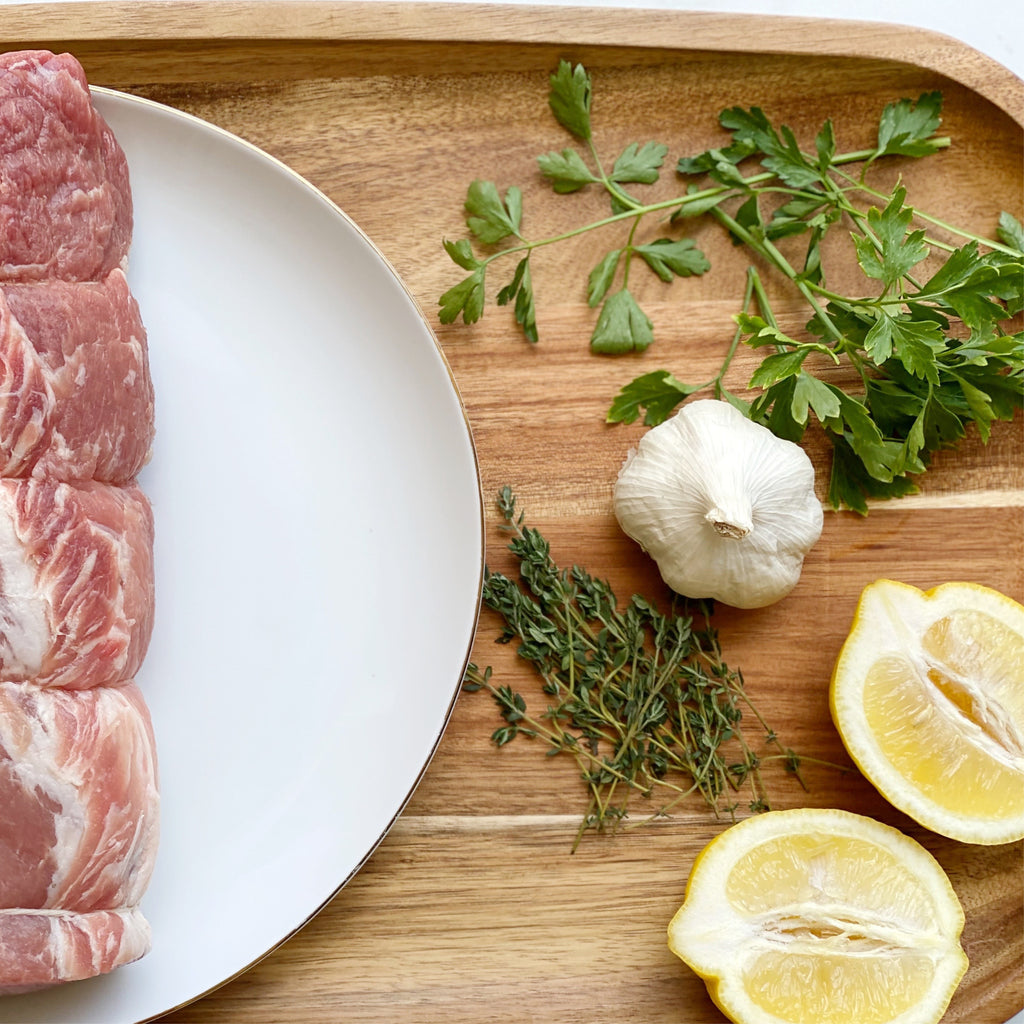 You'll Need:
• 2-3 pound bone-in pork roast
• 1 lemon, sliced
• 7 cloves of garlic, divided
• ½ cup flat leaf parsley, stems removed and chopped
• 10 sprigs fresh thyme, leaves picked and stems discarded
• 2 tablespoons olive oil
• Generous amount salt and pepper
For those of you who have my cookbook, you know we eat a lot of pork. I love a weekly pork roast. It is easy and flavorful and you can dress it up in so many different ways. I buy all of my meat once a week that way I have no excuses to not have a family meal. The challenge for me is finding new flavors.
This meal was an inspiration of fresh herbs that I had on hand. I wanted a totally light and refreshing Spring meets hearty weeknight meal. I prepped it the day before and every time I opened my fridge the fragrant smell of the herbed pork made me hungry for the next night's supper.
If you are looking for more to do with pork, check out my MULTIPLE pork recipes like Pork Schnitzel Salad, Vietnamese Lemongrass Pork Skewers, Midweek Maple-Glazed Pork Loin, and Kitchen Sink Pan-Fried Pork Chops!
How To:
Preheat oven to 375°F.
Cut 3 of the garlic cloves in half and finely mince the remaining 4 cloves. Chop thyme and parsley well and mix with the minced garlic, salt and pepper and olive oil to form a paste.
Place lemon slices at the bottom of a cast iron skillet and place the pork on top. Make 6 slots in the pork with a knife and place the halved garlic chunks into the slots. Cover the pork with the paste.
Roast for 1 hour and 15 minutes or until internal temperature is 165-170°F.
Allow roast to rest for 10 minutes, then slice and serve. Enjoy!
Hot Little Tip
To avoid the take out/delivery trap that we all get into, I always have meat I can thaw on hand for supper!