Pork Schnitzel Salad
From Carrie Morey's Hot Little Suppers cookbook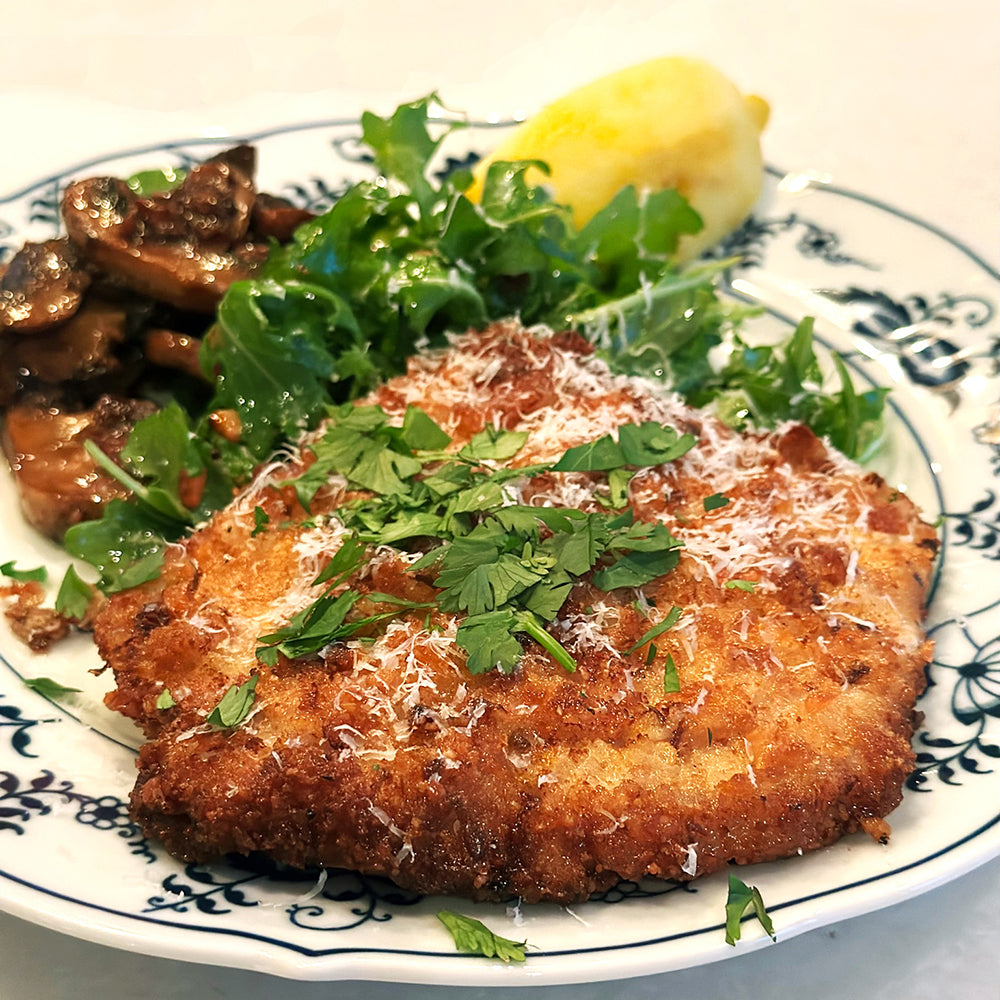 Ingredients
For the Breading
Wet:
• 1 egg
• 1 cup of milk
• 1 tsp of crushed red pepper
• Salt and pepper
Dry:
• 1 1/4 cup breadcrumbs mixed with below and 1/4 reserved to add in half way though the breading process
• 1/4 cup parmesan cheese
• 1 lemon zested
• Salt and pepper liberal amounts

Pork:
• 2 tablespoons of Dijon mustard coating on the pork chops
• 4 thin cut pork chops
• 3/4 cup of oil(canola or your choice) for frying

Salad:
• Arugula
• 1/2 cup toasted pine nuts
• Freshly grated parmesan cheese
• Sliced lemon wedges
I love pork...
You might be able to tell with my multiple pork recipes like Spring Pork Roast, Vietnamese Lemongrass Pork Skewers, Midweek Maple-Glazed Pork Loin, and Kitchen Sink Pan-Fried Pork Chops!
Lately, I have been craving a pork schnitzel! I whipped up this dish for family supper and tossed it over a salad with toasted pine nuts and my homemade Lemon Dijon Mustard Vinaigrette and – chef's kiss! – it is so so good!
Instructions:
In a bowl, create your breading wash by whisking your egg. Add milk, crushed red pepper, salt and pepper.

In a second bowl, mix the breadcrumbs, parmesan cheese, lemon zest, and salt and pepper. 

Set both bowls aside. 

Place pork chops between two pieces of parchment paper. Pound until very thin – about half their original thickness.

Coat your thinned pork chops with Dijon mustard on both sides. 

One by one, dip the pork chops in the egg/milk mixture, then the breadcrumb mixture to evenly coat the pork chop.

Once coated, set aside. 

Pour oil in a cast iron or frying pan on medium high heat. Use a thermometer to heat your oil to 350 degrees. Place pork chops one by one into the hot oil - do not crowd the pan. Let pork chops fry for 3 minutes (You'll have to resist the urge to touch them!). Flip the pork chops and let them fry for another two minutes or until gold brown. 

Remove from pan and let rest. 

In a separate pan, toast pine nuts on low for approximately 5-7 minutes, shaking them around until golden brown.

Place your arugula in a bowl and dress it with your favorite dressing. I use my lemon dijon vinaigrette (linked above).

Place the chops on the arugula salad, and sprinkle with salt and pepper, pine nuts, and freshly grated parmesan cheese. Serve with lemon wedges and a buttermilk biscuit or cheese & chive biscuit!
Hot Little Tip
I know the waiting is the hardest! While the pork is frying, distract yourself with cleaning the kitchen or making the salad so you can leave the pork alone!