Biscuits & Mushroom Gravy
From Carrie Morey's Hot Little Suppers cookbook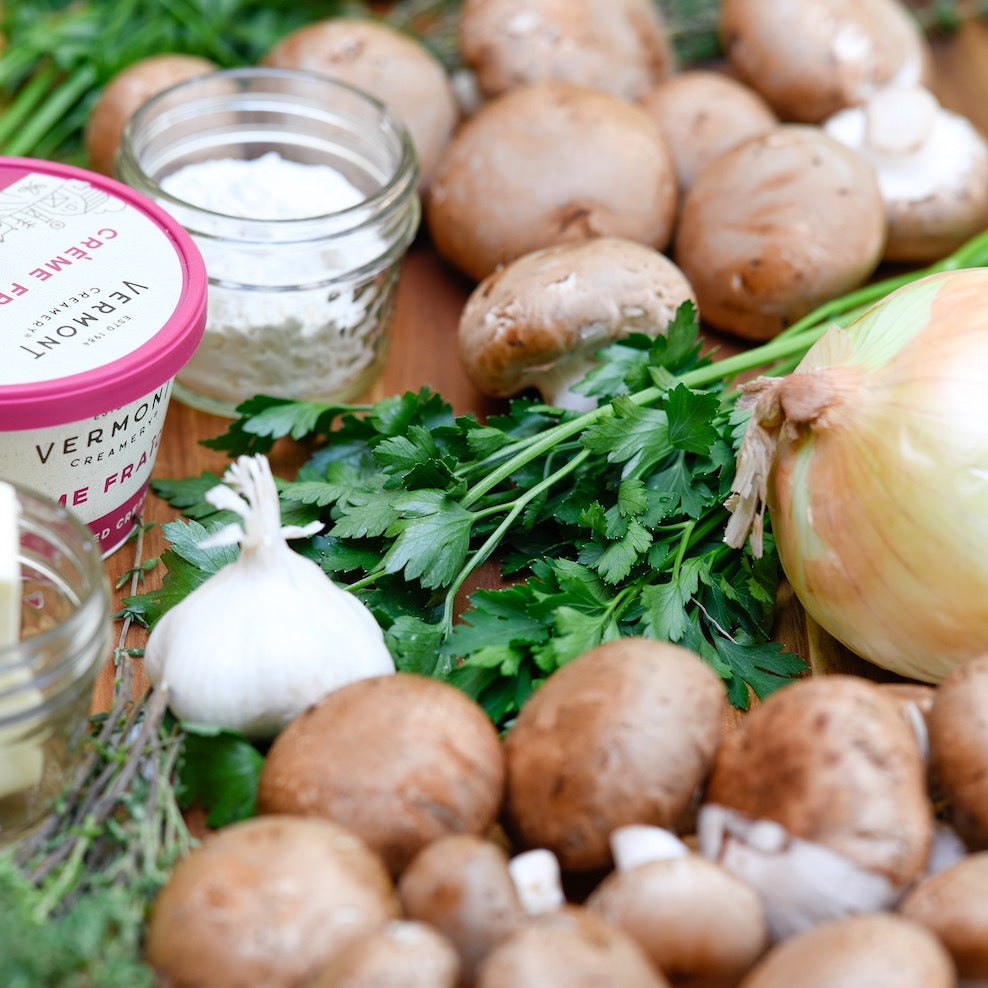 Ingredients
• 2 tablespoons olive oil
• 1 onion, diced, skins reserved for stock (about 1 cup)
• 2 cloves Garlic, minced, skins reserved for stock (about 2 teaspoons)
• 1 pound mushrooms, cleaned and chopped with stems removed and reserved for stock
• 4 tablespoons butter
• 4 tablespoons all-purpose flour
• Mushroom stock (see below)
• 2 tablespoons chopped fresh thyme
• 2 tablespoons chopped fresh parsley
• Salt and pepper to taste
• 1/2 cup crème fraîche
I have served biscuits with this gravy for a Sunday supper for the five of us, and I have served it at events for hundreds of people. The reaction is always the same: so delicious! Biscuits and gravy have never tasted more sophisticated.
This dish may be a Southern delicacy, but it is slowly popping up at restaurants and in home kitchens across the country! This vegetarian gravy perfectly pairs with biscuits - which can be made to have both vegetarian biscuits and gravy!
Our Callie's Hot Little Biscuit
eateries
are known for their legendary sausage gravy, but when I'm craving something extra savory I make this mushroom gravy. It's the perfect vegetarian accouterment for your
biscuit board
! 
Mushroom Stock
Reserved mushroom stems
Reserved skins of onion
Reserved skins of garlic cloves
1 bundle of fresh thyme (12 stems)
1 bundle of fresh parsley (12 stems)
4 cups water
Instructions
To make the mushroom stock: In a medium saucepan, combine mushroom stems, onion and garlic skins, thyme, parsley, and water. Simmer over low heat for 1 hour. 
Strain the stock over a large bowl. Discard the solids from the strainer. You should have about 2 cups of stock in the bowl. Set aside. 
Heat the olive oil in a 12-inch skillet over medium heat. Add the onions and garlic and sauté until onions are tender and translucent, about 6 to 8 minutes. Add the mushrooms and sauté until the moister has cooked off, about 10 to 12 minutes. The mushroom slices will be separate from each other and darken in color. 
Add the butter to the skillet and stare until melted
Add the flour and stir until everything is evenly coated. Slowly add the mushroom stock, stirring constantly until the mixture is smooth and velvety. Add the thyme, parsley, and salt and pepper. Reduce the heat to low and simmer for 30 to 45 minutes, stirring frequently.
Add the crème fraiche and stir to combine. Simmer on low for another 10 minutes, stirring frequently. Remove from the heat, taste for salt and pepper, and serve immediately over buttermilk biscuits.
Shop This Post:
Hot Little Tip
I like to use local oyster mushrooms, but you can use whichever kind you prefer.