A Delicious Play on the Southern Cheese Straw Recipe
From Carrie Morey's Hot Little Suppers cookbook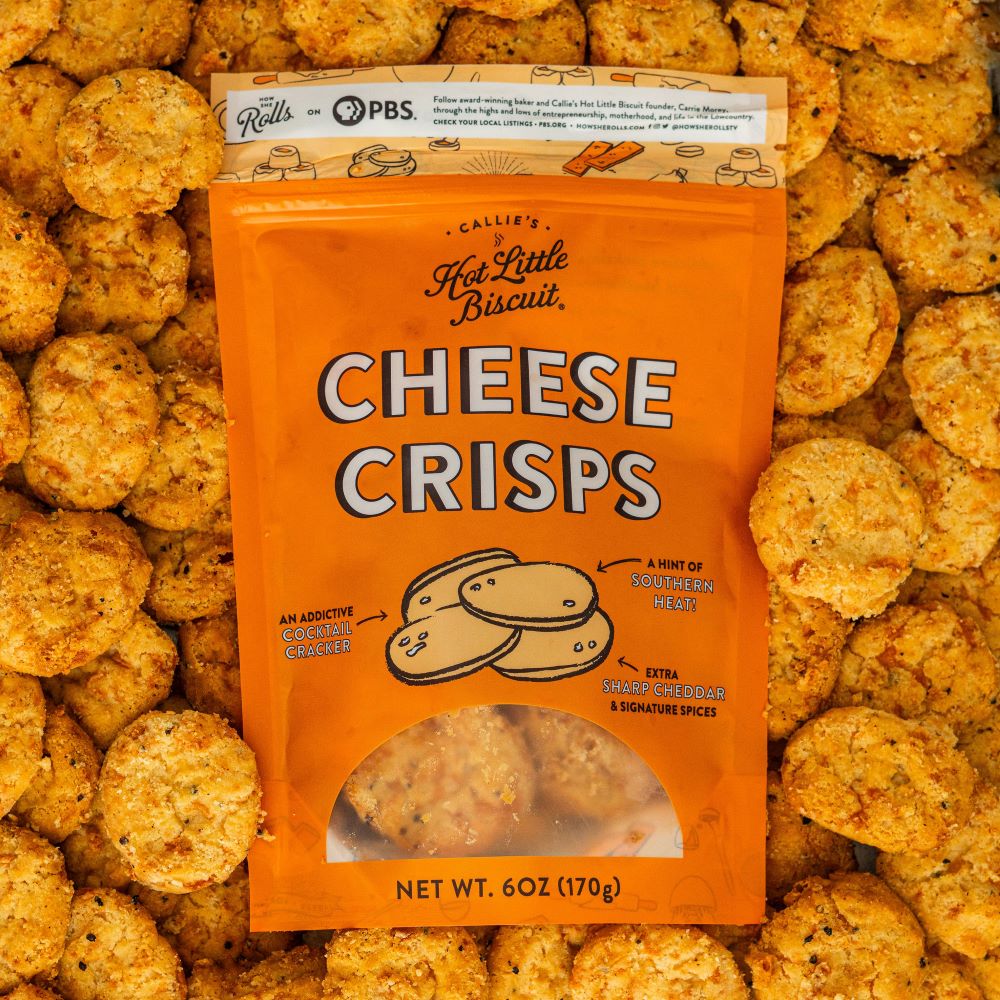 Ingredients
• 2 cups shredded sharp cheddar cheese
• 1/2 pound (2 sticks) butter, at room temperature
• 2 cups sifted all-purpose flour
• 1/2 teaspoon kosher salt
• 1/2 teaspoon cayenne pepper, or more to taste
• Optional Variation: Use 1 1/2 cups crumbled Gorgonzola cheese in place of cheddar and add 1/2 cup chopped toasted pecans.
Whether you call it a cheese crisp, cheese crackers, cheese straw, or cheese wafer, these addictive cocktail snacks are a staple that every good Southerner keeps on hand. 
Cheese wafers are a traditional southern staple. My grandmother used to make them in the form of a straw. But just like a good buttermilk biscuit, they are extremely versatile and can work for any occasion. Cheese crisps are enjoyable as a snack, gift, or topping for dishes like Christmas casserole.
You can add your own flavor to a cheese crisp! I've made them with lemon and poppy seed and you can add really any sweet, or savory taste to them. Be creative, or stick with the original. Either way, cheese crisps are a sure-fire way to bring a smile to your face.
You can also find the recipe I've shared here in my first cookbook, Callie's Biscuits & Southern Traditions. Our Cheese Crisps recipe has changed over time, but it still has the same strong flavor as the original. The recipe shown in the video adds a dash of freshly cracked black pepper. 
The perfect tagline for this cocktail snack: "You can't have just one!" Our cheese crackers are the perfect addition to your cheese board or entertaining display. Extra sharp Vermont cheddars, flour, butter, and a signature blend of spices all hand-rolled together and garnished with a generous sprinkling of fresh cracked black pepper create this addictive cocktail snack and hostess gift.
Instructions
Pulse the cheese in a food processor for 10 to 12 seconds. Add the butter and pulse to combine.
Sift the flour and whisk in the salt and cayenne. Mix the flour and cheese mixture by hand until well combined.
Place 2 pieces of plastic wrap (each at least 16 inches long) on the work surface. Divide the dough into 2 pieces and place each on a piece of plastic wrap. Shape each into a log 12 inches long and 1 inch in diameter by rolling it back and forth on the counter. (If the dough is too soft, chill in the fridge.) Twist the ends of the plastic wrap to secure it. Once shaped, chill the logs for 30 to 45 minutes, until quite firm.
Preheat the oven to 350°F.
Slice each log into 24 slices, each 1/2 inch thick. Place on an ungreased baking sheet, 1/2 inch apart. Bake until golden, 12 to 15 minutes.
Let cool on a cooling rack. Pack the wafers in tins to keep them crisp.
Note: The logs can be frozen. When ready to use, remove them from the freezer and set out. When soft enough, slice and prepare logs as directed above.
Shop The Post
Callie's Biscuits and Southern Traditions
Hot Little Tip
Pair this light and crispy snack with a cool cocktail for happy hour or a cheesy addition to your charcuterie board.