Carrie Morey's Pimento Cheese Mac & Cheese • A Twist on Classic!
From Carrie Morey's Hot Little Suppers cookbook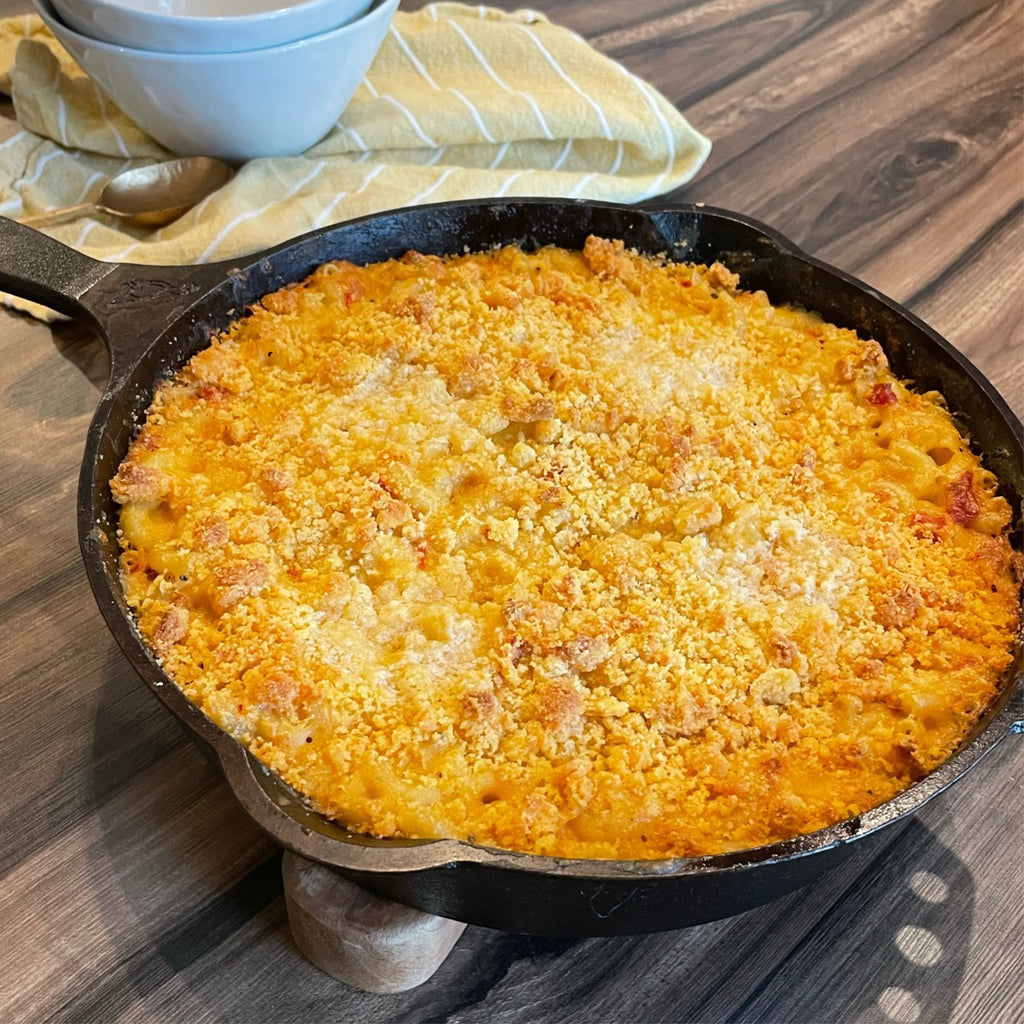 Ingredients
• 1 LB of Macaroni Noodles
• 4-6 Leftover Callie's Hot Little Biscuits (savory flavor)
• 5 tbsp Butter (1 divided to coat the baking dish)
• 4 tbsp All Purpose Flour
• 1 cup of Milk
• 1 1/2 cups of pasta water
• 24 oz Callie's Hot Little Biscuit Pimento Cheese
Macaroni and Cheese may be a universal comfort food, but here in the South, baked macaroni and cheese is a quintessential southern side dish that is made for every meal! Mac and cheese is one of those recipes that can take on so many different forms. I love it anyway I can get it (like this Macaroni Pie), but my favorite way to prepare it is baked in a cast iron with buttery bread crumbs for an added crunch! 
With the Callie's Hot Little Biscuit 24oz Pimento Cheese now available in Costco in the Northeast region, I kept finding myself answering customer questions about the best ways to use that much pimento cheese! This mac and cheese recipe is the perfect use of the entire tub of Costco pimento cheese.
Baked mac and cheese will always steal the show, especially when you add lobster or other meat to the dish. The Callie's Hot Little Biscuit Pimento Cheese from Costco can be used in so many other delicious recipes like the Pimento Cheese Queso Olé, Pimento Cheese Jalapeño Poppers, and Pimento Cheese Sandwiches. 
Instructions:
Boil the noodles in heavily salted water for two minutes less than the box in

structions. Reserve

 

1.5 cups

 of liquid before draining. Set aside.

Pulse leftover Callie's Hot Little Biscuits in a food processor until they resemble bread crumbs. Set aside. 

Melt 4 tbsp butter and 4 tbsp all purpose flour and whisk together for a couple of minutes in a Dutch oven or pot of your choice on low heat.

 

Coat divided 1 tbsp of butter into a cast iron of baking dish cast iron. Whisk together and cook until golden brown.

Add 

1 cup

 of milk to make a sauce. 

Add pimento 

cheese (24 oz container from Costco) and 

fold

 mixture together,

 add the pasta water and incorporate all together with the cooked pasta. 

Add macaroni mixture to your buttered baking dish.

Add breadcrumbs on top and dabs of butter (2 tablespoons), 

salt and pepper to the top to taste.

Bake at 350 degrees for 25 minutes or until golden brown 
Click here to find to find a Costco that carries our 24 oz Pimento Cheese nearest you.
Hot Little Tip
Check out our blog for more delicious recipe using Callie's Hot Little Biscuit Pimento Cheese from Costco.