Tailgating Trade Secrets by Carrie Morey • Featured in Hot Little Suppers Cookbook
From Carrie Morey's Hot Little Suppers cookbook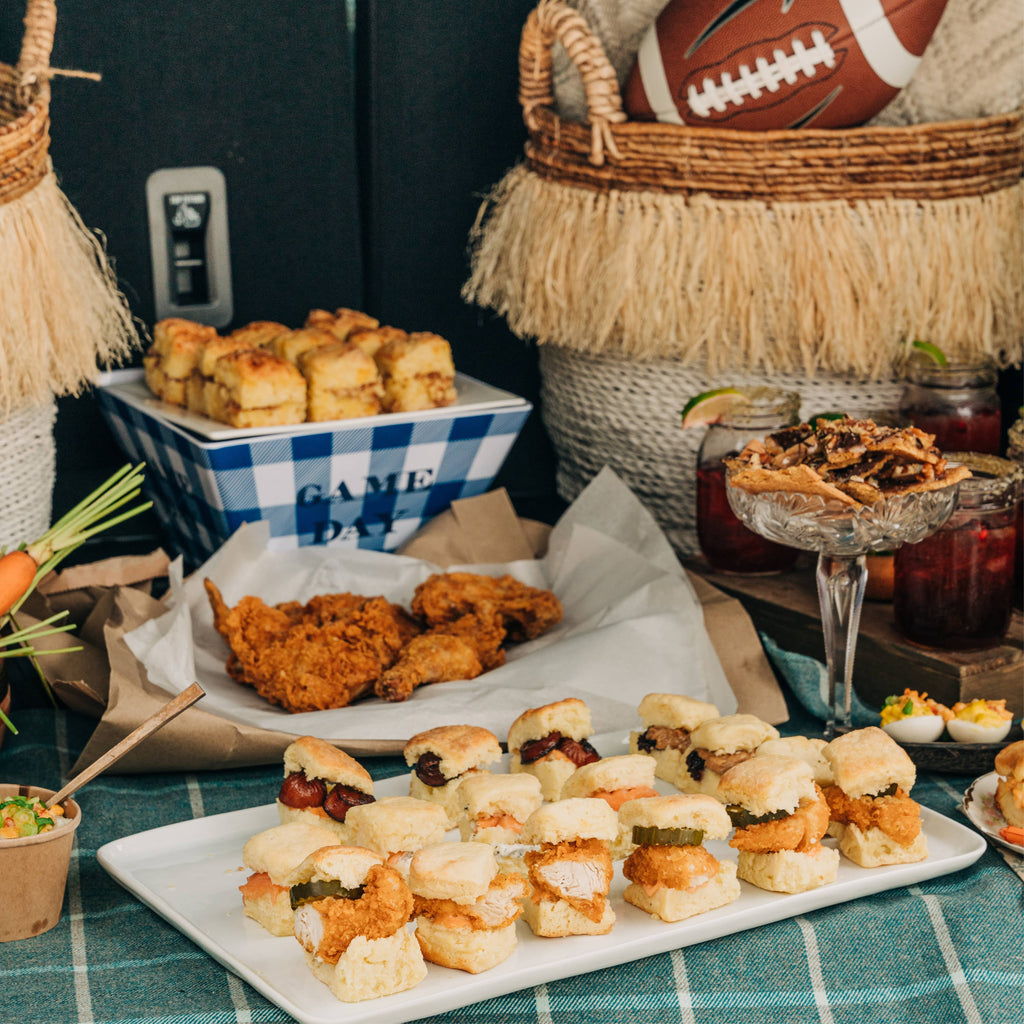 Tailgating Must Haves:
• Handmade Biscuits
• Your favorite football team
• A good time!!
*These tips & tricks come from Hot Little Suppers cookbook. Order here*
Whether it's a football game or the rodeo, I love to tailgate. Taking a party along with me is one of my favorite ways to entertain. Over the years, I have developed a few tricks of the trade that make it easier and more fun. It's all about convenience. The better job you do packing it in, the easier it is to pack it all up when it's time to go home! 
These tips are from my cookbook, Hot Little Suppers. You can find the full tip list in the fall chapter of the book, along with recipe recommendations that are travel-friendly! 
 
#1: Skip the Table!
If you have a pickup truck or SUV with a tailgate or an SUV with a rear door, skip bringing a bulky table along. Instead, pack a tablecloth, spread it over the truck bed or rear space, then use height to display items at different levels. You can even do this out of the trunk of a car. To create platforms, turn plastic storage containers upside down, drape cardboard boxes with a tablecloth, or use cake stands and platters. This saves room in the parking lot for more activities!
#2: Ice, Ice Matters, Baby! 
We all know a tailgate isn't complete without a signature dip (try this, this, or this one!). For a dip that has to stay cold, double up on serving bowls by filling a large bowl with ice and placing your dip inside the iced bowl – hello handmade cooler! Keep half of the cold dips in the cooler and then replenish what's on display with the fresh dip as needed. If you're worried about bugs, bring your cutest kitchen towels to drape over the food or invest in a set of food tents.
#3: Avoid Soggy Sammies! Assemble On-Site
For biscuit sandwiches and sliders, pack every part separately and wait to assemble them when you arrive at your tailgating spot, so the bread doesn't get soggy. For Fried Chicken Sammies, pack the chicken in a paper bag to keep it crispy. If you're more worried about keeping it moist and warm, pack it in foil. Pack the buns, Sriracha mayo, pickles, and slaw in separate containers to assemble these easy tailgate finger foods on-site.
#4: Fried Chicken Fun Fact 
Looking for the best tailgating food ideas that don't require a bulky grill? Here's another one of my favorite ways to serve fried chicken on the go: line a brown paper grocery bag with parchment paper, add the chicken, and roll the bag shut. Then when I'm ready to serve, I tear open the paper bag and serve with a bottle of hot sauce on the spread-out paper for a rustic presentation.
#5: Use Travel-Well Treats 
Whether it's a noon or night game, serve my favorite breakfast, lunch & dinner treats before entering the stadium. Fried Chicken Sandwiches are always a crowd-pleaser, but I like to offer a variety of sandwich styles, like Seared Salmon or Smoked Salmon Biscuits, Country Ham Biscuits, and PB&J. Often times when I've been snacking on chips and dip all day, I need to replenish with some nutrients! That's when I reach for a crudite, dill dip, and our sea salt biscuit crackers. For noon games, I love to bring a crock pot of Carolina Grits and Naughty Eggs – my take on a deviled egg with a twist! Of course, you should always have our Callie's Hot Little Biscuit fiery pimento cheese on hand for an extra hot and ready accouterment! 
Shop this post
Tailgating Tricks FAQ
How many biscuits should I bring per person?

You'll want to bring two to three biscuits per person (or more if you know they're going to want a heaping helping). If you're bringing pimento cheese or other toppings, we suggest bringing a little more than you think you need. It can be hard to tell who will add a lot or just a bit, so it's smart to get extra.

What's the best way to travel with meats for tailgating?

You already know how to travel with pre-made Chicken Sammies. But if you bring a grill to cook on-site, the most important thing for meats is having leakproof and insulated storage. Keep meat in zip-top bags stored flat or upright, all carried in a cooler filled with ice. Any patties you bring should have wax paper between them in their own bag.

Can you hire a caterer for a tailgate party?

Of course! Sometimes, you want to be part of the festivities instead of at the grill, and catering is a good fix for that. In the Charleston area, we offer free pick-up and delivery (for a fee) with our Southern staples that fit to please any crowd from the catering team at Callie's Hot Little Biscuit. Learn more about our catering services.
Hot Little Tip
Find more tailgating trade tips in my cookbook, Hot Little Suppers, including travel-well treats like boiled peanuts, French feta dip, triple treat brownies, and tropical storm cocktails!