Caroline's Breakfast Casserole
From Carrie Morey's Hot Little Suppers cookbook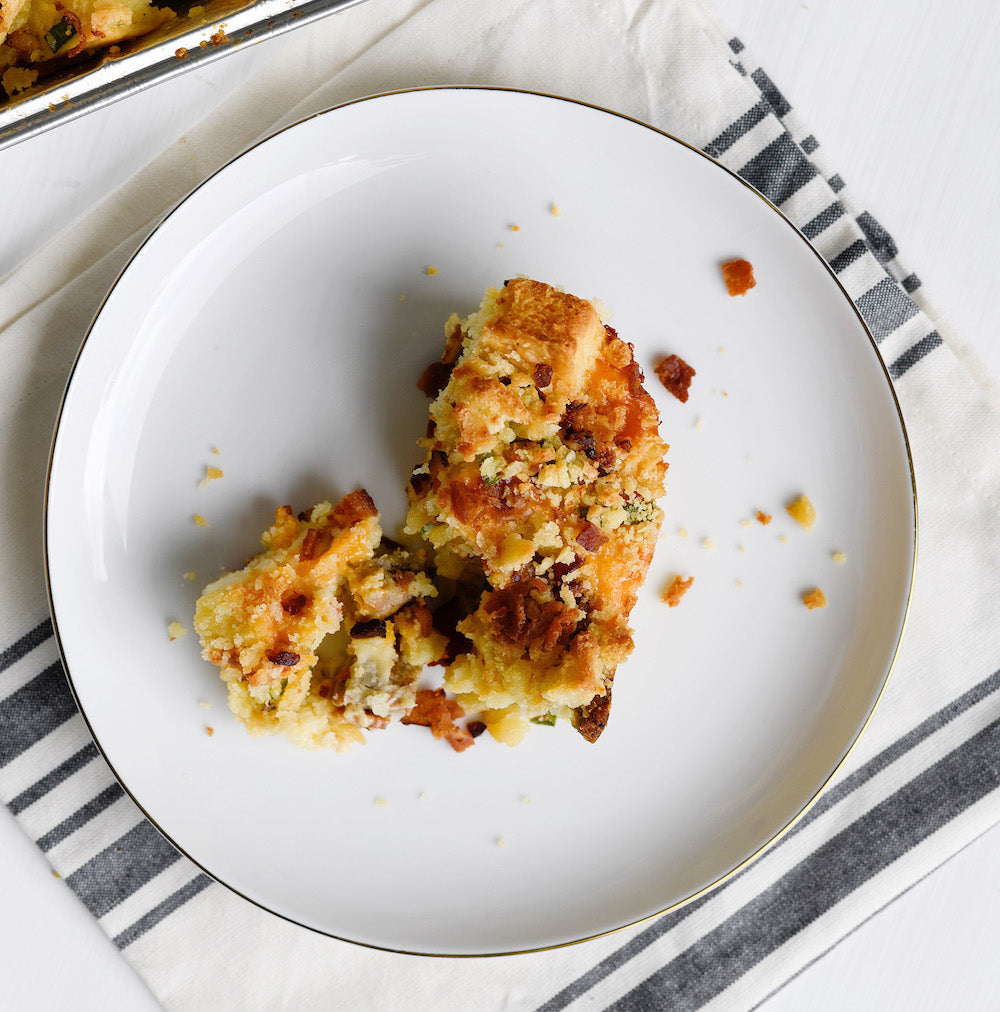 Ingredients
1 lb sausage - browned
6 eggs - beaten
2 cups milk
2 slices white bread* - crumbled
1 teaspoon dry mustard
1 teaspoon salt
1 cup sharp cheddar cheese - grated

*or substitute biscuits!
We love traditions that stick! Whether it be an annual family vacation, a Christmas supper, or an after-school snack with mom or dad. Traditions form us into the people that we are meant to be. 
In the winter of 2022, we decided to release a sticky, sweet limited-edition Cinnamon Caramel biscuit for our holiday shoppers. We looked to a partner whose time-honored traditions run as deep as ours here at Callie's Hot Little Biscuit – South Carolina cake connoisseurs,
Caroline's Cakes
. 
These biscuits are sweet and decadent like a sticky bun, but tender like a biscuit and available for a short time. Each handmade biscuit is paired with Caroline's Cakes' time-honored caramel icing, made with the same care and attention as it was in Caroline's family kitchen. 
The stick-sweet collaboration was such a hit, we are bringing it back for another holiday season! 

"We take pride in spreading handmade happiness and hope that we can help create new traditions for your family through our line of celebratory staples" - Carrie Morey & Richard Reutter, Son of Caroline.
We recommend serving these handmade biscuits with Caroline's Cake founder, Caroline Ragsdale Reutter's, Breakfast Casserole (recipe below), or with any of the pairings below. 
Caroline's Cakes founder, Caroline Ragsdale Reutter, and Callie's Hot Little Biscuit founder, Carrie Morey, share more than the same first name. Their passion for artfully, handcrafted foods started in their home kitchen surrounded by their families, and are steeped in tradition with recipes passed down for generations. 
MORNING 
Fresh Fruit and Yogurt
Caroline's Breakfast Casserole
Carrie Morey's Savory Sausage Biscuit Casserole 
NOON 
The dessert to your boozy brunch!
NIGHT 
Vanilla Ice Cream
Your Favorite Cocktail 
Caroline's Breakfast Casserole
INSTRUCTIONS
Combine ingredients and place in an 8x8-inch casserole pan. Refrigerate overnight. 
Bake at 350 degrees F for 45 minutes to 1 hour. 
Serve hot! 
Shop the Post
Caroline's Cakes 7-Layer Caramel Cake
Cinnamon Caramel Biscuit (coming soon!)
Hot Little Tip
Our limited edition Cinnamon Caramel Biscuits are sticky sweet, so we love to pair them with savory staples like breakfast casseroles or fresh fruit!