Your Guide to Southern Country Ham
From Carrie Morey's Hot Little Suppers cookbook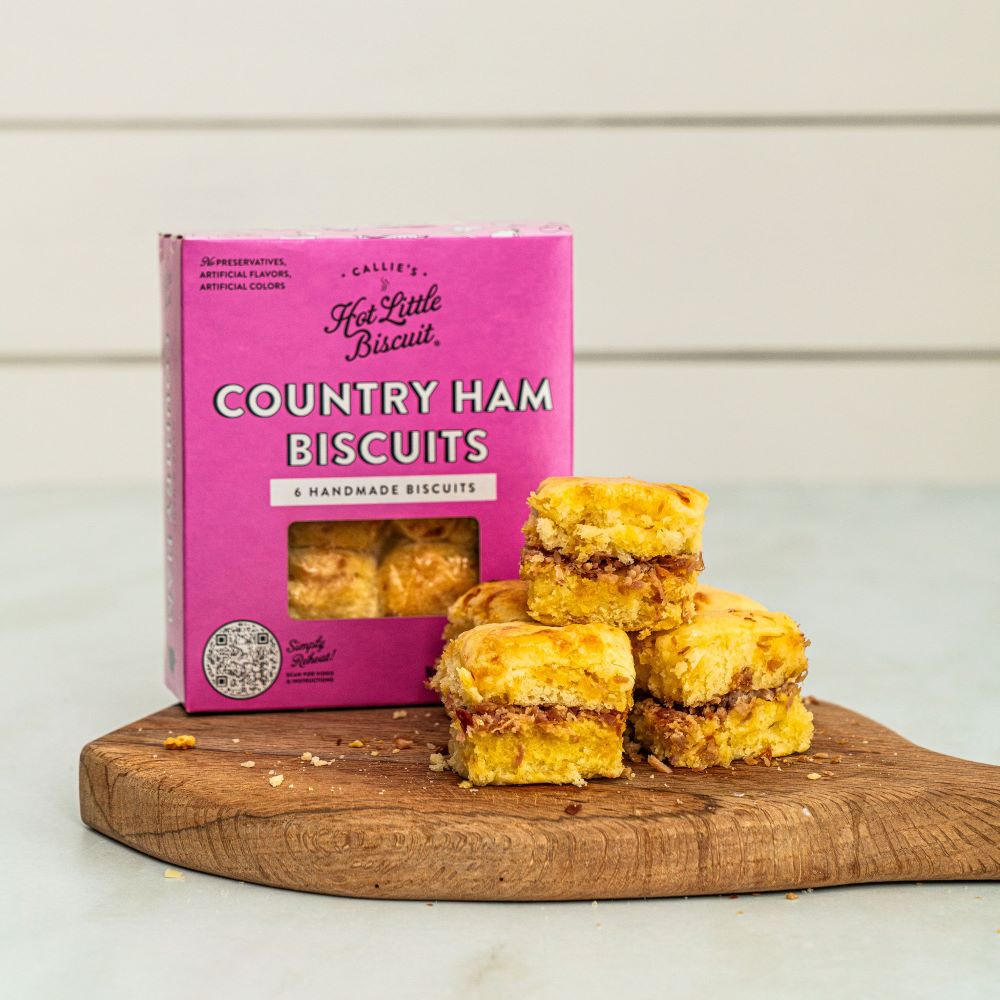 Country Ham Biscuits
This sofi award-winning biscuit is a Southern delicacy. Country ham is cured in salt, making these tender biscuits extra salty. Serve them at your next cocktail party – one order serves 9-10 people.
The biscuit that started it all!
Callie (our founder Carrie Morey's mom) created these chopped country ham biscuits for a very specific reason – when serving ham biscuits for her catered parties, the guests would take a bite and the entire piece of ham would come out of the biscuit... No one wants to be dressed in cocktail attire with a piece of ham hanging out of their mouth! So Callie made them distinctively different by finely chopping the ham in each biscuit.

Since 2005, we have continued to make our country ham biscuits the Callie way. We use finely chopped artisanal Virginia country ham and house-whipped Dijon mustard butter, tucked inside our signature sharp cheddar biscuit. They truly make for the most perfect cocktail hour d'oeuvre that one can eat in a lady-like manner!
Why we make "Hot Little Biscuits":
Carrie's Grandmama always said, "It's not ladylike to eat a big biscuit." Over the years, Carrie developed a deep appreciation for the power of a small biscuit. What's crazy is that their family tradition of small biscuits has turned into something bigger than Grandmama or Carrie could ever have imagined.
The hot little biscuits that we ship to your door are roughly 2x2 inches except our Gluten-Free Buttermilk and Sausage Biscuits, which are "sandwich-size" (roughly 3x3 inches).
Our biscuits are the perfect accompaniment to your weeknight suppers, holiday tables, and party appetizers. We have rounded up some delicious ideas on how to serve our Country Ham Biscuits! 
A

 

Biscuit Bar

 

is perfect for brunch. Let guests choose from a treasure trove of delicious toppings.
Take your biscuit board to the next level with Jamie Tarence's How to Build a Fabulous Biscuit Board.
Bring to a tailgate party for another variety of sandwiches to replenish with some nutrients. Check out our Tailgating Trade Secrets to learn how to travel with these biscuits.
If you are a big country ham fan, grab our Edward's Country Ham to add to your buttermilk biscuits or sharp cheddar biscuits with pimento cheese and jam for a delicious biscuit sandwich.
"I ordered the Ham biscuits for Christmas Brunch. They are absolutely wonderful. Love the flavors of the country ham, cheese, and Dijon mustard.  I can't wait to serve them next year and always hoping there will be some left! Thanks to Hoda and Jenna from the Today Show for recommending them!" - Gail
Shop this post:
Mix and Match - Try our Country Ham Biscuits in a 6-pack option
Hot Little Tip
Looking for just a taste and not 24 full biscuits? Try our Country Ham Biscuits in our Mix and Match option.