How She Rolls Season 2
From Carrie Morey's Hot Little Suppers cookbook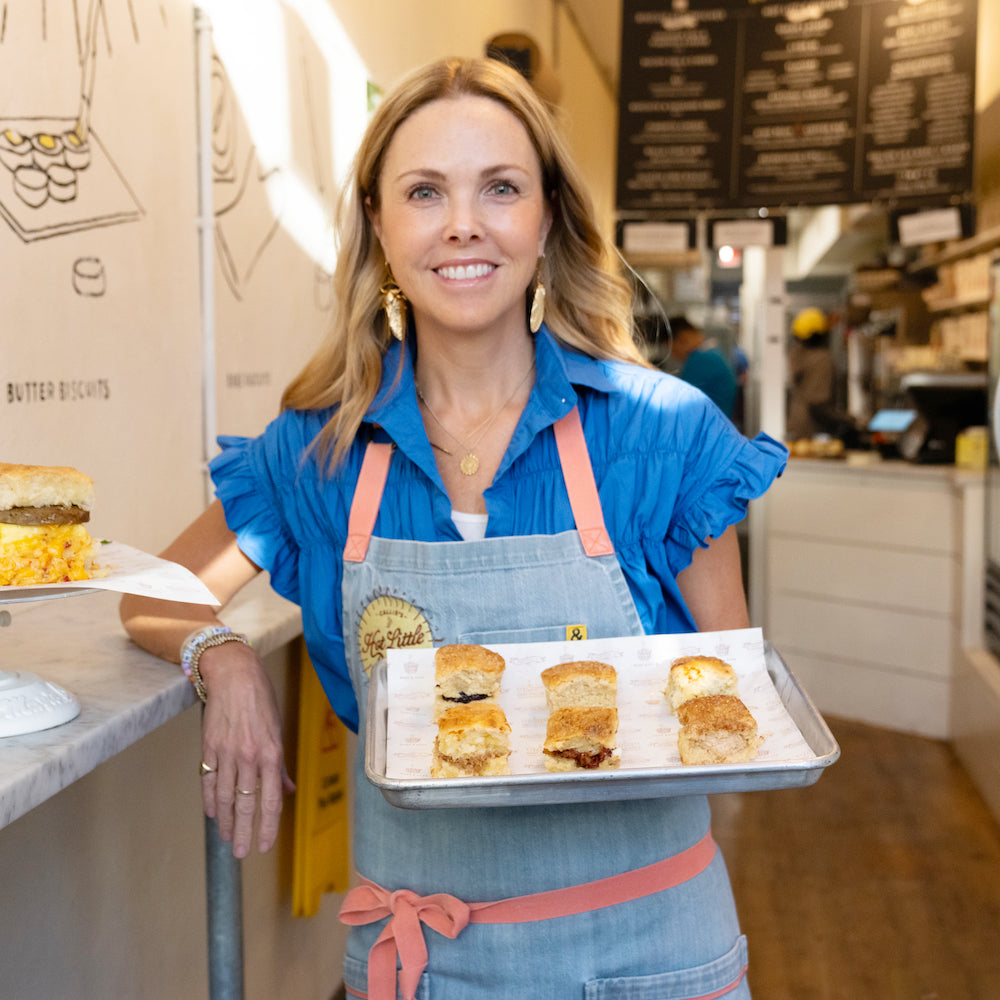 How She Rolls is Back!
How She Rolls is a half-hour, lifestyle documentary and culinary series that follows the life of Carrie Morey, an award-winning baker, entrepreneur and mother, who transformed her biscuit company into one of the South's top small business success stories.
Digital Downloads: 
Carrie's Pantry, Fridge, & Freezer Grocery List
3 Recipe Cards from Carrie's Favorite Episodes
A Map of Carrie's Charleston Food Favorites 
To download these assets, enter your email here: 
We're back for Season 2! 
For Carrie Morey, Charleston, S.C. biscuit entrepreneur and mother to three teenage daughters, the growing success of her business leads to more challenges. New players, rising costs, store closures and health issues create challenges, but also help refocus her personally and professionally. The importance of family, food and resiliency are themes that run throughout the inspiring ten-episode culinary docu-series.
We asked the Morey family to share what we can look forward to during Season 2 of How She Rolls – from learning to drive, leaving for college, and the fight against epilepsy. Check out the full video here: 

Episode Breakdowns
Episode 201 - Airing on SCETV on September 15th
The biscuit business is booming, but nothing is easy at Callie's Hot Little Biscuit. Carrie struggles to find and keep employees at her eateries. Meanwhile, the main bakery is stretched to the limit trying to keep up with online and retail demand. Carrie searches North Charleston for the perfect new bakery space, but when her youngest daughter is diagnosed with epilepsy, business problems take a back seat.
Episode 202 - Airing on SCETV on September 22nd
Carrie is on the road to the upstate of South Carolina for her first speaking tour. She needs a lot of practice before she gets on stage and she and Tarah learn a few hard lessons. Carrie and Amy visit Caroline's Cakes in Spartanburg to get ideas for a new bakery and learn to decorate with caramel icing. In Greenville, they make a few food finds at a local grocer that Carrie takes home for supper.
Episode 203 - Airing on SCETV on September 29th
Water is the essence of Charleston and Carrie grew up with "saltwater in her hair." She and her dad head to the coastal islands to harvest oysters by hand with Lowcountry Oyster Co., which leads to a backyard oyster roast on Shem Creek. She takes her staff to the bay to learn how to crab with Tia, a local expert. The day is completed when Carrie demonstrates an original recipe for a delicious fish sandwich dinner.
Episode 204 - Airing on SCETV on October 6th
Carrie heads to Birmingham, another Southern city with a strong food culture. She swaps biscuit recipes with Becky Satterfield and cake recipes with Brian Hart Hoffman. She visits with her first business mentor for new advice, gets a Civil Rights history tour, and makes pimento cheese with local food entrepreneur Ashley Mac. They visit the University of Alabama to see if it's the right college for Caroline.
Episode 205 - Airing on SCETV on October 13th
Flour is getting harder to get, so Carrie and Amy head to Ohio. They visit a mill in Fostoria to see how raw wheat is milled into the flour they use in biscuits. In Toledo, they make hot little biscuits for all the plant employees who prepare and package their flour. Amy introduces Carrie to the sport of curling. Back in Charleston, Ashley and Annalyle make two very different cakes for a staff baby shower.
Episode 206 - Airing on SCETV on October 20th
Carrie and Krysten create a Persian feast for International Women's Day. The meal blends locally farmed food, including rice and beans, with fresh herbs from Carrie's new garden. The result is a delicious Southern/Middle Eastern fusion. Tarah and the marketing team reveal the secrets of Carrie's social media success. Carrie bravely buckles in the passenger seat as middle daughter Cate learns how to drive.
Episode 207 - Airing on SCETV on October 27th
Carrie is the perfect foodie to lead an insider's guide to a food-lover's city! She takes a nostalgic tour of her favorite Charleston eateries. She learns how to make her favorite espresso, takes John for breakfast by the harbor, creates a killer chicken sandwich in an historic inn, shows off one of the best seafood houses in America on King Street, and has drinks with friends at her brother's wine bar.
Episode 208 - Airing on SCETV on November 3rd
A big box store places a huge order, and the team must redesign packaging. They also have to find a co-packer to help make the new biscuit crackers. Artist Dorothy Shain creates a custom box inspired by Andy Warhol. The team visits McLeod Farms in McBee to create a peach biscuit. Carrie hosts a dinner at Oak Hill Café in Greenville where Chef David Porras turns up the style on Carrie's french onion soup recipe.
Episode 209 - Airing on SCETV on November 10th
Even with strong sales, competitors are undercutting the grocery business. The team hosts its first-ever taste test to discover what they are doing right and what they are doing wrong. Carrie finally finds the perfect new bakery space, but will she choose to move her operation? Former employee Bea opens a new café on Kiawah Island, and daughter Caroline has finally found her college home.
Episode 210 - Airing on SCETV on November 17th
Carrie and her mom are in the kitchen creating the original ham biscuits for a special holiday party for college-bound Caroline. The holidays bring a new craze to the retail stores and home life. A car is towed, a cavity discovered, and husband John miraculously makes his special eggnog while watching his alma mater play in a bowl game. Carrie and her family share the charm of the holidays in Mount Pleasant.
Kneading More? 
For more information about How She Rolls, head to howsherolls.com.
Download Carrie's Pantry, Fridge, & Freezer Grocery List here
Download Recipe Cards from Season 2 here
Download a Charleston Map of Carrie's favorite places to eat here
Hot Little Tip
You can watch How She Rolls season 1 today on PBS.org or check your local listings to watch on your TV at home!