Lemon Thyme Wings
From Carrie Morey's Hot Little Suppers cookbook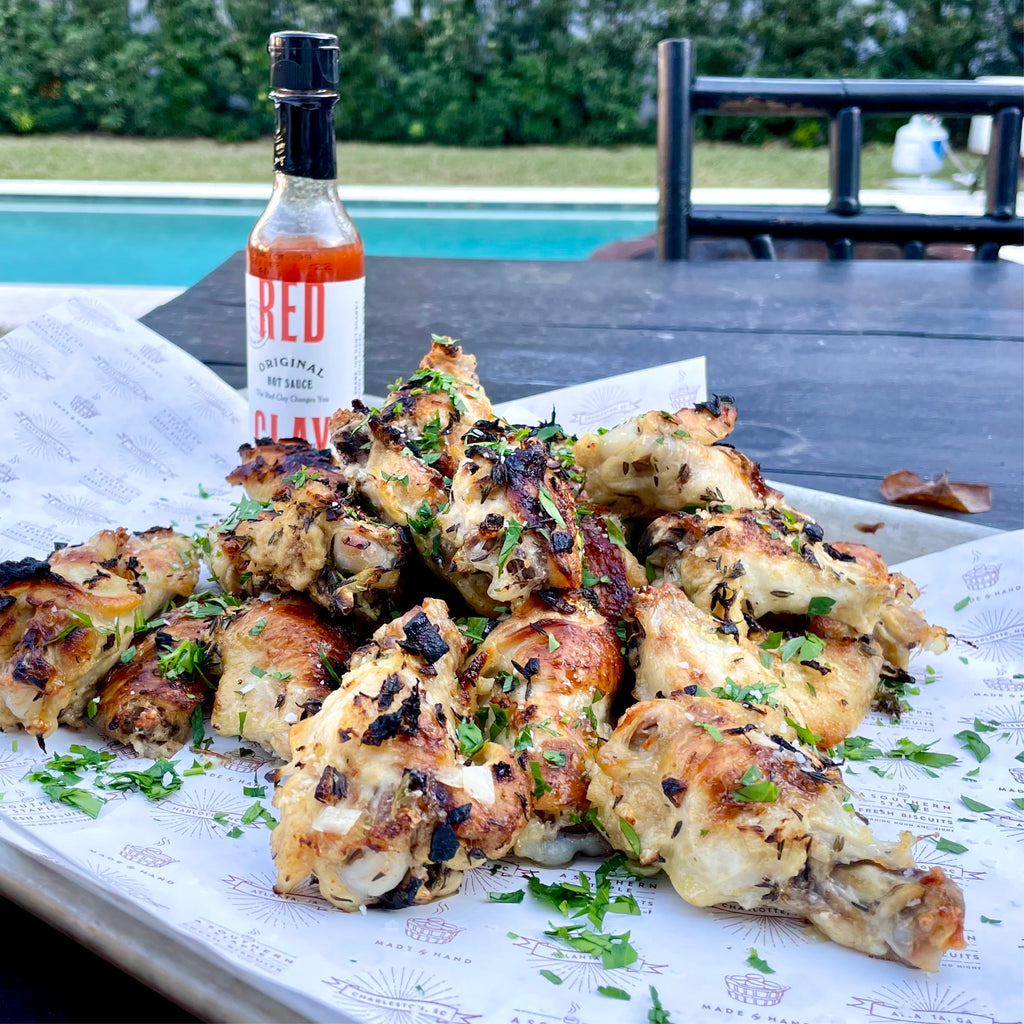 Ingredients
• Grated zest and juice of 2 lemons (about 1/2 cup juice)
• 2 tablespoons olive oil
• 4 large cloves garlic, minced
• 1/4 white onion, minced
• 1 1/2 teaspoons minced fresh thyme
• 1 1/2 teaspoons kosher salt
• 1/2 teaspoon cayenne pepper
• Garnish (optional): chopped green onions
Just because you are only watching the Super Bowl for the commercials or Rihanna's halftime performance, doesn't mean you can't enjoy amazing food along with the football fans! I'm a fan of crunchy, crispy wings with lots of flavor. This recipe for wings is so simple, tastes absolutely incredible, and they're so quick to prepare. It will be a fan favorite and they'll be gone in minutes... trust me. 
Instructions
Combine the lemon zest and the juice, olive oil. garlic, onion, thyme, salt, and cayenne in a resealable plastic bag. Add the wings. Refrigerate overnight, and whenever you open the fridge, turn the bag to coat the wings.
When you're ready to cook, preheat the oven to 350˚F.
Put the wings in a single layer in a baking pan or skillet and pour the marinade over them. Bake 30 minutes.
Turn the oven to broil. Broil the wings 3 minutes on one side, turn and broil 5 minutes on the other side, or until brown and crispy. Garnish with chopped green onions, if you wish.
Should I season my wings before frying?
Yes, you should season your wings before frying - and before baking! You can use a variety of spices or seasonings, such as salt and pepper, garlic powder, cumin, paprika, chili powder, or your favorite blend.
Why won't my wings get crispy?
There are several potential reasons why your wings are not getting crispy. The most common are that the oven temperature may not be hot enough, the wings may not be cooked long enough, or the wings may not have been dried off properly before they were cooked. You may need to use oil or butter to help create a crispy coating on the wings.
What is the secret to the best chicken wing?
The secret to the best chicken wings is to make sure they are cooked to perfection. The wings should be fried in hot oil or baked in the oven until they are crispy on the outside and juicy on the inside. It's important to season the wings with a variety of spices and herbs to bring out the flavor before cooking. We also find that a good sauce (such as our brown sugar bourbon BBQ sauce) can help to bring out the flavor and add a delicious kick to the wings.
Why do you soak chicken wings in baking soda?
Soaking chicken wings in baking soda helps to tenderize the meat and create a crispier texture. It also helps to draw out the moisture from the meat, which allows the wings to absorb more of the marinade or seasoning used in the cooking process.
Is it better to fry or bake wings?
It really depends on personal preference. Baked wings are typically lower in fat, but fried wings tend to be crispier and more flavorful.
Hot Little Tip
An effortless and delicious recipe for Super Bowl Sunday!