"Set & Forget" Southern Grits Bar for Christmas Morning
From Carrie Morey's Hot Little Suppers cookbook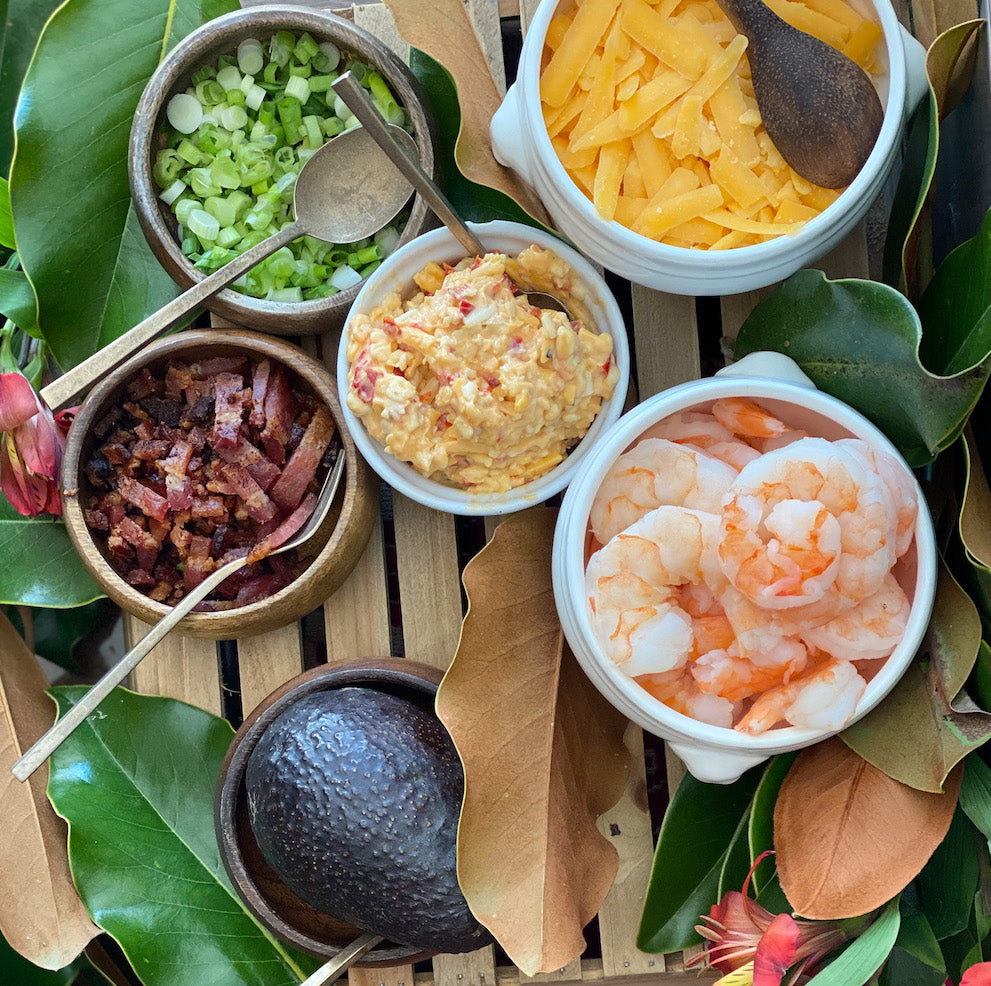 Holiday Grits Bar
My favorite holiday grazing dish to "set & forget" – leaving you with less time in the kitchen and more time with loved ones!
You may be surprised when I tell you that I really don't like to cook on Christmas morning... While the kitchen is my sanctuary, Christmas morning is the one time of year I want to sit back, relax, and not worry about a thing! People often ask me what my favorite holiday recipe makes – and while my family has a TON of favorites like pecan sands, squash casserole, eggnog, & more – my preference is a casual, self-serve grits bar! 
The best thing about a grits bar (besides the taste, of course!) is that all the preparation can be done ahead of time and guests can serve themselves. Simply make overnight grits in your crockpot and add accouterments! It's the perfect go-to when asking yourself what to serve at brunch or how to make holiday meals easy. It's truly a holiday party food essential! 
Looking for a sit-down meal instead? My family (and our eatery customers!) love my Pimento Cheese Shrimp & Grits recipe! 
TIPS TO SET & FORGET YOUR HOLIDAY GRAZING TABLE
Just because service is casual, doesn't mean your display has to be! Elevate the table with ironed linen napkins & fresh flowers or cut greenery from your yard. 

I love to put out Table Topics cards to get people off their phones and have conversations.

Use what you have! I love vintage cake stands and china and I cut fresh flowers/greenery from my garden. 

Learn more about my holiday tips & tricks in my feature on Caroline's Cakes blog! 
GRITS BAR INSTRUCTIONS
1. The night before the gathering, use our Carolina Grits to make overnight grits in your crockpot. Find our overnight grits recipe on the back of the product bag or here. 
2. Set up your serving station with your crockpot and small bowls for your accouterments. I love to dress up the station with tiered platters of options for every craving. 
ACCOUTREMENT IDEAS
Pimento Cheese
Crumbled Bacon
Green Onions
Sharp Cheddar Cheese
Smoked Sausage
Carolina Shrimp
Roasted Tomatoes
Arugula 
Avocado
SHOP THE POST
Hot Little Suppers cookbook
Callie's Biscuits & Southern Traditions cookbook
Hot Little Tip
The longer the grits cook, the creamier the result! My advice is always to cook them "low and slow".