July 4th Strawberry Shortcake Cobbler Recipe
From Carrie Morey's Hot Little Suppers cookbook
"Our farmers put animal welfare at the heart of their operations. We compensate them fairly and provide ongoing support. Our girls (cows and hen) supply ethically produced eggs and butter. Our network of family farms gives them the lifestyle they deserve." - Vital Farms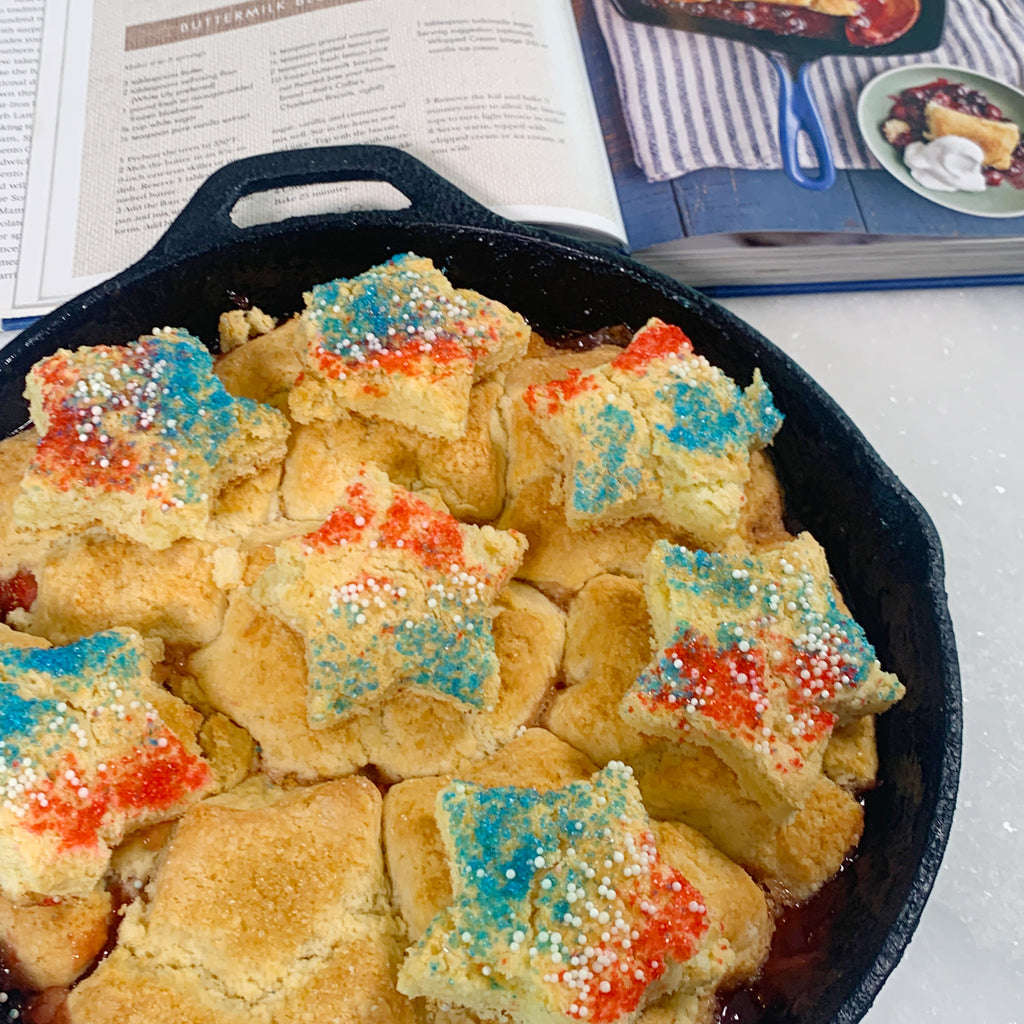 Ingredients
• 1 Bag Callie's Hot Little Biscuit Shortcake Biscuit Mix
• 11 Tablespoons of Vital Farms Salted Butter
• 1 lb Fresh or No-Sugar-Added Frozen Strawberries
• 3/4 Cup White Sugar
• ½ Teaspoon Pure Vanilla Extract
• ¼ Teaspoon Ground Cinnamon
• ½ Teaspoon Grated Lemon Zest
• 2 Teaspoons Fresh Lemon Juice
• 1 Cup Whole Milk
• 1 Tablespoon Turbinado Sugar


Serving Suggestions:
• Festive Sprinkles
• Whipped Cream
• Vanilla Ice Cream
The Fourth of July comes with some of my favorite family traditions, like decorating bikes for The Victor Parade and devouring a family meal that consists of my mother-in-law's cowboy beans (recipe in my Hot Little Suppers cookbook)!
It is tradition for me to bring the dessert to our family get-together, and it's in my nature to do my best to make it somewhat themed for the holiday. It is also in my nature to use ethically sourced ingredients -- which is why I use butter and eggs from Vital Farms. One of my favorite things about buying Vital Farms products is that they are in my local grocery store and have a presence in thousands of stores across the country, so it's easy to shop ethically, whether I'm at home or traveling to family for holidays! You can find a store near you here.
This Fourth of July Shortcake Cobbler was super simple to come together and uses Callie's Hot Little Biscuit Shortcake Biscuit Mix, fresh berries, Vital Farms salted butter, and festive sprinkles. 
Instructions
Preheat the oven to 350°F.
Melt 3 tablespoons Vital Farms salted butter in an 8½- to 9-inch cast-iron skillet or pie dish. Reserve 1 tablespoon of the melted butter.
Remove the skillet from heat and add two tablespoons of the Shortcake Biscuit Mix. Combine until a smooth paste forms. Add strawberries, white sugar, vanilla, and cinnamon. Stir in the lemon zest and juice. Set aside to let ingredients macerate.
Place 2 cups of Shortcake Biscuit Mix into a large mixing bowl. Add 8 tbsp of Vital Farms salted butter and work it into the mix in a snapping motion with your fingers.
In a separate bowl, stir together milk and vanilla.
Make a well in the center of the dough. Pour in the milk mixture and combine until the dough is wet and sticky. Be careful not to overwork the dough.
Liberally dust the dough, rolling surface, rolling pin, and cutter with the remaining shortcake biscuit mix. Flip the dough onto a dusted surface. Roll the dough using a rolling pin until it's 2 inches thick.
Cut the biscuits and place each biscuit in the cast iron skillet, on top of the macerated berries. If you'd like, you can cut star toppers with the remaining dough! 
Brush the biscuit tops with the reserved melted butter and sprinkle with turbinado sugar or red, white, and blue sprinkles (if desired). 
Cover the skillet with aluminum foil and bake for 25 minutes.
Remove the foil and bake for 5 minutes more to allow the biscuit tops to turn light brown in color.
Serve warm, topped with whipped cream or ice cream!
Loving cobblers right now? Check out my other versions of Cobbler: A Cup A Cup A Savory Cobbler, Chocolate Cherry Shortcake Cobbler, and A Cup A Cup A Peach Cobbler!
About Vital Farms
Vital Farms started with a small plot of land in Austin, TX, 20 Rhode Island Red hens, and a commitment to animal welfare. Today, Vital Farms is the leading pasture-raised egg brand by retail dollar sales in the country, working with a network of nearly 300 family farmers across the pasture belt to give millions of hens a life on pasture year-round. Vital Farms has expanded its values for ethical food production to produce a variety of butter products which are churned using rich cream sourced from cows raised with care and respect on American family farms.
Shop The Post
Callie's Hot Little Biscuit Shortcake Biscuit Mix
Callie's Biscuits and Southern Traditions Cookbook
Hot Little Tip
Using Vital Farms butter is the most delicious addition to your cobbler - especially melted on top!