Chocolate Cherry Shortcake Cobbler
From Carrie Morey's Hot Little Suppers cookbook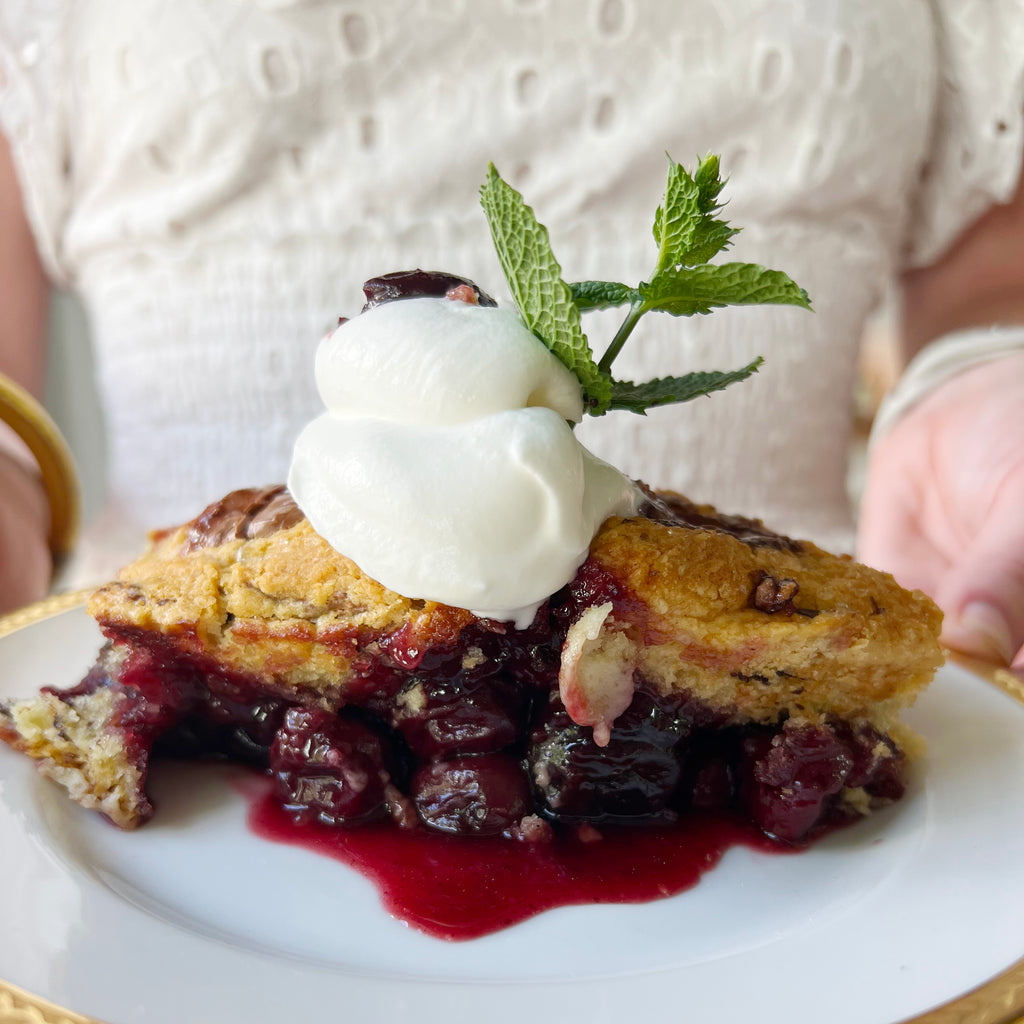 Ingredients
• 6 cups of cherries with the juice
• 2 teaspoons cornstarch
• 3/4 cup sugar
• Zest of 1 lemon
• Juice of half a lemon
• Callie's Shortcake Biscuit Mix
• 10 tbsp salted butter (divided)
• 1/2 to 3/4 cup whole milk
• 1 teaspoon pure vanilla extract
• 1 tablespoon turbinado sugar
• 12 oz chocolate (I recommend half Tony's dark chocolate and half Tony's milk chocolate)
I have to be honest... Cherries are not something I usually gravitate toward until our very first trip to Montana. We were on a family vacation and I fell in love with fresh cherries after tasting the BEST cherry cobbler! 
Of course, I took my tasting inspiration home and made my own version of the recipe. I added Tony's Chocolate (because I am a chocolate-lover) and Callie's Hot Little Biscuit Shortcake Biscuits (because why not)! This is such an easy and delicious cherry cobbler variation.
 Pro Tip from my friend, Jessie Sheehan: Put out a fun nugget on an easy way to chop chocolate - use a serrated knife to get the best chunks! 
Loving cobblers right now? Check out all my versions of this cobbler: A Cup A Cup A Savory Cobbler, Fourth of July Strawberry Shortcake Cobbler Recipe, A Cup, A Cup A Peach Cobbler!
Instructions:
Melt butter in your 9 inch cast iron skillet on your stove. Mix cherries, sugar, cornstarch, vanilla, and lemon zest and juice in your buttered skillet until bubbling then turn off heat.
Take your Callie's Hot Little Biscuit shortcake biscuit mix and place some of the mix into a small bowl that will be used to dip your biscuit cutter in to stop it from sticking. Then empty the remaining mix into a large mixing bowl. In another bowl, mix and whisk your vanilla and milk.
Take the room temperature butter and begin cutting it into the mix. Use small pieces and work the mix with your hands until it is the same consistency as grated parmesan cheese.
Once the mix is combined with the butter, make a little pocket in the middle and slowly add your wet ingredients. Add just enough for it to absorb. You want it to join without having to knead or work it too much. Sprinkle some mix onto your counter and then place the dough down.
Fold in your chocolate chunks and roll it out a bit to even out the top, but make sure the dough is still about two fingers high.
Now you can begin stamping your biscuits, making sure to coat your tools with the extra mix to prevent sticking. 
Place your biscuits on top of the cherry slushy in your cast iron skillet.
Brush the tops of the biscuits with melted butter and sprinkle them with turbinado sugar.
Place skillet on a baking tray and put them in a 350-degree oven loosely covered in foil to bake for 30 minutes.
Remove foil and bake for another 15 minutes.
Shop the post:
Hot Little Tip
Use Tony's Chocolonely in this cobbler!! It's fantastic and such cute packaging!