Fried Chicken Sammies
From Carrie Morey's Hot Little Suppers cookbook
"This was the perfect combination of flavors. We give it a Chef's Kiss!" ~Carrie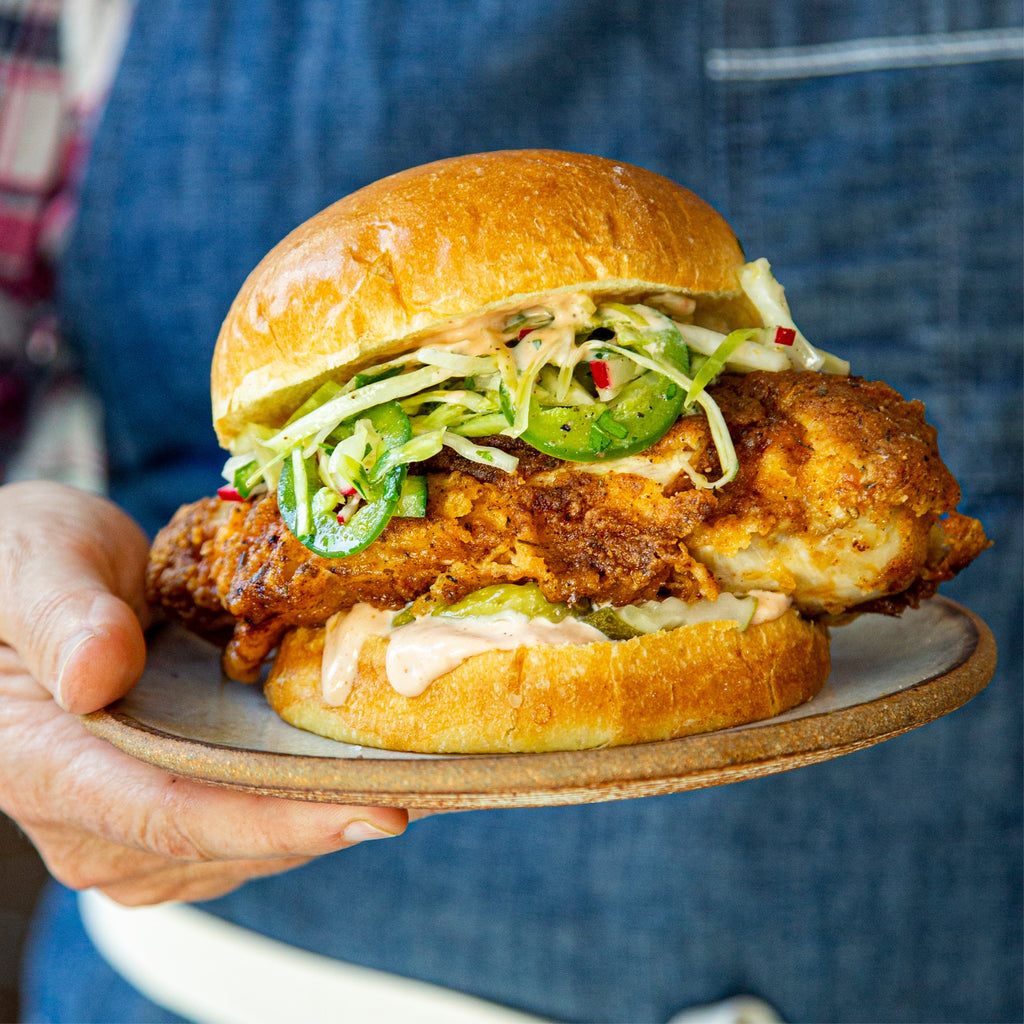 Ingredients
• 6 chicken breasts
• 3 cups buttermilk
• ½ cup pickle juice
• 1 cup canola oil
• 3 cups self rising flour
• 2 tablespoons pepper
• 2 tablespoons paprika
• 1 tablespoon onion powder
• 1 tablespoon oregano
• 1 tablespoon garlic salt
• 2 teaspoons dry mustard
• 1 teaspoon dried thyme
• 1 teaspoon dried basil
• 1 teaspoon celery seed
• ½ teaspoon cayenne
• ½ cup mayonnaise
• 2 teaspoons Sriracha
• Everything Slaw for topping
• Pickles for topping
• Brioche buns, buttered and toasted
Finally, I came up with my own breading that required brining the chicken breasts in pickle juice and buttermilk. I used a ton of spices and didn't add any salt which is rare. It was absolutely delicious! We combined the perfectly fried chicken with a buttery toasted brioche bun, my Slaw for Everything, and Sriracha mayo. 
Add this to my dad's "Waffle Waffle Waffle" for a true soul food brunch dish that everyone loves, a homemade chicken and waffles. They are crisp yet fluffy with ample flavor, just waiting to be topped with crunchy fried chicken and soaked in sweet maple syrup!
Make this sandwich for everyone in the family, try our Fried Fish Sandwich recipe to mix it up and cook both at the same time!
Instructions
In a large bowl, marinate the chicken in the buttermilk and pickle juice for one hour.
In another large bowl, mix together the flour, pepper, paprika, onion powder, oregano, garlic salt, mustard, thyme, basil, celery seed and cayenne.
Heat 1 cup canola oil in a large cast iron skillet. Bring oil temperature up to 350°F.
While the oil is heating, prepare the chicken. Shake the excess buttermilk off the chicken breast and roll lightly in the seasoned flour. Dip in the buttermilk mixture again, gently shaking off excess buttermilk. Roll again in the seasoned flour making sure to heavily coat the chicken well. Place on a baking rack until ready to fry.
Carefully place the chicken in the skillet. Only fry 3 breasts at a time. Fry for 6 minutes on each side or until the internal temperature is 165°F. If the chicken gets too brown and isn't cooked fully, place on a wire rack in a 250°F oven until chicken reaches 165°F. Make sure the oil doesn't go over 350/360°F. Constantly watch the oil temperature, if it gets too low you can put a lid over the chicken to bring it up to temperature quickly.
In a small bowl, mix together the mayonnaise and Sriracha.
Serve the chicken on top of a toasted brioche bun with Sriracha mayonnaise and my Everything Slaw (recipe on the blog) on top or on top of my waffles for a delicious brunch or brinner chicken and waffles!
Hot Little Tip
Makes for a perfect chicken and waffles meal!