What to Serve with Biscuits • Carrie Morey's Favorite Biscuit Pairings
From Carrie Morey's Hot Little Suppers cookbook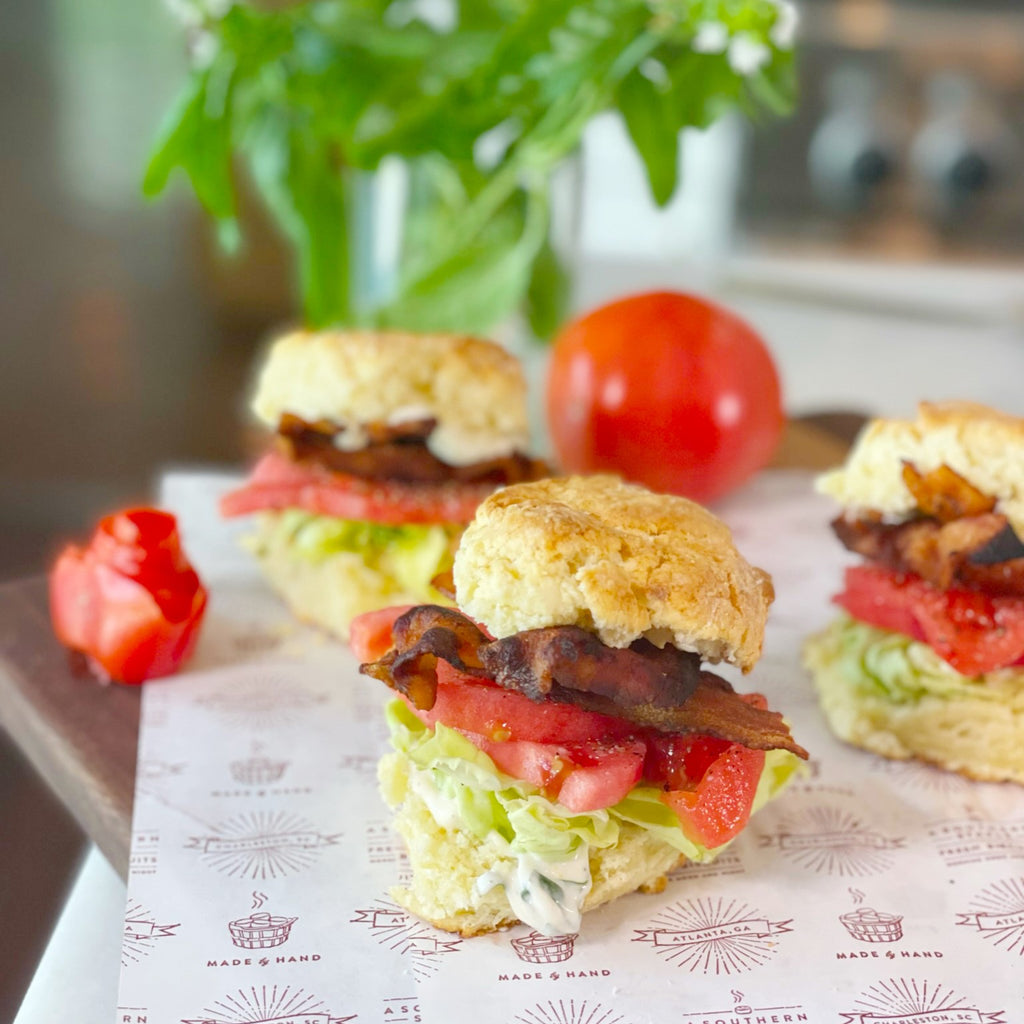 With recipes including:
• Cobbler
• BLT Sandwich
• Egg in a Hole
• Shrimp and Grits
• Pimento Cheese Mac and Cheese
While we believe that a biscuit is perfect on its own - especially a Callie's Hot Little Biscuit Country Ham Biscuit or Cinnamon Biscuit, we also know they can complement a variety of other dishes beautifully! They can be dressed up, stuffed in a sandwich, or baked into a cobbler and served at breakfast, lunch, dinner, snack, or dessert!
Cup, a Cup, a Savory Cobbler is a new twist for an all-in-one supper that is quick, hearty, and scrumptious with Callie's Hot Little Biscuit Buttermilk Biscuit Mix!
Eggs in a Hole is a hearty full breakfast that can be seasoned just how you like. I love adding Red Clay Hot Sauce and seasonal herbs to mine. 
Pimento Cheese Shrimp and Grits is a Lowcountry staple and a Callie's Hot Little Biscuit eatery favorite served in a Buttermilk Biscuit Bowl. But if you cannot grab one at our eateries, classic buttermilk biscuits and Carolina grits are just as good for chaotic mornings!
Biscuits and Mushroom Gravy is a great dish to serve for a Sunday supper for the five or an event for hundreds of people! It also makes for a fabulous, earthy vegetarian biscuit recipe for your non-meat-eating guests! Grab the Callie's Hot Little Biscuit frozen biscuits to take one step out of the cooking process.
BLT Biscuit Sandwich: The BLT is a favorite of mine and there are a million ways to elevate this simple sandwich!
Who doesn't love chicken and biscuits?! Combine the perfectly fried chicken with a buttery biscuit for the perfect breakfast, lunch, or dinner Fried Chicken Sammies!!
Meeting Street Crab Dip: Serve this up along with biscuits, Bloody Marys, and pimento cheese and you'll win at entertaining!
Shallot Yogurt Charcuterie Dip and Salami Crisps: The yogurt dip comes from my cookbook, Hot Little Suppers, and can be elevated with your favorite hers. For this recipe, I turned bacon and salami into "chips" that offer the most indulgent crunch to any dip.
There are so many delicious and amazing ways to serve and enjoy biscuits and great things to serve with biscuits... In fact, it is entirely possible that there are way too many to include in this one blog post! So follow the Hot Little Suppers blog and be sure you are an email subscriber to stay in the know on new recipes! You can also follow me on Instagram as I post new recipes, ideas, tips, and tricks on what to serve with biscuits for dinner, breakfast, and more!!
SHOP THIS POST
Hot Little Tip
There are so many delicious ways to enjoy a biscuit! Follow along on Instagram for even more ways!