Decorating Baked Goods for Fall
From Carrie Morey's Hot Little Suppers cookbook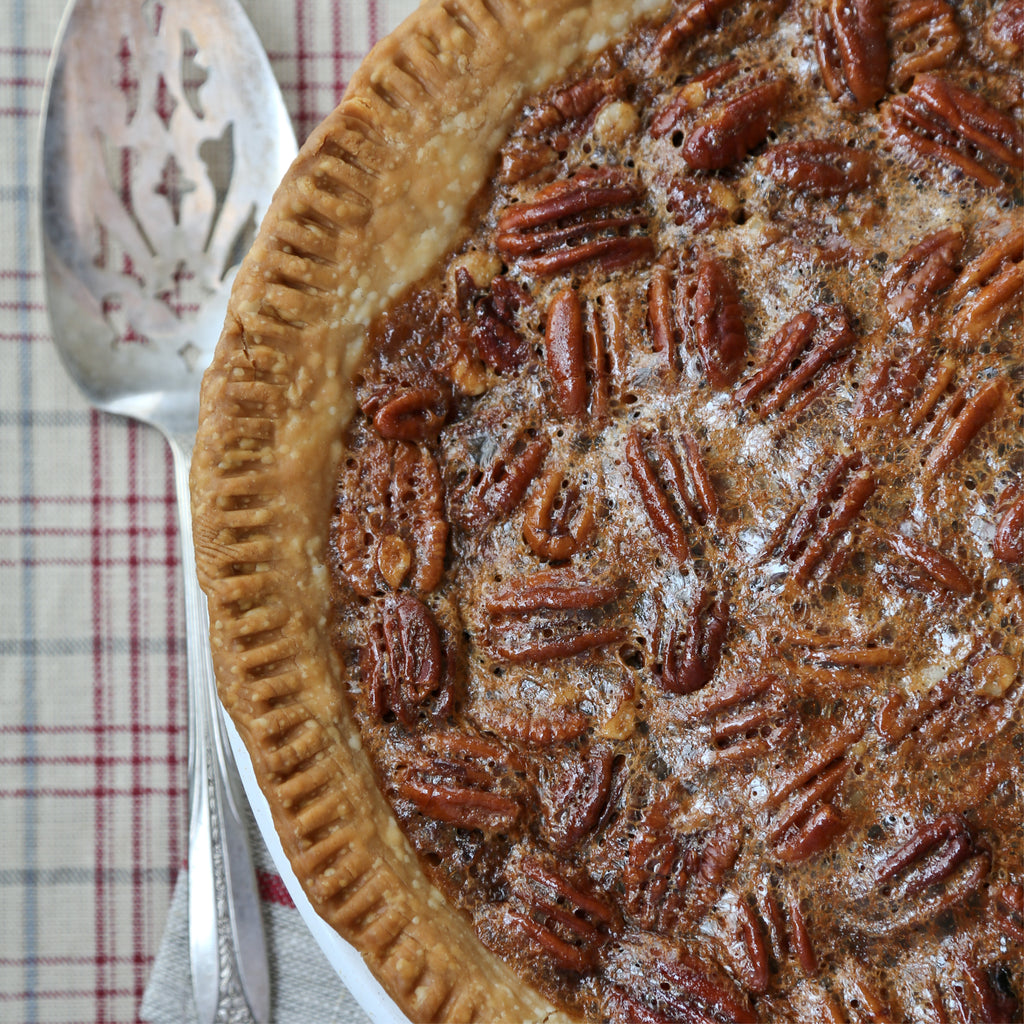 Festive Ideas
• Try pie art
• Put an autumn twist on classics
• Accent with seasonal toothpicks
• Use sprinkles!
The leaves change color, the weather cools down, and Southern kitchens are filled with the aromas of baking biscuits, pies, and other fall treats - autumn has arrived. What could make these baked goods even more irresistible? Decorative touches that suit the season, of course! Get ideas from Callie's Hot Little Biscuit for festive baking decorations you can experiment with. Be sure to show us pictures of your tasty treats by tagging us on social media - @callieshotlittlebiscuit.
Try pie art for autumn.
Pecan pie is a Southern staple, and it's surprisingly easy to decorate. Make some extra pie crust and use the leftover dough to create a simple design on top before you bake the pie. Use cookie cutters if you want shapes, such as pumpkins or acorns, or slice out strips to create letters. Write out words like "fall," "leaves" or a meaningful phrase for your family. If you feel like getting creative, you can make your own pie-topping designs, such as a big leaf, or braid three strips of dough together to trim the edge of the pie. You could also cut out several smaller dough leaves and scatter them around the pie for a cute seasonal look.
Put an autumn twist on classic recipes.
Classics are classics for a reason - because there's something about simple ingredients that makes them naturally delicious. So don't reinvent the wheel; if you like making strawberry shortcake in the summer, try cranberry shortcake this fall! Remember to tweak the recipe's sweetness to complement the tartness of the cranberries, and put a few cranberries on top of this autumn dessert for an easy garnish. Check out our Biscuit Berry Nest and other shortcake desserts to see what else you can make using autumn fruits in place of summer berries.
Decorate baked goods with seasonal toothpicks.
You can find seasonal toothpicks in all kinds of fun shapes and colors. Buy a big pack with toppers shaped like leaves or gourds, or sit down with family to make your own flag toppers together. Stick them in pie slices or even in open-face appetizers for easy fall decorating. Get inspiration from our catering team.

Use colorful frosting and sprinkles.
Pick sprinkles in fall colors, such as red, yellow and orange, for autumn-themed dark chocolate peanut butter balls. Don't be shy about buying more than you need; any leftover sprinkles can go on cupcakes with frosting that's been dyed in fall colors. If you don't like using dye, yellow cupcakes with chocolate frosting also look great with those autumn shades.
Try adding sprinkles to cake batter for a fun, colorful touch. Even better than cake? Biscuits! Use our Shortcake Biscuit Mix to create confetti biscuits - just use the recipe on the back of the bag to get just the right amount of sprinkles for a Southern classic with flair.
Don't stop at desserts.
Who says desserts get to have all the fun? Try some of these tips at lunch or for an afternoon snack. For example, we're all familiar with BLTs, but those are summery sandwiches. Trade out the ingredients for a taste of fall instead. Get our Buttermilk Biscuits and load them up with slices of turkey and apples. Top it all off with pimento cheese, then put an autumn flag topper toothpick into the sandwich or wrap it in parchment paper secured with festive twine.


Shop the Post
Hot Little Tip
Discover more recipes you can add fun decorative touches to with the Hot Little Suppers cookbook and the Callie's Biscuits & Southern Traditions cookbook.