Cooking Instructions
A STAPLE IN A GOOD SOUTHERNER'S KITCHEN, THIS SIMPLE BLEND OF FRESHLY SHREDDED CHEDDAR HAND-MIXED WITH PIMENTOS AND OUR SIGNATURE SPICES IS EVERY FOOD LOVER'S SECRET WEAPON!
How do I store pimento cheese?
Please keep refrigerated until ready for use.
How long is pimento cheese good after opening?
Enjoy all this goodness within four weeks, whether you've opened the package or not, or check the expiration date on the container.
Can you freeze pimento cheese?
While you can put pimento cheese in the freezer for up to three months, it can affect the texture. We suggest putting it to good use in a recipe after freezing!
Is pimento cheese served hot or cold?
Pimento cheese is perfect for parties, no matter how you like to share it! It can be served cold with a selection of crackers and vegetables, or hot as a dip with pico de gallo and tortilla chips. Pimento cheese is also great on sandwiches and burgers.
How do I prepare pimento cheese?
Pimento Cheese is ready to eat straight out of the container, but to prepare as a hot and creamy dip, simply melt the entire container of pimento cheese by emptying it into a crock pot or a skillet in the oven at 350 degrees Fahrenheit (add chorizo if you like) until bubbly.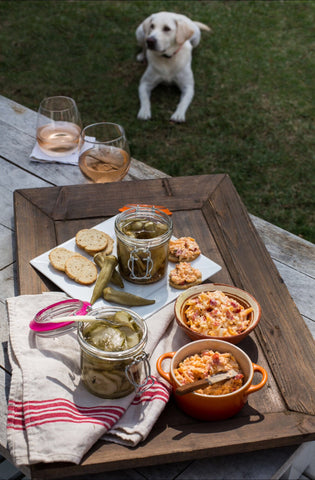 Find great recipes that feature pimento cheese by visiting our Hot Little Suppers blog, like Pimento Cheese Jalapeño Poppers or Pimento Cheese Shrimp and Grits. You can find even more in our Hot Little Suppers cookbook and Callie's Biscuits & Southern Traditions cookbook.