How to Entertain Like a Southerner... with Biscuits!
From Carrie Morey's Hot Little Suppers cookbook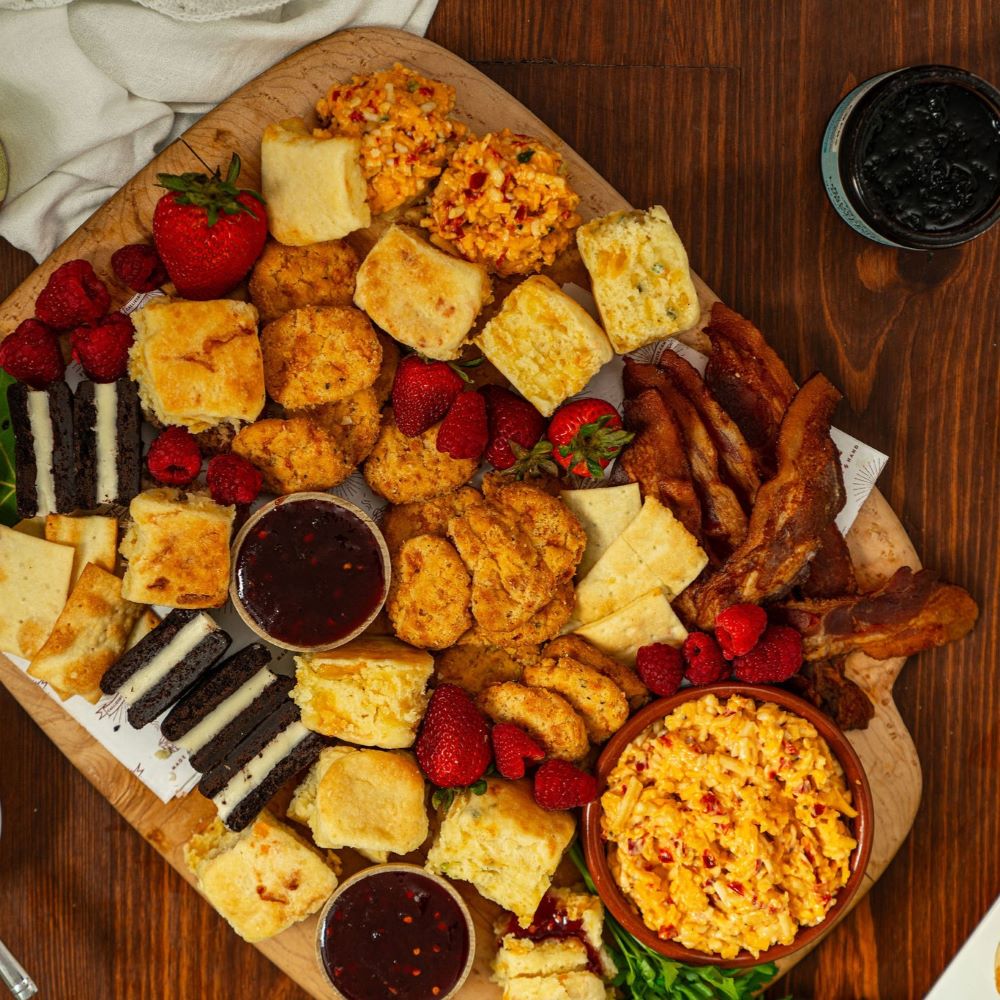 Southern Entertaining Necessities:
• A signature savory dip
• Handmade biscuits or grits
• A "fool-proof" recipe
• Your appetite!
If there is one thing that every good Southerner knows, it's to always be ready for unexpected guests. Whether it's a weekday and my girls bring friends home from volleyball practice, a weekend on the boat, or a house of rotating friends and family that helped us get by when my girls were just born – we are always prepared to have extra seats at the table. 
Entertaining in the South comes down to a few things: good food, good weather, and good company. I love spending time in our kitchen or around the patio. Over the years, I've put together a few fool-proof ways that I entertain to make life easier on the hostess in my cookbooks, Callie's Biscuits and Southern Traditions and Hot Little Suppers. 
Today, I'm rounding up a few of my personal favorite Callie's Hot Little Biscuit southern staples to keep stocked for entertaining guests – expected or unexpected! 
For the casual daytime visit
For the cocktail party (when you want to cook)
For the cocktail party (when you don't want to cook)
The perfect hostess gift
How do Southerners entertain guests for a casual daytime visit?
In our experience, there's more than one best recipe for unexpected guests. That's why we provide a selection to pick from! Our Spinach & Artichoke Biscuit Sandwiches are great for veggie lovers or someone who's after a quick snack. The Dill-icious Cucumber & Tomato Biscuit Sandwiches include herbs for a little extra flavor. Meat lovers will feel at home too with Smoked Sausage & Peppers Biscuit Sandwiches. To get an idea of how it's done, watch the how-to here.
What are the best recipes for unexpected guests at a cocktail party?
What about food to have on hand for unexpected guests when you don't want to cook?
You've got to have our Snack Board Kit, complete with everything you need to make entertaining effortless! I also always keep our Cocktail Pecans and Cheese Crisps on hand. The pecans are candied with just the right amount of salt and spice, and our Cheese Crisps use extra-sharp cheddar with a hint of freshly cracked black pepper for a kick!
The perfect hostess gift:
I love to gift items that can be enjoyed after the guests have left! Here are three of my go-to kits for gift-giving for the entertainer in your life:
TODAY Show Tasting - All of our hot little biscuits and pimento cheese.
Wake & Bake Gift Basket - We've taken our top sellers and added coffee and grits to the mix for the perfect at-home brunch or breakfast for dinner!
Biscuit Mix - The perfect touch of Southern hospitality! Choose from savory buttermilk, sweet shortcake, or gluten-free.
Shop this post
Best Sellers List
Buttermilk Biscuits
Snack Board Kit
TODAY Show Tasting
Wake & Bake Gift Basket 
Buttermilk Biscuit Mix
Gluten-Free Biscuit Mix
Shortcake Biscuit Mix
Hot Little Tip
Every good Southerner has a few recipes up her sleeve for unexpected guests. I always keep biscuits stocked in my freezer just for that! Here is my guide for how to entertain like a Southerner... with biscuits!