Easter Sunday Inspiration for Entertaining Your Family • Brunch, Appetizers and Dessert
From Carrie Morey's Hot Little Suppers cookbook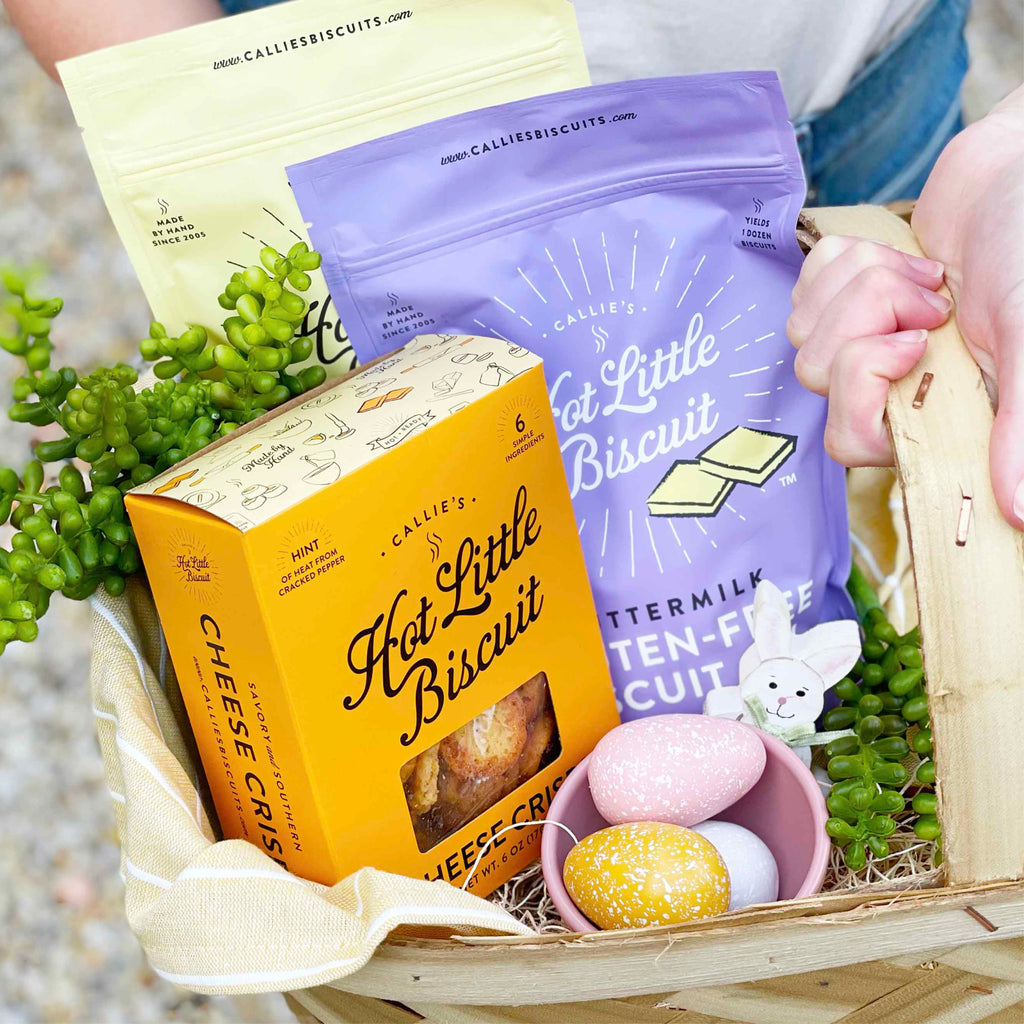 Entertaining for Easter Sunday 2023
Get inspired with Carrie Morey's meal ideas for an easy brunch, egg-cellent appetizers, and delicious desserts for your Easter weekend.
There's nothing quite like a good old-fashioned Easter celebration to welcome in the arrival of spring. Chocolate bunnies, colorful eggs, adorable dresses, spending time with the family... what more could you ask for? From crustless quiche and biscuit bars to cast-iron spinach dip and seared salmon biscuits, this line up of festive Easter recipes and Easter appetizers will please everyone at your table. 
If you have been like me and have been abstaining from certain foods for Lent or are just looking for a way to regale the return of fresh green veggies, then Easter weekend is the perfect time to celebrate.
Put a little spring in everyone's step on Easter Sunday morning with these delicious Easter brunch recipes. We've rounded up our favorite eggs, quiche and (of course) biscuits!
Hoppiest Easter Brunch
Naughty Eggs - a spring staple and a fantastic twist of fiery pimento cheese for the classic favorite deviled eggs. They make a super easy Easter appetizer! 
Crustless Quiche - This decadent, and satisfying recipe is perfect for your Easter brunch or breakfast with the crunchy bacon and cheesy eggs to satisfy the whole family.
Top off your brunch with a Biscuit Bar - we have all the tips and tricks to serve a selection of biscuit sandwiches or "hot littles" that guests can make their own with various accouterments as their main meal or as an appetizer for Easter brunch. 
Egg-cellent Appetizers & Sides
Spinach Bake - This easy-baked dish is the perfect side to your favorite meat.
Seared Salmon Biscuits - This open-faced salmon biscuit is a game-changer for entertaining and makes for the perfect Easter appetizer. 
Cast Iron Spinach Dip - This dish will sing to your Southern roots with the perfect combination of cheese and cakey Callie's Hot Little Biscuit buttermilk biscuits.
A New Look at Cheese & Cracker Hors D'oeuvres - Elevate your biscuits with a replacement for tired cheese and cracker trays to really wow your guests.
Delicious Desserts
Dark Chocolate Peanut Butter Balls - don't stick to just eggs! Decorate this fun dessert with the little ones for a guaranteed crowd pleaser.
Drunk and Toasty Myers Pecan Pie - can't have a traditional Easter supper without a delicious pie as the dessert!
Shortcake Biscuits... 3 Ways! - for 3 of our favorite recipes to enjoy our shortcake biscuit mix for your sweet tooth.
Want to spice up your Easter supper ideas? We have rounded up a few of our favorite ideas for Easter dinner - besides ham!
Sunday Supper
Pork Loin -  A blend of sugary sweet maple with salty savory pork, this incredible pork loin recipe is perfect for Easter family supper and there are sure to be no leftovers! 
Cast Iron Party Shrimp - This dish is so easy, yet somehow it feels sophisticated to have everyone gathered around - eating right from the skillet.
Spring Pork Roast - A totally light and refreshing Spring meets hearty meal for an easy and flavorful family meal.
Fill up the Easter baskets for all your peeps with our favorite bundles that are sure to put a smile on their faces.
Favorite Easter Bundles
Find our Seasonal Favorites here - we've rounded up our best-selling Easter brunch and Easter supper selections
Hot Little Suppers Cookbook - this gift will keep on giving! The 120+ recipes combine bright, beautiful flavors from a range of culinary traditions that are easy to prepare and sure to satisfy.
Shop this post:
Beautiful photos are credited to: Natalie Thompson Photography and Byrdie Golf Social; Stylist: Lauren Robbins Interiors
Hot Little Tip
Easy recipes to bring the whole family together on this wonderful Sunday afternoon!
Share on Pinerest