Recipes, Gift Guides, & Easy Meals to Make the Perfect Mother's Day
From Carrie Morey's Hot Little Suppers cookbook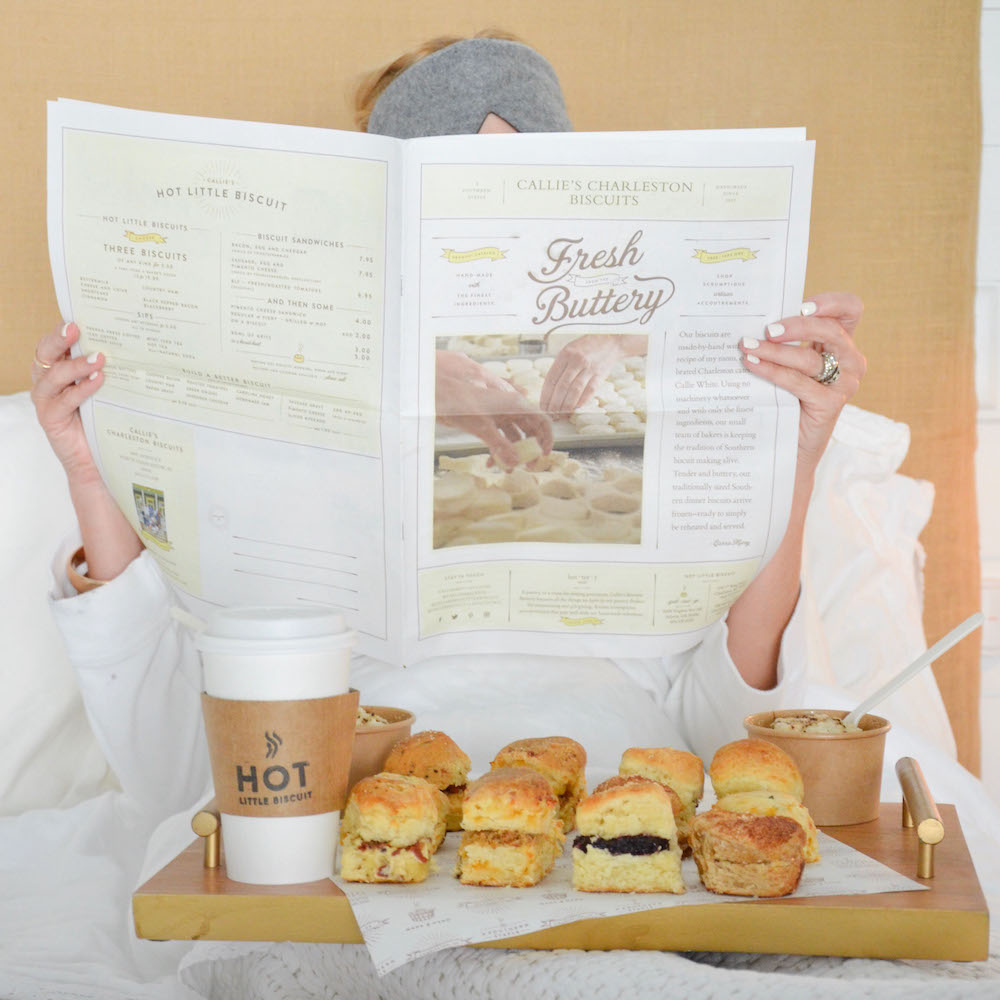 Carrie Morey's Mother's Day Recipe & Gift Guide:
Our founders guide to approachable, kid and dad-friendly recipes and breakfast in bed kits for the perfect Mother's Day morning!
Contrary to my husband's perfect Father's day, mine is ideally spent with my entire family- for a day of fun, sun, and eating! John would much rather be on the golf course or boat fishing (a day alone without us! haha). I want all my peeps close to me, doting on me and having fun together in the perfect spring weather.
So just in case the Morey clan doesn't know what I want  to do for Mother's day this year and beyond, listen up! 
My perfect Mother's Day would start with 
slow cooker grits
with all the topping (see my must-have list below) and some
country ham biscuits
on the side. I preferred this be served to me in bed with the largest French press
coffee
in the land... Mother's Day is only once a year after all!
I'd start my day by binging whatever show I am currently watching. White Lotus is on the docket as I'm really bad about keeping up with what is trending on TV! 
After a long lounge and a nosh in bed, I'd love to go on a long walk with the family, at which time they will moan and groan but begrudgingly oblige! Then it's off to provision for a delish lunch, a crunchy sammie, and lots of chips, and then off for at least a 3-hour boat tour...  At some point, I will want to stop for a frozen spicy margarita or a cool
Piña
colada for the ride home. 
After that, my girls will hopefully tidy up the house complete with a full house vacuum – my favorite thing – and then John and the girls will either cook me a fabulous supper or take me to one of my favorite spots downtown! The end!

If you are planning a day of love for your Mama, here are some of my favorite recipes to make (even the kids can tackle these!)
Are you looking for inspiration on what to do this Mother's Day for your wife, mom, mom-to-be, or boyfriend's mom? If they are anything like me, the best gift to give is to make me a meal. I have collected a list of recipes to inspire your Mother's Day lunch ideas. If you still need a gift or can't be there on Mother's Day, I have compiled a list of the best gift ideas for easy Mother's Day meals.  
Overnight Grits with all the fixins like crispy bacon, scallions, fresh local shrimp, pimento cheese, and spicy sausage! View my overnight grits strategy here.
If the mother you are celebrating is anything like me, she will love to join you in the kitchen to make the Southern Fried Green Tomatoes dish for lunch on Mother's Day.
Sunday Brunch at my mother's has always been a cherished tradition and these Cinnamon Stickies are one of my mother's many specialties and an essential element to our spread. If you don't want to bake these yourself, our Cinnamon Biscuits are an excellent, easy substitute! 
Crab cakes are one of my and my father's favorite meals - I love to elevate the dish with smoked tomatoes! Have you ever tried smoking them on the grill? It's easier than it seems. This Smoked Tomato Remoulade with Crab Cakes recipe is packed with my favorite things, and it is so easy to make!
If you are having brunch with a large group and need a show-stopping dessert, definitely go for my Biscuit Berry Nest! I love the look of this displayed on the brunch table and it can be customized with your favorite berries. 
 Of course, if you took the time to make a beautiful dish for Mother's Day, you can't forget to make the table stunning as well. Set the table with mom's personality – her favorite color linens, her favorite flowers, etc.! My tips and tricks for setting the table can be found here.
Gift Ideas
We have just about everything you need to make Mother's Day special at home and for the gift that keeps on giving.
For the mom who loves to cook - my newest cookbook, Hot Little Suppers, helps answer the age-old question of "What's for supper".
The Handmade & Hand Mixed is perfect for the ultimate hostess mom - giving her thirty handmade biscuits of all our flavors to satisfy everyone's tastebuds. This combo is also perfect for Mother's Day brunch to feed the whole family!
Is she the queen of cocktail hour? Top off the experience with the Callie's Hot Little Biscuit snack board kit complete with a dozen biscuits, cheese crisps, Raspberry Pepper Preserve, and cocktail pecans.
Our brunch sets are some of my favorite gifts to send from afar. If you can't spend the morning with mom, send her our Share the Love brunch set to butter her up even if you can't be together! 
People tell me all the time that they can never think of a gift because their mom has everything! This is where I like to recommend our subscription service – a quarterly shipment of Southern staples that ships free every 90 days. 
Pro Tip - Add pimento cheese and our biscuit blend coffee to your cart. This combo of biscuits, crockpot grits, and dark roast coffee makes for a truly effortless morning that even the kids can put together!
For all the husbands, boyfriends, sons, daughters, and in-laws looking for a gift, but not sure how to wrap frozen foods – I have thrown together the best how-to here!
Shop the Post
Share the Love Gift Box 
Handmade & Hand Mixed Gift Box
Snack Board Gift Box
Butter in a Box Subscription Service