Best Dad-Approved Brunch, Supper, Sauces & Sides Recipes for Father's Day
From Carrie Morey's Hot Little Suppers cookbook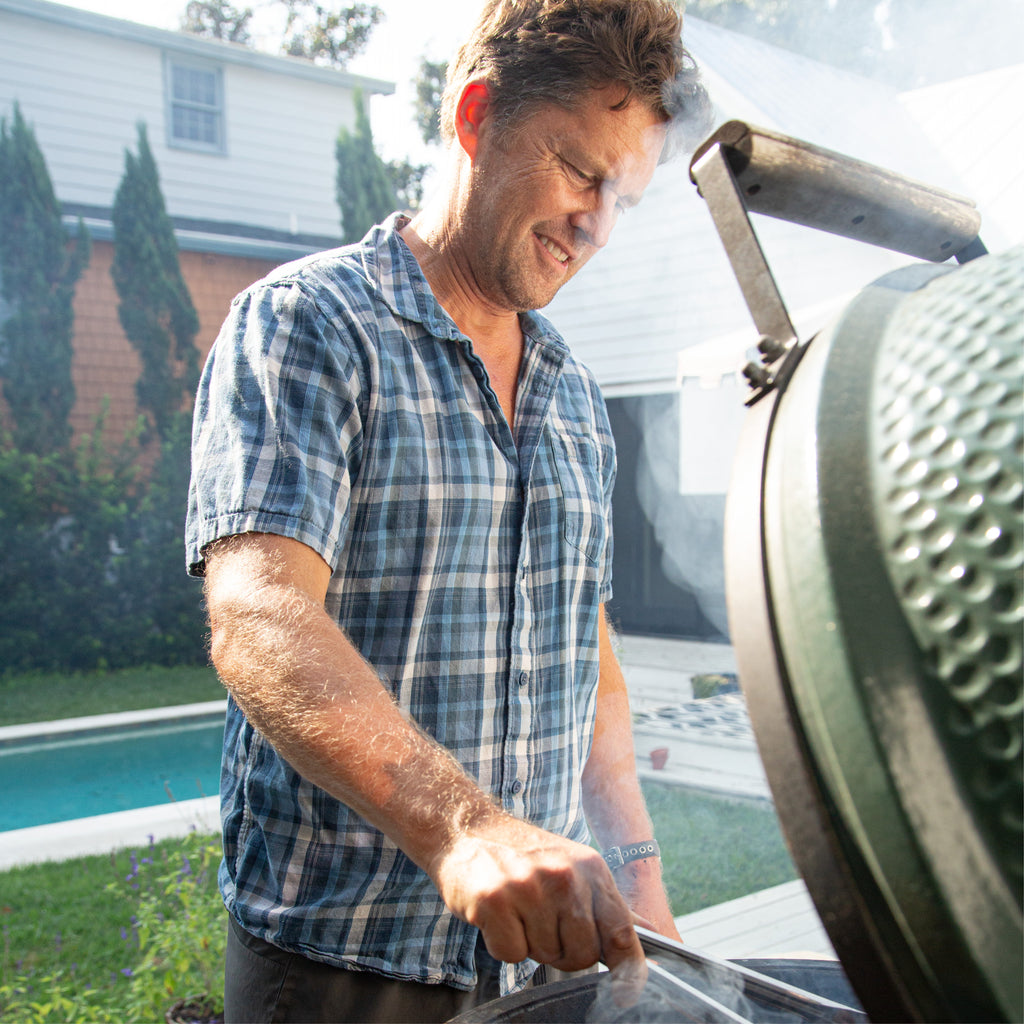 Carrie Morey's Collection of Father's day Dinner Recipes
Father's Day is coming up and we've got plenty of menu inspiration for you. These summery recipes are perfect for celebrating the dads in your life to have a happy Father's Day.
This Father's Day, there's no better way to express dad-preciation for your special guy than cooking good food. Whether cooking seafood for your dad or you are making the fixins for your husband's grill, our list of ideas for your Father's Day menu features great options that work for sauces, main courses and sides.
If you are currently searching "when is Father's Day?" Don't worry, we are here to help with the last minute Father's Day gifts, dinner ideas and brunch for June 18th. My favorite gift idea includes: a dozen country ham biscuits, a dozen buttermilk biscuits, a half-dozen cocoa & cream cookies, traditional pimento cheese, and Edward's country bacon slices.
BRUNCH:
If you are looking for a delicious Father's Day brunch, my father's "waffle waffle waffle! recipe is a must" His waffle recipe was to mix together pancake mix from the box with a can of creamed corn.
Add a twist on a classic waffle with Carrie's Cocoa & Cream Cookie Waffles for breakfast OR a sweet dessert!

A simple biscuit brunch to have ready for when Dad wakes up would be Callie's Hot Little Biscuit sausage biscuit. To make it easier for everyone, stop by a Callie's Hot Little Biscuit Charleston eatery to grab sausage gravy and biscuits!

For the vegetarians out there, Biscuits and Mushroom Gravy is the perfect alternative to the sausage gravy and even more perfect for Father's Day brunch.
SUPPER:
My California-born husband claimed he did not like fried food but he gobbles up the Kitchen Sink Pan-Fried Pork Chops every time.
I will never forget how out-of-this-world good Mrs. Burns and Amy's Country Fried Steak is, which I usually serve sprinkled with chopped green onions and with an arugula salad on the side.
Simple Citrus Flank Steak is a simple yet flavorful marinade and then a fast grill. Quick and easy!
Pimento Cheese Shrimp and Grits Recipe -  I put this recipe together for Father's Day for my dad, a Lowcountry boy who loves his shrimp.
Lime Zest Grilled Shrimp is another tribute to my father's love of seafood.
Pork Schnitzel is the best-balanced combination of crunchy, crispy pork, and toss it over a salad with toasted pine nuts and my homemade Lemon Dijon Mustard Vinaigrette.

SIDES:
Buffalo Cauliflower Dip - This is my healthier version of a buffalo chicken dip that is just as delicious and pairs perfectly with the new Callie's Hot Little Biscuit sea salt biscuit crackers!
I picked Krysten's Collards & Brussels Sprout Salad because it is like my husband's - a Southern staple prepared like a California salad.
While I am a firm believer that is perfect for the Super Bowl party or college game day, the Southern Rotel Dip would be great to have as a snack or appetizer for Father's Day.
Roasted Rosemary Lemon Broccoli is the perfect vegetable to add to the meat-lovers meal.
If you have a piecrust in your freezer, you can put the Caramelized Vidalia Onion Galette - a simple showstopper - together in a snap.
This Twice Baked Potato recipe is the perfect creamy, cheesy side to any dish you are cooking up for dinner!
Father's Day Gift Ideas:
For those looking to DIY Father's Day gift baskets, we love our Shortcake Biscuit Mix because it is so versatile. Click here for a round-up of our favorite sweet treats made from our Shortcake Biscuit Mix. 
Send a Share the Love Gift Basket to that special person, or sign him up for our quarterly biscuit subscription service for a gift that keeps on giving. Can't decide which biscuit gifts he'll love most? Let him choose his favorites with our handy online gift cards.
SHOP THE POST
Callie's Biscuits and Southern Traditions
Hot Little Tip
A collection of delicious recipes, perfect for honoring the dads in our lives. Celebration worthy and delicious, these are recipes everyone will love.